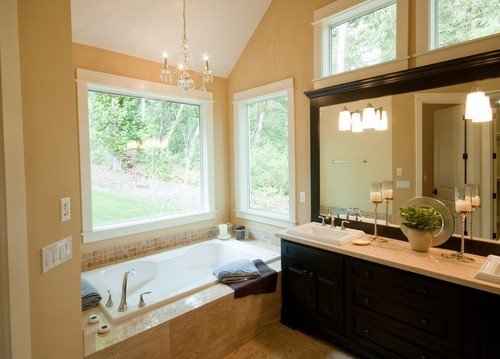 Who would have thought that after years of suffering through apartment bathrooms the size of a janitor's closet, you've finally found an epic bathroom worthy of your interior design schemes? While you're certainly excited to begin decorating and remodeling your giant bathroom, all that space can be intimidating. Bathroom's aren't traditionally designed to be palatial, so how do you get the most out of yours?
Consider a few of these tips to help you along the way.
His and hers vanities, sinks and mirrors
That morning routine of battling each other for the bathroom sink? Put an end to it with his and hers vanities equipped with their own sinks, mirrors, drawers and medicine cabinets. Whether you place them side-by-side, adjacent or facing one another, they're sure to lend a pleasing symmetry to the space.
Art
Bathrooms aren't usually the first space in the house you'd think to include a little art, but there's no reason not to treat part of your new, extra-large space as a mini gallery. In a larger bathroom, you're sure to have much better air filtration than in a cramped smaller one, meaning you don't have to worry as much about the ravages humidity can wreak on original art. But you may still want to stick primarily to favorite art prints and less valuable pieces.
A fireplace
Sound extravagant? Of course, that's what your giant bathroom is all about. If you've got the space and the time to devote to it, having a fireplace installed in your bath could be the ultimate ambient accessory. Imagine relaxing in a tub of piping hot water while a fire crackles right across the room.
Radiant heat
Unfortunately, a fireplace can't be relied on to keep you warm during colder months. One downside to having such a spacious bathroom? You're bound to get cold after a hot shower or soak in the tub - very cold. For that reason, you want to keep your space well heated without breaking the bank. Instead of pushing tons of expensive gas heat into the room, why not invest in radiant floor heating? This option isn't only green and sure to save on your utility bills, it'll keep your marble, tile or hardwood floor from freezing your feet when you walk on it! Another energy-efficient radiant heat bathroom luxury are towel warmers, well worth it for your space and comfort.
---
Tell us About your Project
Our team of Radiant Experts is ready to help! Just tell us a little about yourself and your project to get started.
---
Did you find this post helpful?
Let us know by giving it some applause.
---
---