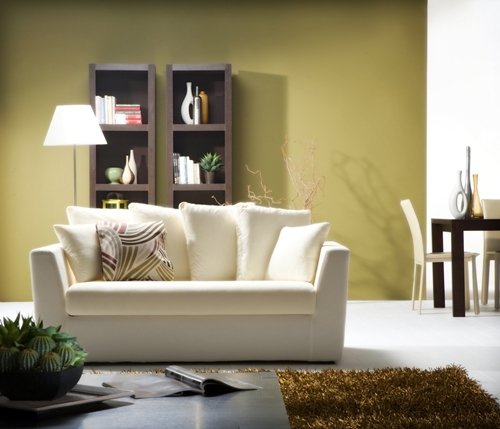 The traffic flow of a home can make rooms feel congested or easy to navigate, depending largely on room arrangement. When radiant heat is the source of warmth, it makes placing furnishings simpler because there are no air ducts to obstruct.
The most beautiful furniture in the world won't look its best if the proportion and balance is off in the room where it's placed. Spaces that are well-arranged make good use of the furniture that's in them and provide a comfortable transition from room to room.
"Proper furniture placement and balance may at first seem a complicated task, but all it really takes is common sense and learning to look at your room in a new way," Lauri Ward, author of "Use What You Have Decorating," told iVillage.
Creating the Flow
Ward suggested evaluating a room's traffic flow by looking at where the doorways are situated. If two doors open into a room, the traffic pattern should move behind the seating, not through it from one door to another. With a single doorway, the traffic should flow directly to the main seating area.
She also emphasized that the size of furniture and where it's placed can throw off the balance of the whole space. The best balance occurs when the largest furniture pieces are spread throughout the room for horizontal uniformity.
Homeowners should also be careful about how they place area rugs on hardwood floors, because a rug that's too small or too large for a specific area can upset the balance of a room and should be considered in conjunction with furniture placement.
Selecting the right furniture arrangement has the same effect whether it's in an indoor room or an outdoor living area. It can make a cavernous space seem cozy or create more openness in tight quarters.
When designed correctly, people will also have enough room to walk around freely and settle in comfortably. Besides being unobtrusive in the furniture arrangement, a floor heating system or radiant heat panels in the walls are energy-efficient ways to warm a room.
3 Steps
The furniture placement in home design can start with three easy steps - evaluate the space, consider the room's purpose and determine the best seating arrangement. iVillage advised consumers to take measurements before major furniture purchases are made.
According to Better Homes and Gardens magazine, homeowners need to find a focal point that they can use to orient their seating. A fireplace is a natural focus, but in rooms without a fireplace, a good alternative is a line of windows or a TV if the room is used primarily for family activities. Homeowners can also create their own focal point by hanging a large piece of artwork or arranging a display of collectibles on shelves.
Another tip offered by Ward is to avoid placing a sofa against the room's longest wall. Rather than give the impression of more space, as most people believe, it may look as though the couch is too distant from other pieces that would otherwise make a comfortable conversation area.
---
Tell us About your Project
Our team of Radiant Experts is ready to help! Just tell us a little about yourself and your project to get started.
---
Did you find this post helpful?
Let us know by giving it some applause.
---
---