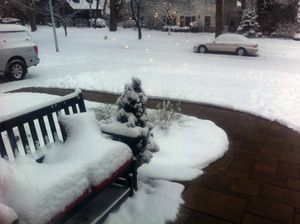 RADIATING Positivity is something that we are called to do daily at WarmlyYours Radiant Heating. It means being a positive force and influencing all who we engage in life and work. We are inspired to help and assist our customers to discover the optimal radiant heating options that will be the best solution for them.
During the winter months the weather can be unpredictable. Cold weather and high levels of snow and ice build-up can become a difficult issue and unwelcome task for homeowners.
WarmlyYours offers a wide variety of outdoor radiant heating solutions to ease homeowners' challenges in dealing with snow and ice. Just imagine having a clear driveway or pathway with the realization that you will never have to lift a shovel or push a snow blower ever again. Pure bliss.
Our most recent "Share Your Story" winner is from Dayton, OH, Robert Wagner, who installed WarmlyYours Snow Melting Electric Heating Mats on the pavement to the entrance and backyard of his home, under beautiful paver stones.
Take a look at the Wagner's story: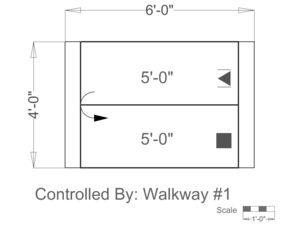 Our installers were so pleased with working with WarmlyYours' snow melting product. I also was thrilled with your excellent customer service, especially when I decided to add the additional mat for the backyard pavers for our dogs. Your customer rep allowed me to return the smaller control panel for the larger panel without hassles or messy paperwork to make the exchange.
The other day, there was, sadly, a 52-car pile up on the highway due to extremely icy conditions caused by sleet. Not looking forward to picking away at the ice on my own walkway, I was happily reminded that WarmlyYours snow melting mats had already taken care of that task for me. And, just as promised, the pavers were completely dry and free of ice and snow. It was a delight to not have to worry about shoveling the walk in the morning.
Your product works great! And, my wife and family approve of choosing WarmlyYours, and to me, that's priceless.
-------------------
Discover more about outdoor radiant heating, and why installing WarmlyYours is the right choice.
If you enjoyed this story, you may also enjoy reading about the last "Share Your Story" feature, Incredible Customer Service or feel free to read through all of our winner's stories!
We'd love to hear your story, too! Share it with us!