What if I told you that having radiant heating will benefit your health and can even help heal wounds?
Radiant heat is simply a form of energy that heats objects directly, without sending forced air through the ducts to heat the surrounding air. Radiant heat is also referred to as infrared energy.
Research by Hee-Young Park, a MED research associate professor, Tania Phillips, a MED professor, and their colleagues at the Boston University School of Medicine, conducted in 2001, revealed that heat plays a positive role in healing chronic leg wounds. Their research still rings true today, showing the positive effects of radiant heat and establishing how temperature affects the cell cycle in a way that promotes new cells to be stimulated to regenerate in the dermal level of the skin (the layer just below the outer, epidermal layer) to close an open wound.
They found that not only did heat therapy allow healthy new cells to grow, but also that heating was associated with normal levels of the proteins necessary to a normal cell cycle.
In our bodies, our tissues normally produce infrared energy for warmth and tissue repair. Tissue production of infrared energy is associated with a variety of healing responses. At times, the infrared energy in our tissues may require a boost to a higher level to ensure the fullest healing possible for tissue repair.
The combination of radiant heating products in your home will bring this type of restorative power to your body. With radiant heating products, such as floor heating or our LAVA heating panels, you give the tissues in your body the extra boost necessary for optimal wholeness, and if needed, assistance in the healing process.
Radiant heating can be a primary or secondary source of heating, and there are many therapeutic effects from which you can benefit. A few of the benefits are: decreasing joint stiffness, increasing extensibility of collagen tissues, relieving muscle spasms, pain relief, and increasing blood flow – to name just a few.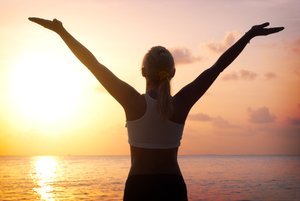 Infrared energy (radiant heat) also plays a big role in achieving optimal comfort in your home. For most, their body is comfortable when their feet and bodies maintain a temperature of 75 degrees Fahrenheit, while the head typically remains cooler around the 65-degree Fahrenheit range, making them more alert. With radiant heat, you are able to keep your floors and walls warm without making the room "hot and stuffy," creating a comfortable living environment.
Radiant heat has answered the need for a healthier lifestyle, bringing 21st century technology into your home as a design for living, with the ability to transform your space into both a comfortable and healthy oasis.
---
Tell us About your Project
Our team of Radiant Experts is ready to help! Just tell us a little about yourself and your project to get started.
---
Did you find this post helpful?
Let us know by giving it some applause.
---
---