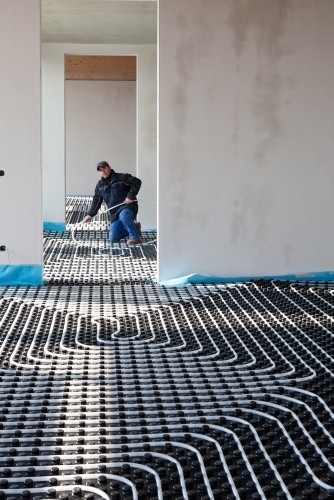 If you're lucky enough to have a sunroom in your home, you're likely thinking of ways that you can utilize it on a regular basis. It can be difficult to relax and unwind in a sunroom that lacks a tranquil interior. If you haven't put the time and effort into choosing window treatments, wall decor and cozy furnishings for the space, it likely doesn't appeal to you as much as it could.
That being said, you don't have to go to extreme lengths to turn this into a sanctuary in your home. With radiant floor heating, accent decorations and the right curtains, you can look forward to using this area on a frequent basis. Here are some tips to help you get started.
1. Install warm floors.
While you might think that the natural light flowing into your sunroom is enough to keep the space warm, it's important to note that the large number of windows may make it more difficult to retain heat. With this in mind, your sunroom could benefit from a flooring system that creates radiant heat - and who can deny the comfort it provides underfoot?
2. Take your time choosing window treatments.
Because there are several windows in your sunroom, you'll want to put a little effort into choosing the window treatments for your space. After all, you'll be looking at them everywhere you turn! For privacy and light control, you might want to consider blinds or shades that can be easily opened or closed. Drapes can be installed to create an elegant, chic look in the room.
3. Decide on a theme.
As HGTV reports, you don't need to live on the shore to get a beachy feeling in your own home. The right theme can help transform your sunroom into any environment you wish, whether you yearn for a tropical environment or one that makes you feel like you're living in a Paris chateau. Furthermore, a theme can give you a starting point as you look for furnishings and decor for your space.
Whether you're interested in creating a sunroom where you can entertain or one where you can simply curl up with a good book, these three tips can help you achieve your interior design goals. In addition, you'll find that you don't need to be a professional to create a sunroom with character.
Like this post? Subscribe for regular updates
Make sure you don't miss out on the latest news in radiant heating by subscribing to our blog. We'll send you an email with links to the newest posts from WarmlyYours.
We won't share your information and you can unsubscribe at any time with a single click.
---
Did you find this post helpful?
Let us know by giving it some applause.
---
---