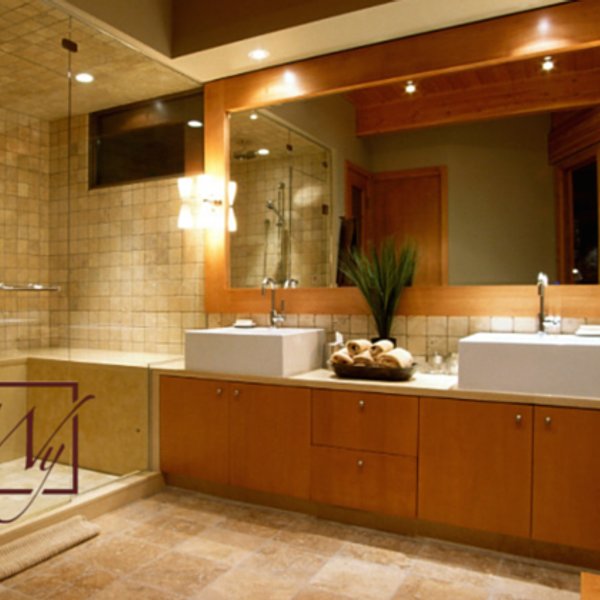 The best bathroom is a two-sided coin—offering that perfect combination of efficiency during the rush of a busy morning and relaxation and comfort when you're ready to pamper yourself. That multi-tasking functionality starts in the planning stage with the measurements you choose during the bathroom design.
Not all professional designers will recommend the same measurements, however, there are some common rules of thumb that will help your dream bathroom come to life in the most warm, comforting, functional way, so no matter which way you flip the coin, your bathroom will suit your needs in the moment.
"Learning a few key dimensions and common fixture sizes — and understanding that a compact space can work to your advantage — will inspire you to embrace these intimate spaces [such as bathrooms] as opportunities to create unique and delightful rooms," writes Houzz's Steven Randel.
"Bathroom Workbook: The Right Height for Your Sinks, Mirrors and More" provides many great tips for achieving the right height measurements for your bathroom's smaller features.
Using the right measurements creates a comfortable, functional bathroom for your home. Some measurements are taken care of for you, especially if you are working with existing plumbing, but others depend on you and your preferences, so work carefully with your designer or do the research if designing on your own. Follow these common rules of thumb as a starting point and then tweak to meet your preferences from there.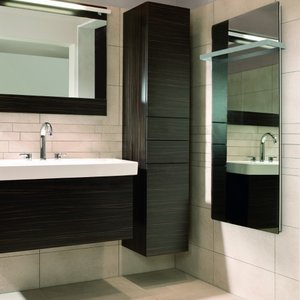 Towel Bars
Mount towel bars between 36 and 42 inches (91 to 107 centimeters) above the floor along their horizontal centerline, suggests Yanic Simard, Houzz contributor, and principal designer at Toronto Interior Design Group. This includes electric towel warmers and racks from WarmlyYours. Simard also suggests that taller people or those that use extra-large bath sheets raise towel bars to 48 or 50 inches (122 to 127 centimeters).
Mirrors
The height of mirrors should be based on your own height, Simard says. "Find an average eyeline for everyone using the mirrors and make sure this height is well within the upper and lower borders of the mirror (5 ft., 6 in. is average, but your household may vary)," he suggests.
When considering the placement for a mirror such as the LAVA® Mirror electric radiant panel from WarmlyYours, you can cut large pieces of paper to the potential sizes of the mirror and tape them to the wall. This will let you visualize how the placement will impact the room.
"You can see what it looks like if the mirror is flush with the vanity, if there are gaps all the way around, or if you should install two mirrors for dual vanities rather than one long mirror," describes Amanda Bell.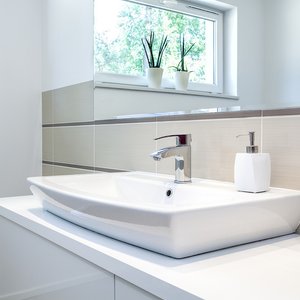 Sinks
While counter heights are typically 32 to 34 in., the more important measurement is your sink height, and the key to the right sink height measurement is to decide what actual sink vessel you will use.
Above-counter vessel sinks naturally sit higher than inset below-counter sinks. Choose a lowered cabinet to compensate if you want an above-counter sink in your bathroom.
"Ultimately, you should try a few different sinks (in store or in bathrooms you like) and figure out the height that feels most comfortable for you," Simard says.
You also need to account for the length of your sink choice.
Single sinks tend to be approximately 30 inches long. In general, to be safe, budget around 35-40 inches for the sink in your design. For double sinks, reserve a minimum of 60 inches—and even more if you want some space to move around.
Shower Benches
The right height for a shower bench is very individual. "Some like a higher perch — around 21½ inches from the shower pan — which is easy to push oneself off of, especially for a taller person. Some people like something similar in height to a chair, around 17½ to 18 inches. This may work best for those who are shorter and prefer to sit on the bench rather than perch," describes bath designer Joy Wilkins of Custom Kitchens by John Wilkins in the article, "Outfit Your Shower With the Right Bench for You."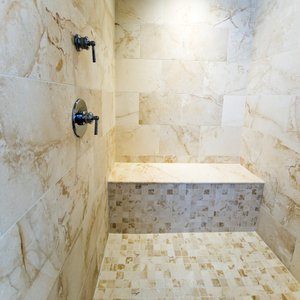 Consider the function of the shower bench as well. "A narrow bench…makes shaving legs a dream, but it might not be the most comfortable spot for kicking back and relaxing," reminds Wilkins. She says a comfortable depth ranges from 12 to 21 inches. For benches you plan to use for seating, remember to enhance the functionality it provides with added comfort—heat. WarmlyYours offers safe heating for wet locations, including shower benches or walk-in showers.
Overall, have fun with the measurement decisions in your bathroom. It may seem like a lot of details to manage in the moment, but a) you don't get to do it that often and b) your efforts will pay off each time you effortlessly use the components of your bathroom. Good luck "heightening" your bathroom functionality (pun intended) with your design choices.
Here at WarmlyYours Radiant we love offering products that make our customers' dream bathrooms come to life in the most warm, comforting, functional way. If you've already installed WarmlyYours products in your dream bathroom, we'd love to see it! Share your story, send us photos on the WarmlyYours Facebook page, or tweet us at @WarmlyYours.
Sources:
http://homeguides.sfgate.com/choose-bathroom-mirror-size-37630.html
https://www.houzz.com/ideabooks/29060785?utm_source=Houzz&utm_campaign=u632&utm_medium=email&utm_content=gallery4
https://www.houzz.com/ideabooks/18219713/list/outfit-your-shower-with-the-right-bench-for-you
https://www.houzz.com/ideabooks/26567086/list/key-measurements-to-make-the-most-of-your-bathroom

---
Tell us About your Project
Our team of Radiant Experts is ready to help! Just tell us a little about yourself and your project to get started.
---
Did you find this post helpful?
Let us know by giving it some applause.
---
---