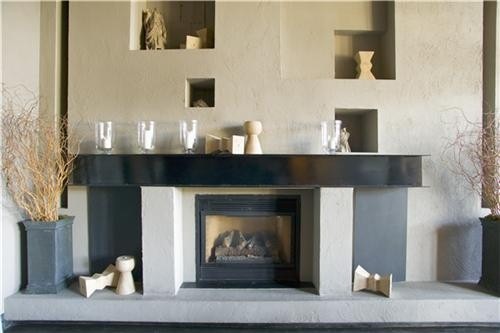 With the arrival of autumn and winter, there's no time of year more conducive to relaxing in front of a fire. And what place could be made cozier by a crackling hearth than the kitchen? Once a traditional mainstay in kitchens, the role of the fireplace has become more decorative over time. But there's no reason it can't serve that purpose in a room that's as much about good looks as function. Consider these three great fireplace kitchen design options.
1. Four-sided fireplace
This popular variation on the kitchen fireplace has four distinct sides, like an indoor campfire! Usually wrapped around by the kitchen and dining room, the fireplace serves a great and gorgeous purpose in the flow of the home - and it can be enjoyed by multiple people in multiple rooms all at the same time! It also provides a great design and décor link, allowing your kitchen's style to pass over into the dining room and vice versa. Try to build both schemes around your fireplace design, be it brick, stone or another material. Also, while the fireplace won't warm the room as effectively with so much open space, alternative and green heating methods like radiant floor heating can help keep your space cozy.
2. Brick oven fireplace
Looking for a classic Tuscan or French countryside vibe? The brick oven fireplace may be perfect for your kitchen. Serving a double purpose of ambiance and function, there's no reason you should feel compelled to use your brick oven fireplace for baking or cooking on a regular basis - though it may make for a fun experiment, especially if you're a fan of pizza. Instead, this oven is sure to give your kitchen a welcoming and laid-back atmosphere. Complement it with lots of rustic touches.
3. Floating gas fireplace
Loading up a hearth with logs and newspaper isn't to everyone's taste. If you want a fireplace that's sure to give you great ambiance with no clean up, why not invest in a gas fireplace. The other advantage of this hearth style is that it can be elevated to better fit your layout. If you want to place it beside your eat-in kitchen table you can! Since it's not as useful for heating a space, a floating gas fireplace is another good opportunity to invest in alternative options, specifically radiant heating systems, which use natural convection currents to keep you and your space warm.
Like this post? Subscribe for regular updates
Make sure you don't miss out on the latest news in radiant heating by subscribing to our blog. We'll send you an email with links to the newest posts from WarmlyYours.
We won't share your information and you can unsubscribe at any time with a single click.
---
Did you find this post helpful?
Let us know by giving it some applause.
---
---