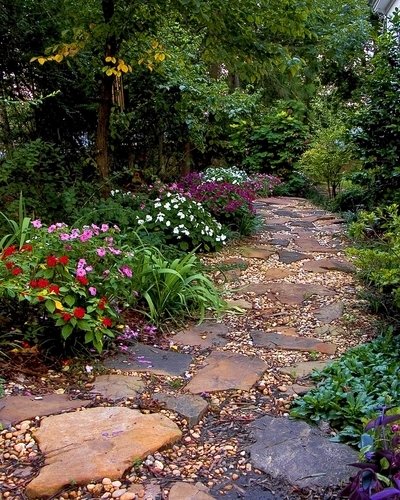 Whether they lead to a deck or a flower garden, walkways should be part of the design scheme for an outdoor living space. If homeowners want the added convenience of radiant heating, it may be installed with many of the building materials available for outdoor paths.
Many choices
Homeowners who want a pathway done quickly and simply may consider a mortarless flagstone treatment. One important concern is that flagstones be carefully leveled before a selection of flowering ground covers can be planted to grow between the stones.
Although adding flagstones to a slope requires a more advanced technique, the incline can be addressed by creating a small stairway. MyHomeIdeas.com suggests "dry stacking" the stone slabs instead of using mortar, which can crack during the cycle of freezing and thawing in cold climates.
Either with pavers, bricks or concrete with a decorative stain, outdoor heating for walkways is a boon to homeowners who live in colder regions. The apparatus can be tied into driveway heating for extra convenience.
Traditional favorites
Stepping stones, a longtime favorite of gardeners, can be made in any shape. Do-it-yourself kits allow homeowners to create a "walkscape" in the outline of leaves or a whimsical set of stars, sun and moon. For something more contemporary, a variety of geometric shapes may be used.
Tucking a few small plants around a walk is the choice of Better Homes and Gardens magazine. Plants with a fragrant foliage such as lavender will provide color and a hint of aroma as people pass by them. If homeowners view the ground as their canvas, this is one way that they can create a pathway that brings a sense of fun and color to a walkway.
Imaginative touches
Pathways also don't have to go in a straight line. They can take any shape, meandering past a bistro-style dining set or a garden bench. In a sizeable side yard, homeowners may place a vignette of furnishings in a shady spot that's offset by a trail of slate slabs and mossy plants laid in the crevices.
For a variety of textures and colors, mosaic walkways can be made with a mix of pebbles implanted in concrete. Or, some richly-colored stones can be set in designs that complement the greenery that surrounds them.
A well-designed walkway offers an attractive greeting for guests as they enter a garden or patio. With a wide range of decorative finishes and weather-resistant durability, walkways are limited only by homeowners' imaginations.
---
Tell us About your Project
Our team of Radiant Experts is ready to help! Just tell us a little about yourself and your project to get started.
---
Did you find this post helpful?
Let us know by giving it some applause.
---
---