When you're starting either a remodeling or construction project, you have so many things to worry about. We realized that the best way to keep the worries to a minimum is to always start with a plan that's easy to understand and implement.
That's why we released a new design layout for our free SmartPlan™. It works perfectly for both snow melting and floor heating installations, and helps you cut down the unexpected problems that always appear on the job-site. There's a wise saying in Spanish that means: "What starts well, ends well." 
Every free plan includes:
- An itemized product quote
- An electrical plan that tells you what you need to make your system work properly.
- An installation plan with precise information that will make installing easier.
While these plans have always been extremely useful for homeowners and installers, the new layout for the SmartPlan™ makes everything even easier than before. We're glad to share the new design with you. Let's take a look at the main improvements.
Layout:
· Available space for plan layout increased 53 percent for increased readability.
· Visual free-form and "cut'n'turn" explanation right on the plan.
· Heating product individual specs, like amperage and lead-length, are located towards the start of each product in that plan.
· Heating mat assignment to the power module number shown within the individual mat specs.
· Multiple plans and pages can be added to a single Installation Plan PDF, which is good for large projects.
Table:
Three sections for easy information navigation.
· Project Details:
Company name, project name, date, room name, and flooring type.
· Product Details: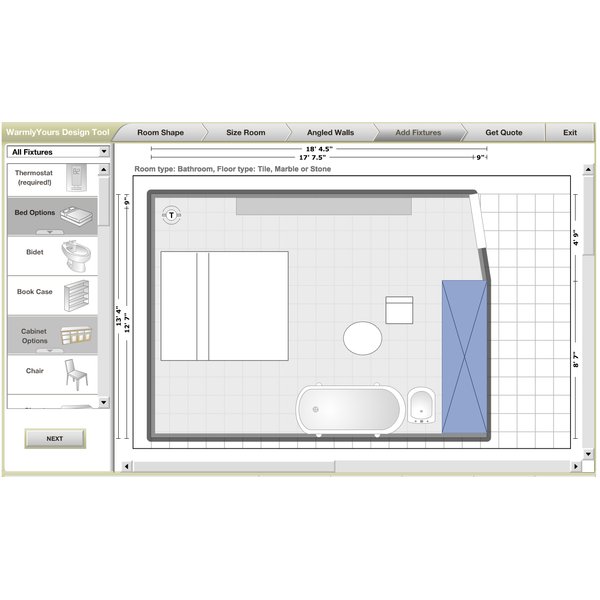 · Project Electrical Info:
Operating cost, total amperage, and total wattage.
All you have to do to take advantage of this free service, is to send a simple floor plan illustration to WarmlyYours. We'll contact you with your SmartPlan™ in 1 or 2 business days. Don't get stressed out about your sketch. It doesn't have be to be pretty. We just need the room's dimensions and the locations of permanent fixtures like cabinets, tubs, or showers.
You can send your floor plan sketch to WarmlyYours by:
- drawing it or uploading it in our Radiant Heat Cost Calculator
- faxing it to us at (800) 408-1100
- scanning or taking a photo and sending it to us via our contact form
Interested in learning more, watch this recording of our webinar "How WarmlyYours Tools can Earn You More Sales."
---
Tell us About your Project
Our team of Radiant Experts is ready to help! Just tell us a little about yourself and your project to get started.
---
Did you find this post helpful?
Let us know by giving it some applause.
---
---