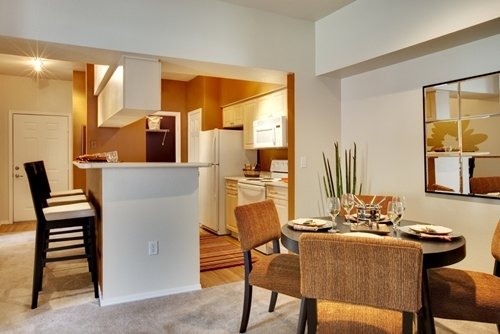 Apartment dwellers don't have to be satisfied with standard-issue lighting, blah window treatments or bland wall colors that are available to them in most rentals. They can infuse their new digs with a design plan that's customized to fit their taste and may be able to enlist support from the landlord to make subtle changes.
For instance, if an apartment complex insists on uniform window treatments, renters may be able to hang their own drapes or shades by adding a neutral backing so the exterior appearance remains the same.
Apartment Therapy advised renters to approach the property owner about what they can and can't change in their space. They may find that painting, or a change in light fixtures and window coverings is allowed as long as apartments are restored to their original state when renters move on.
Gathering Ideas
To begin, apartment decorators can get ideas on how to develop their new home's style by tearing out magazine pages that show color schemes and furniture they like and bring them along on shopping trips.
Apartment dwellers should take a step back to see how they react to their overall space. Getting a sense of where clutter may accumulate and the spots that are empty as well as the size and shape of each area helps people picture how the furnishings should be set up for the best effect.
One of the most inexpensive decorating moves that can make a big impact is choosing a paint color that expresses the apartment dweller's personality, whether it be a bold hue, a sunny pastel or a contemporary neutral such as steel gray. Or, they can take it a step further by choosing a complex color.
"This simply means, if you would use several different words to describe the color, than it is probably complex," room stager Julie Danad told HGTV.
Work around Permanent Features
In some rooms like kitchens and bathrooms, there are permanent features that cannot be changed so apartment dwellers need to work around them. The tiling in the bathroom is something a renter just needs to accept.
Not so with ceiling lights, which can be replaced with an interesting, more stylish glass globe or a small chandelier. Apartment dwellers can also have the comfort of warm towels straight from a heated towel rack. Some towel warmers come in plug-in styles that can go with the renters when they move to a new home.
Furnishing the Apartment
When making initial furniture choices, renters should focus on the largest purchases, such as sofas, beds, a dining table and lamps. Having a budget helps consumers match what they can afford with the best quality furnishings available in their price range. Shopping at flea markets and thrift stores may turn up some unique finds.
Having modular furniture that can fit a variety of settings and serve more than one purpose - such as a desk that can be used as a buffet during a get-together - is a good investment for apartment dwellers.
Just because apartment layouts are generally rectangular doesn't mean the individual who lives there has to leave it that way. To avoid having the dining and living rooms look as though they are in a line, each space can be divided with a large indoor plant, bookcase or artwork that can separate the areas according to how they are used. Round tables and curves in other furniture pieces also soften the edges of a squared-off room.
To turn apartments into places that make renters feel they're coming home at the end of each day, the decor has to reflect their personal interests and tastes in the selection of artwork, colors and special items that they collect.
---
Tell us About your Project
Our team of Radiant Experts is ready to help! Just tell us a little about yourself and your project to get started.
---
Did you find this post helpful?
Let us know by giving it some applause.
---
---