Business owners and homeowners alike understand how dangerous a slippery walkway can be in the wintertime. Whether you have employees, family, friends or couriers coming to your front door, it's vital that the walkway is kept clear of snow and ice to circumvent injuries. To avoid having to shovel and salt the walkway throughout the winter, many people turn to outdoor radiant heating. The cost for a radiant snow-melting system for a walkway is typically between $6 and $20 per square foot. This does not include the system's control, walkway material and labor. For business owners, the cost of the system will pay for itself after a few years thanks to the ability to eliminate the expense of snow plowing. For homeowners, the upfront cost is usually more than the cost to shovel and salt, but the peace of mind that it offers is invaluable.
What You Need to Know
Best time to install is from late spring to late fall
Can be installed under concrete, asphalt or pavers
Can be installed on walkways, porches, ramps, stairs, patios and driveways
Different systems and controls are available depending on your needs
First off, it's important to know the best time to install a snow-melting system. Although it's usually top of mind when we get the first snow of the season, snow-melting systems must be installed before the ground freezes. That means the best timing is between late spring and late fall.
Electric snow-melting systems can be installed under concrete, asphalt and in mortar under pavers. It's important to note that electric heating elements can withstand the temperature of hot asphalt because most hydronic (hot water pumping through plastic tubing) systems cannot. They can be used to melt snow and ice on walkways, porches, ramps, patios, driveways and even stairs. Just identify the riskiest area for slip-and-fall accidents and there's a solution available.
Depending on your budget and how you prefer the system to operate, WarmlyYours Radiant Heating has many options available. Snow-melting systems are available in mat or cable formats, and there are six options available for controllers.
Snow-Melting Options
Mats vs. Cable Options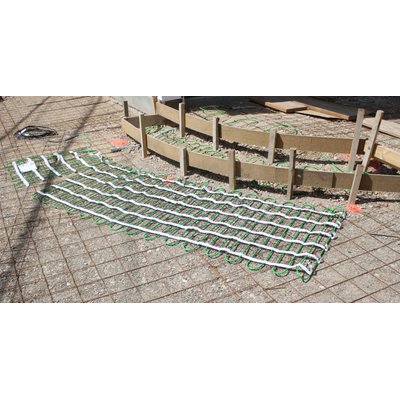 Snow-melting cable is the most affordable option at $8-$16 per square foot. The cable emits up to 50 watts per square foot, depending on how it's spaced. It's available in four voltages for a variety of project types, at 120, 208, 240 and 277 VAC. However, installation is more labor intensive.
Snow-melting mats are prefabricated on mesh rolls, making installation faster and easier. Mats cost between $10 and $20 per square foot and are available in standard voltages 120 and 240 VAC. They also emit 50 watts per square foot.
Control Options
Depending on how much you wish to spend and how you'd like to operate your snow-melting system, there are six controls available. Pricing for snow-melting controls ranges between $400 and $3,030. The least expensive option is a manual control that allows the user to turn the snow-melting system on and off when needed. The rest of the options feature moisture and air temperature sensors that tell the control when to automatically kick on and off. Other features include the ability to heat multiple zones, digital temperature readouts, slab temperature sensors and more. Depending on the control you buy, you may also need to purchase a relay panel, which ranges between $360 and $640. You'll also be required to get a plaque for just $38 that must be installed with the walkway to visibly show that a snow-melting system is in place. For details on the differences between each of the available controls, click here.
Project Examples
To help give you an idea of the total cost of a snow-melting system for a heated walkway, below are a couple of real-life examples.
Heated Paver Walkway
This 214-square foot walkway featured two 240-volt, 428-foot-long snow-melting cables with an automatic control.
Products                                        Qty        MSRP

Snow-Melting Cables                    2            $1,600 
Value Snow Melt Control               1             $450
Relay Panel Small                          1             $360
Snow Melt Plaque                          1             $38
                                                     Total:      $2,448
Power Requirements:
Heating System: 240V Snow Melt Cable
Total Amperage: 41.8 Amps
Total Wattage: 10,016 Watts
Breakers needed: 2 x 30Amp 240V GFEP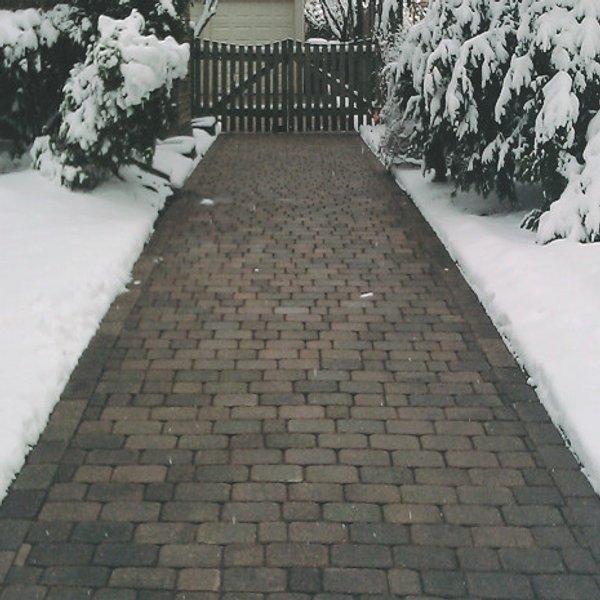 Heated Concrete Walkway
This large 437-square-foot walkway featured five 240-volt snow-melting cables at varying lengths with an automatic control.
Products                                        Qty        MSRP
Snow-Melting Cables                     5           $3,350
Economy Snow Melt Control          1            $720
Snow Melt Slab Sensor                   1            $290
Relay Panel Large                           1            $640
Snow Melt Plaque                           1             $38
                                                      Total:      $5,038
Power Requirements:
Heating System: 240V Snow Melt Cable
Total Amperage: 85.53 Amps
Total Wattage: 20,524 Watts
Breakers needed: 4 x 30Amp 240V GFEP, 1 x 15Amp 240V GFEP
Generally, it costs about $10 per square foot for a paver walkway; asphalt costs between $3 and $12 per square foot; and concrete costs between $6 and $10 per square foot. Calculating the cost of the walkway and the cost of the snow-melting system will give you a pretty good estimate of the total cost of your heated walkway.
To get a free quote that details the best options for your specific walkway as well as their prices, check out the WarmlyYours Snow Melting Quote Builder.
---
Tell us About your Project
Our team of Radiant Experts is ready to help! Just tell us a little about yourself and your project to get started.
---
Did you find this post helpful?
Let us know by giving it some applause.
---
---