Well, we don't have the exact numbers because, for all their virtues, cats and dogs are not especially reliable survey respondents. However, we do know that humans aren't the only ones who enjoy radiant heat. Some of our biggest fans are the furry, four-legged variety. Just as you enjoy the comfort of walking barefoot across a warm kitchen floor to grab a snack or stepping out of your morning shower onto heated tile, your pets, who spend much more time on the floor, will appreciate a warm place to stretch out for a winter's nap.
Actions Speak Louder Than Words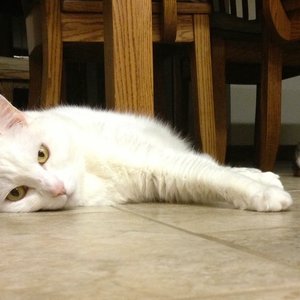 Jennifer Guska, of Kent, Ohio, a previous WarmlyYours Share Your Story winner, says they installed radiant heat in their kitchen, entryway, and bathroom for their cats. Of course, she is only half joking. Rosie, a white shorthair, and Ivy, a gray and white shorthair with a touch of black and orange, definitely approve of the heated floors. Jennifer explains: "The cats really enjoy just sprawling out on the floor and lying there all night. If the floor is on, they are pretty much lying on it!" Jennifer and the other humans who share Rosie and Ivy's home appreciate the toasty comfort that heated floors provide in fending off the chilly Ohio winters. "The cats really like the floor, but I can't blame them," says Jennifer. "Sometimes I lie on the kitchen floor with them because it just feels so nice!"
Cats aren't the only pets that appreciate warm floors. We've heard stories from many people who tell us that their dogs love it too.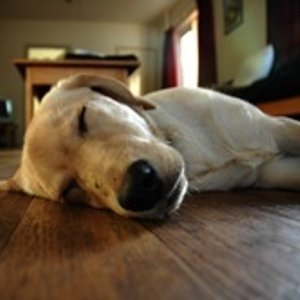 WarmlyYours Customer Service Representative Jen Melus shares that her dog Penny, a 4-year-old border collie and blue heeler mix, is a huge fan:
"My future in-laws have radiant floor heating in both of their bathrooms. When we take Penny to visit them for Christmas in southern West Virginia, she loves to play in the mountains of snow that they usually get. When it's time to come in the house, I always find that Penny goes for the guest bathroom and lies on the floor, soaking up the heat from the radiant floor heating system. She is a very hyper dog, and this is the calmest I have ever seen her. It is quite comparable to humans sitting in front of the fireplace. She has this look of contentment on her face while she is lying on the floor. You would think she would lie on the floor all curled up, but she lies on her stomach, all stretched out, in the Superman pose. I am sure when my fiancé and I buy a house, we will have to put radiant floor heating in our house, just for her! "
Celebrating Our Pets
As much as pets love radiant heat, WarmlyYours loves pets. We are celebrating our furry friends this Halloween with our Radiant Pet Costume Contest. The winner will receive a $25 gift card to Petsmart. To enter, go to the WarmlyYours Radiant Facebook page and post a picture of your pet showing off his or her costume. Be sure to include the hashtags #beradiantpet and #wypetcostumecontest to qualify. The winner will be announced on Halloween. We thought this contest sounded like so much fun that we're having one for WarmlyYours employees too. Check out pictures of some of the masquerading pups on our Facebook page
And, if you still can't get enough adorable pet pictures, visit the WarmlyYours Pinterest page for more cute and cuddly, funny and fabulous pet photos.
---
Tell us About your Project
Our team of Radiant Experts is ready to help! Just tell us a little about yourself and your project to get started.
---
Did you find this post helpful?
Let us know by giving it some applause.
---
---