It's no secret that WarmlyYours is really proud of our Share Your Story submissions. They come from customers all across the continent at all times of the year. They're a really great example of real people talking about how radiant heating (whether it's floor heating or snow melting or even towel warmers) have changed their lives for the better.
But our most recent Share Your Story winner is unique in that they've had several years (about 3 to be precise) to enjoy their system so we're excited to be able to offer this unique perspective to our readers. Our most recent winner is David from Alabama, a homeowner who installed his own electric floor heating system beneath vinyl plank in the basement (which also serves as his media room).
David's Original Submission:
Alabama has crazy winter weather. It can be 30℉ in the morning and 60℉ or higher in the afternoon. So, by noon, our HVAC rarely comes on and stays warm upstairs. The downstairs, however, gets no heat and is like a refrigerator. For years "I" put up with loud space heaters and blankets. You could guess that my wife and girls chose to stay upstairs. So, twenty years later it's time to renovate and I was looking for a solution. I found a couple of vendors of radiant floor heat. I chose WarmlyYours because of the price, product offerings and support. I am an accomplished DIYer and decided to tackle the renovation myself. No one had as extensive of a collection of documentation and videos for DIYers as WarmlyYours. My account rep, Jennifer, was excellent in working with me on my order. She even kept me from making a very costly mistake when I told her we had switched the flooring type. Everyone I talked to was very helpful and the learning center is invaluable!! It's really hard these days to find that level of support! In short, everything went well and I could not be happier. I'm writing this review looking at our first (maybe only ) snow this season and I'm toasty warm. No blankets or loud heaters! Last night my daughter and I watched a movie and I didn't have to beg her. We even put the Christmas tree downstairs so we will be spending a warm and cozy Christmas in our newly renovated media room! I had a great experience with WarmlyYours. I highly recommend them and give them 5 stars!
- David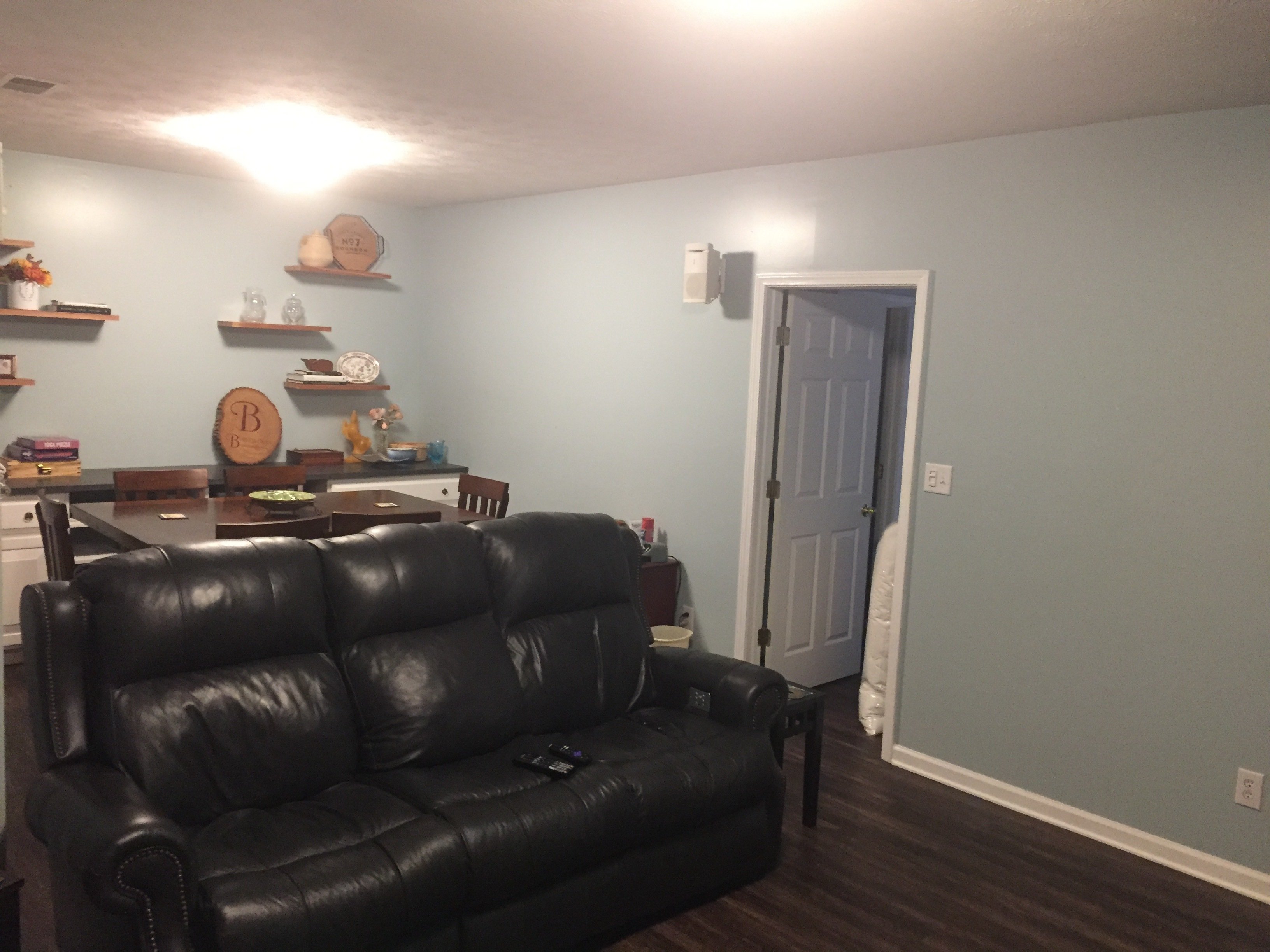 "A Video is Worth a Million Words!"
David, an avid DIYer with experience dating back 40 years, undertook the installation himself largely because of the various resources offered by WarmlyYours such as the installation manuals, the SmartPlan installation plan, videos.
"It was all invaluable because I knew nothing about installing radiant heat. The SmartPlan that you provided for the 2 rooms was great because it showed exactly how to lay out the heating rolls, while accounting for permanent furniture and where to put the thermostat," said David. "The videos were best though. There were so many and you could watch how it's done. A video is worth a million words! Other manufacturers simply provided written instructions."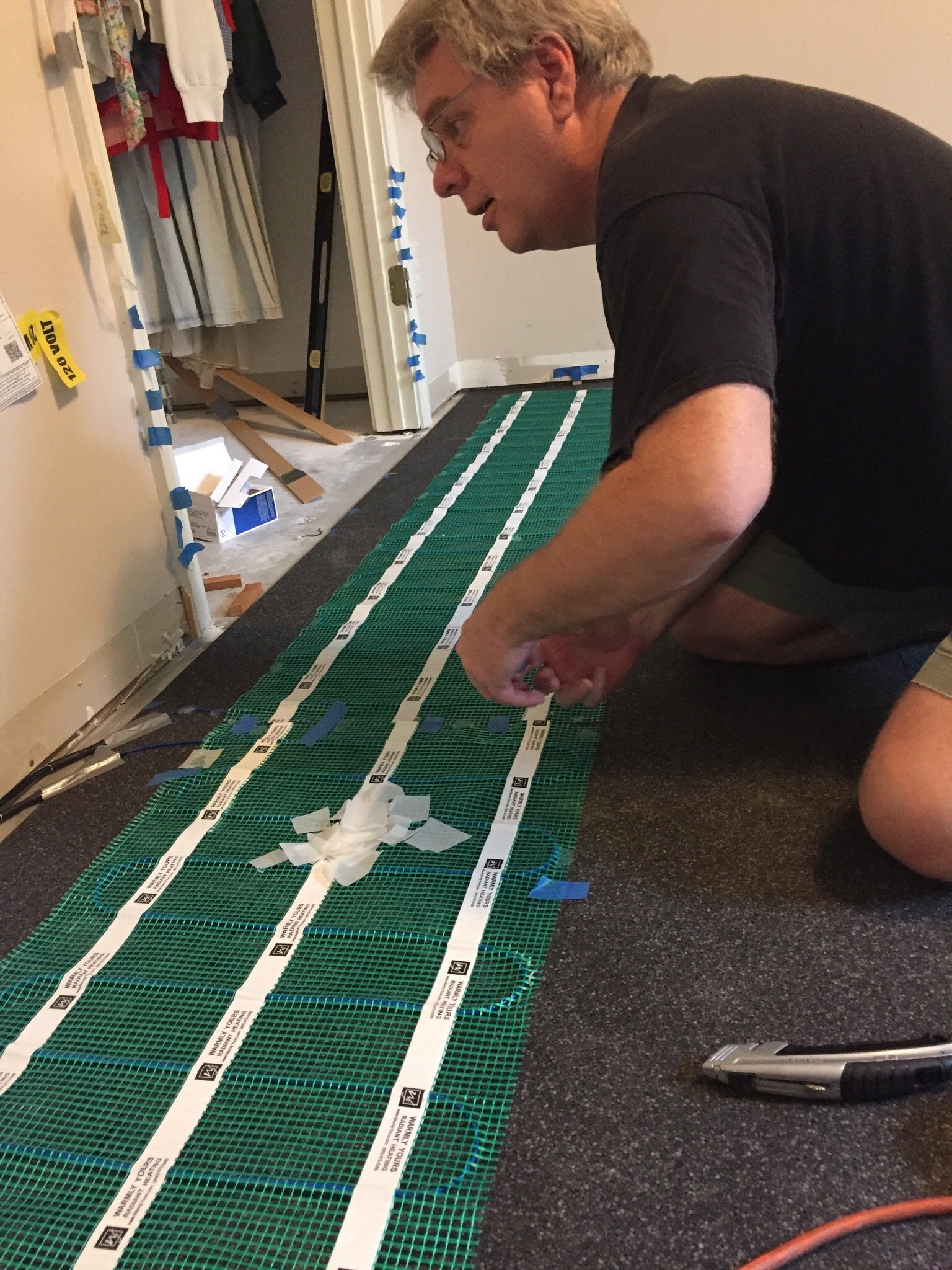 The reason for incorporating radiant heating into his renovation of the basement was partially due to how difficult it was to heat the basement with his central air heating system.
"Our house is a split foyer design. The living space downstairs is partially below grade. It is normally 5 to 10 degrees cooler than the rest of the house. In the South, we have weird winters. There are many days it can be 30 degrees in the morning and 70 degrees by mid afternoon. This means that on those days the heat never comes on after mid morning leaving our downstairs quite chilly. My wife and two daughters won't go down there and I wanted to fix that! Adding a second HVAC unit was not an option. Baseboard heating is unsightly and, in my mind, inefficient. So radiant floor heat was the best fit," said David.
Customer Support Saves the Day
David said that during the quoting process, his account representative Jen helped avoid a costly mistake when a crucial project detail (the flooring material that was being used) was changed.
"Originally we were going to go with engineered plank flooring … During our search for the right pattern, we decided to go with solid vinyl plank flooring. The downstairs has a laundry room and bath and we were advised that vinyl plank would be a better fit because it is waterproof. Jen pointed out that the installation method was very different for vinyl as it is a much thinner product and we would have hot spots on the floor If we just laid the floor directly over the heating rolls. It had to be embedded in mortar or self-leveling compound. The installation information at the time did not cover vinyl flooring so Jen gave us the details and avoided a potential disaster," he said.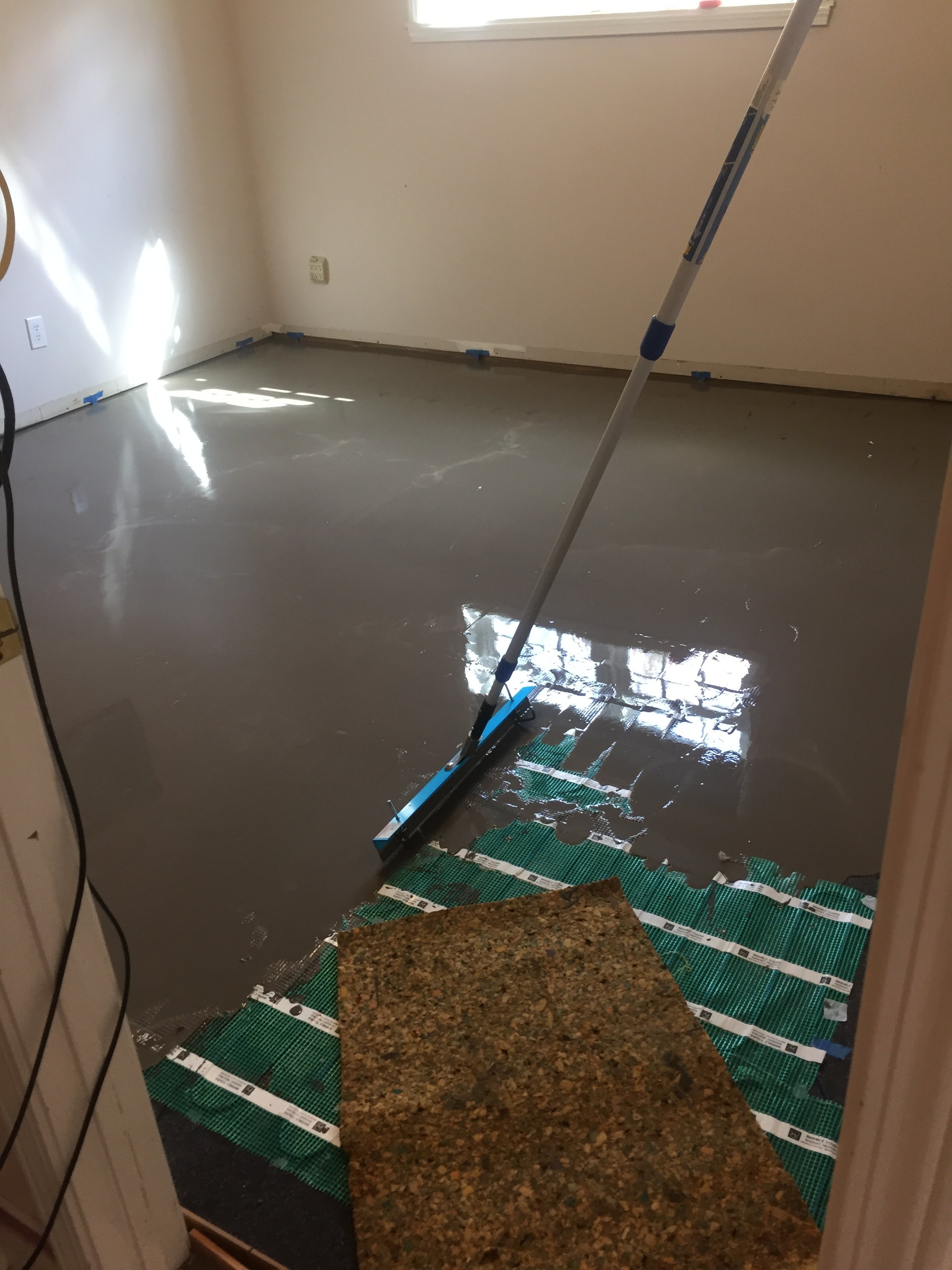 Now that David has been running the heating system for a couple of years, he said that he's noticed a couple of key differences between radiant heating and his central air system.
"The most surprising thing is that the thermostat does not use the air temperature of the room to function. It uses a probe under the floor that uses the floor temperature to turn the system on or off. So it takes a few days to dial that in to get the room temperature you want but it works great," said David.
After the project was completed, David did admit that he had one lasting regret.
"I wish I could have done this ten years ago!" he said. "If it weren't for the excellent staff and training videos, I might still be wrapped up in blankets watching TV. I was rather intimidated about tackling this project but all the resources WarmlyYours provided eliminated my fears. It is so nice to walk downstairs into nice cozy warm rooms!"

Check out some of our other Share Your Story posts by clicking here.
---
Tell us About your Project
Our team of Radiant Experts is ready to help! Just tell us a little about yourself and your project to get started.
---
Did you find this post helpful?
Let us know by giving it some applause.
---
---