When cold weather strikes, all you want to do is to head indoors to get nice and toasty. But what happens if your home has rooms that are difficult to heat? You can choose  to augment your existing forced air system or you can explore the possibility of shifting over to radiant floor heating. If you're planning a renovation, now is the perfect time to consider making a change to your heating system.
You may not have considered radiant heated floors before but there are many reasons for choosing this option. In this post, we'll take a look at those beneficial elements of heated floors along with providing a general overview of electric floor heating.
Can Radiant Floor Heating Benefit your Home?
If you haven't looked into electric heated floors before now, you probably haven't heard of the benefits. Whether you're looking to replace your current heating system or simply looking to provide supplemental heat for a particular room, electric heated floors are a great option. Here are a few of the benefits that you can rely on.
Fewer Floating Allergens
Your central heating system works by pulling air from your home into the system. This includes pulling allergens up from wherever they're resting. Once in the system, an air filter blocks some allergens, dirt, and debris. The air gets heated and then forced back into your home, bringing with it the allergens that got through the air filter.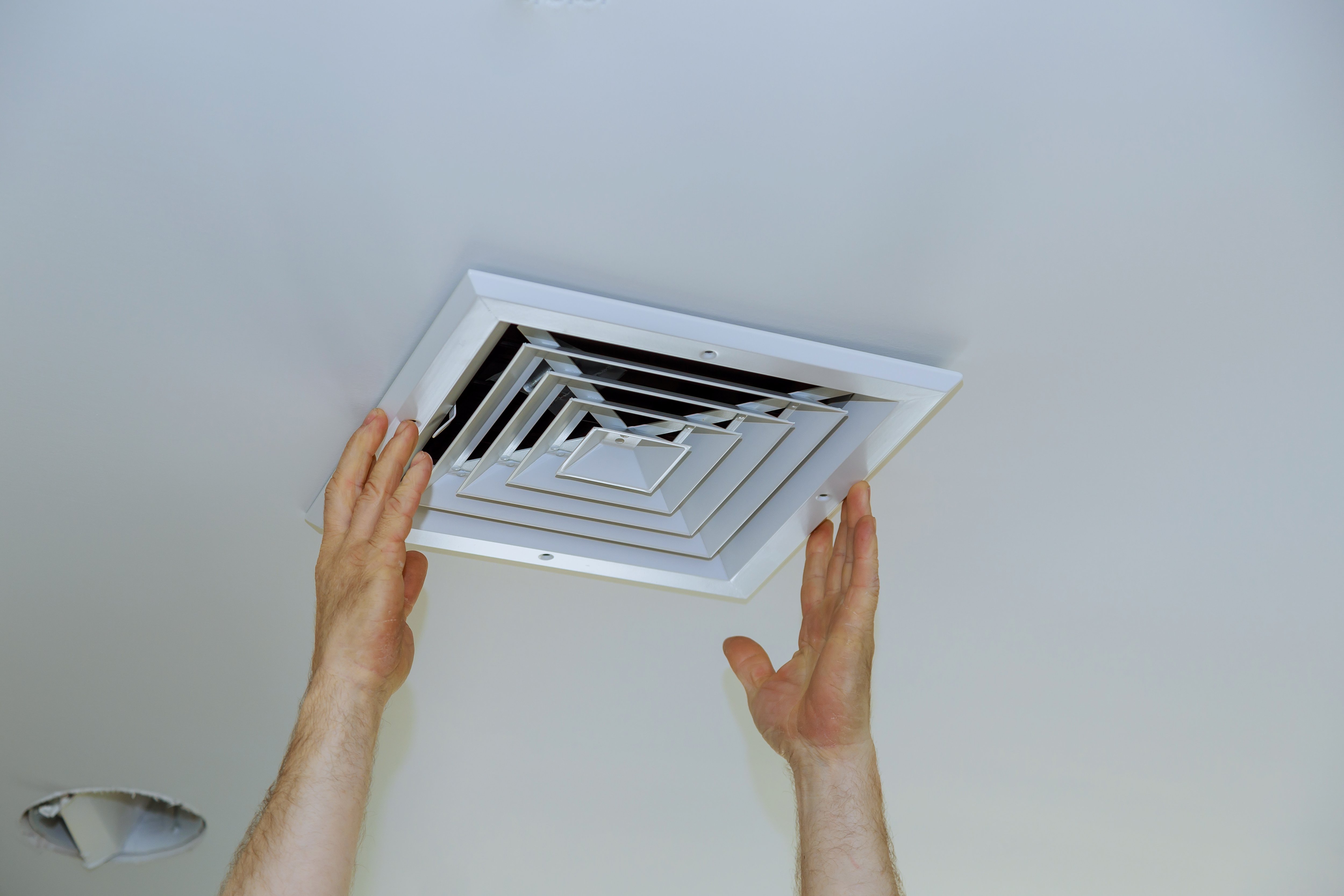 If you have children with asthma or older family members living with you, limiting the number of allergens in the air can make a big difference. With electric heated floors, the heat comes from the flooring being warmed and then transferred via infrared radiation to the other items in the room. This method of heating leaves the allergens where they are so that they can easily be cleaned up later.
Increased Comfort
Warm floors are a luxury that simply has to be experienced to be believed. You won't need to wander around the house in the winter months with socks on to keep your feet warm. Your floor will keep you (and your toes) warm and comfortable.
In fact, most people are able to keep their rooms set at a lower ambient temperature because they report feeling comfortable at these lower temperatures.
More Energy Efficient
Typically you'll find that your electric heated floors are more energy-efficient than your forced-air heating system. This is due to the essential differences in how energy (in this case, heat) is transferred in these systems. In forced-air heating, the air is heated and is then used to transfer heat to the objects in a room by way of convection. This is an inherently inefficient system as the air easily loses heat. In radiant heating, the heating system essentially turns the heated areas of the floor into a heat bank that evenly radiates heat directly into the solid objects in the room. This is the key way that an electric heated floor is more efficient than a central air system.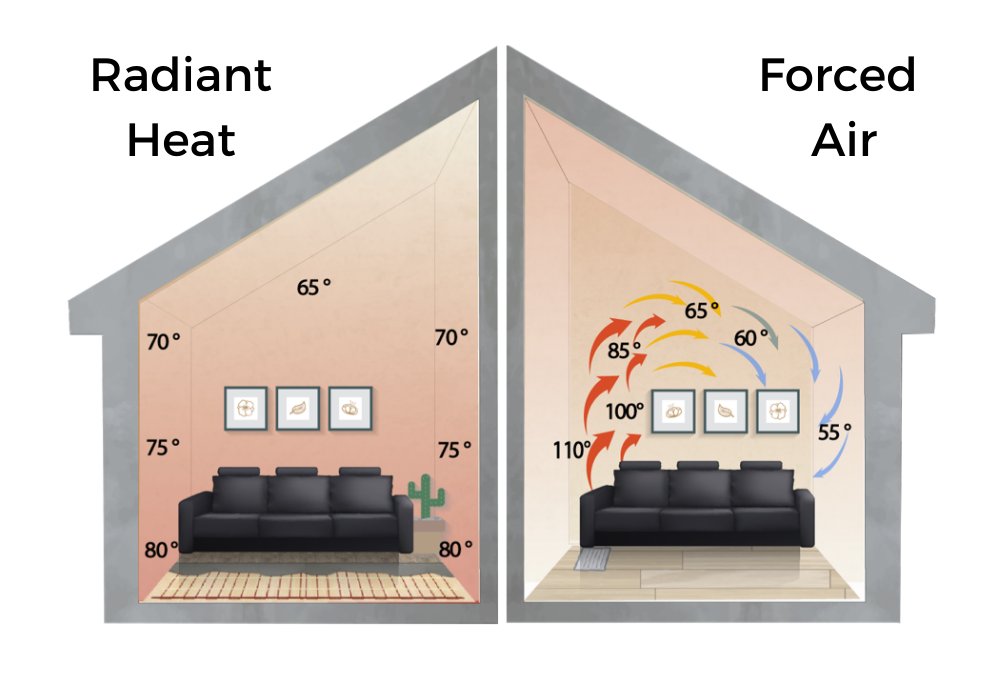 And who doesn't want to spend less money on their electric bill?
Easy Installation
Adding onto an existing central air heating system is no small task as it usually requires both material costs and expensive labor costs. This is also rarely the type of home renovation project that a typical DIYer can undertake by themselves.
Radiant floor heating on the other hand is extremely DIY-friendly. We offer systems for embedded installation (embedded in thinset, self-leveling cement, or traditional cement) or adhesive-less installation in a floating floor and each of these heating systems were designed to make installation possible for anyone that considers themselves even remotely handy. However, we do recommend that a licensed electrician is always hired to make the final electrical connections between the heating elements and the control or thermostat. In addition, WarmlyYours also offers a lot of great resources like installation manuals, videos, and blog posts to make the process easier. Additionally, we offer 24/7 customer support along with our line of SmartServices for installation or remote installation supervision.
Safety First
With an electric heated floor from WarmlyYours, you'll find that our heating systems are listed by reputable organizations like UL and CSA to ensure it's safe for use in your home. You don't need to worry about electrical fires or a gas leak like you would with a traditional heating system. Once the system is installed, it gently heats your floor and the rest of the home. You don't need to worry about the system becoming clogged with dirt and debris, turning it into a fire hazard, like you might with central air. Additionally, you don't need to worry about lighting a pilot light or the possibility of a gas leak.
Affordable
When you're already planning to install new flooring, electric heated floors can cost as little as five dollars per square foot for the heating elements. You don't have to pay to install ducts like you would for a traditional system. You save money over hydronic (water-based radiant heating) systems because you don't need to install pumps, water heaters, and pipes to move the water while heating it. With an electric radiant heated floor, your costs are typically limited to the heating system itself (heating elements and control) and the required flooring materials (floor covering and, if applicable, adhesives).
For example, the cost for the heating system in the project above would be roughly $658.49 USD. This includes the heating element (a TempZone Flex Roll), nSpire Touch thermostat, and accessories for a 30 sq. ft. bathroom. The operating cost for the system would be about 13 cents per day, which is very affordable. 
Customize your Comfort
By using electric floor heating to supplement your forced-air system, you're able to help customize your comfort level in rooms that are tricky to heat with by traditional means. These types of rooms can cause problems because they're on perimeter walls and they're poorly insulated or they're over uninsulated areas like a garage, and while the central thermostat in your home is sitting at a comfortable level, these problem rooms can be much colder. By installing electric floor heating in these rooms, you're able to help modulate the heating level on a room-by-room basis which can help you reclaim these areas of your home from winter's icy grasp.
How does Electric Floor Heating Work?
Radiant floor heating works by, as the name suggests, radiating heat from the heating elements to the solid objects in a room. In electric floor heating, the heating elements generate heat by way of electrical resistance. And even though this is a type of "radiation" it is in no way dangerous to people—this type of heat transfer is similar to the heat of a bonfire.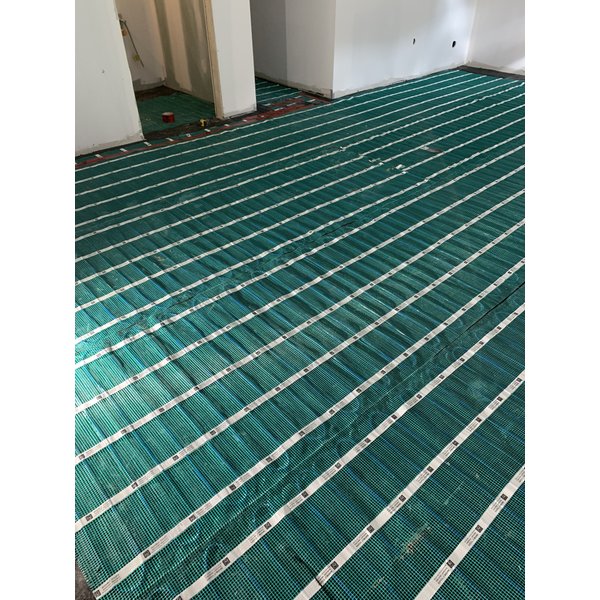 There are many different types of electric floor heating systems but typically they'll be installed beneath the floor covering. This usually means that the installation of the system necessitates the removal of the old floor. The great benefit of this type of installation is the fact that heat rises, which again improves the energy efficiency of this heating type.
Discover a Brand New Level of Electric Floor Heating Control
At WarmlyYours, we offer three kinds of electric floor heating systems, including TempZone™, Environ™, and Slab Heating. The TempZone™ and Slab Heating systems are embedded while the Environ™ system is not. Slab heating gets embedded in the concrete as you're pouring it, making it an excellent choice for basements and other utility areas. TempZone™ can be embedded in thinset or self-leveling cement beneath tile, stone, LVT, and many more floor coverings.
Environ™ is the radiant floor heating for floating floors like carpet (U.S. only), laminate, and engineered wood. In this case, the cable sits between two layers of aluminum foil laminate and creates a gentle heat. This is the easiest radiant floor heating system to install and typically it's very affordable as you eliminate the cost of the adhesive for installation. You just place it on the insulating underlayment or carpet pad, install the flooring over the top, and hook the heating system up to the thermostat.
Heating Solutions Designed for Every Space
With several different types of floor heating systems, you can find the right fit for every room in your home. You can even have radiant floor heating installed in a walk-in shower. It's a great solution for a screened porch that you need to keep warm in the winter months to continue to enjoy. If you live in a colder area, you might consider radiant floor heating when you add a room to your home but don't necessarily need air conditioning.
At WarmlyYours, we enjoy partnering with our customers to find the ideal radiant floor heating system for their home. No matter what your project is, your WarmlyYours account manager will answer any questions that you may have and walk you through your options, so you can make the best decision possible. But if you're just curious about how much an electric floor heating system would cost for your upcoming remodeling project, you can use our Quote Builder to find out.
---
Tell us About your Project
Our team of Radiant Experts is ready to help! Just tell us a little about yourself and your project to get started.
---
Did you find this post helpful?
Let us know by giving it some applause.
---
---