While 2022 has come and gone, its impacts, particularly on the radiant heating industry, are still being felt. Last year saw significant shifts in not only the types of products being sold by radiant heating manufacturers but also in the types of projects being worked on.
Much of this is due to the seismic changes that the entire world underwent after the global pandemic that brought a bevy of challenges such as supply chain issues and labor shortages. The radiant heating industry also had to contend with consumer concerns regarding inflation and the corresponding increase in interest rates, which, coupled with pre-existing concerns about housing inventory, have resulted in stilted home buying activity.
Despite these challenging market conditions, WarmlyYours was still able to post positive sales growth due in no small part to the creation and implementation of SmartServices, a service-side expansion for the company that touches on both indoor and outdoor radiant heating products.
In this report, we'll take a closer look at the performance of radiant heating product sales and analyze the impact that the national housing and remodeling markets are expected to have on future sales.
WarmlyYours Product Performance in 2022
In 2022, WarmlyYours saw significant growth for nearly all product lines but it was particularly evident in secondary product sales. The fastest growing product line was LED mirrors (up 40.8%) which was followed by radiant panels (up 8%). Both of these product lines are popular for both direct and third party ecommerce sales. LED mirror sales were up 39.3% in e-tailer sales and radiant panel sales were up 44.8% on Amazon.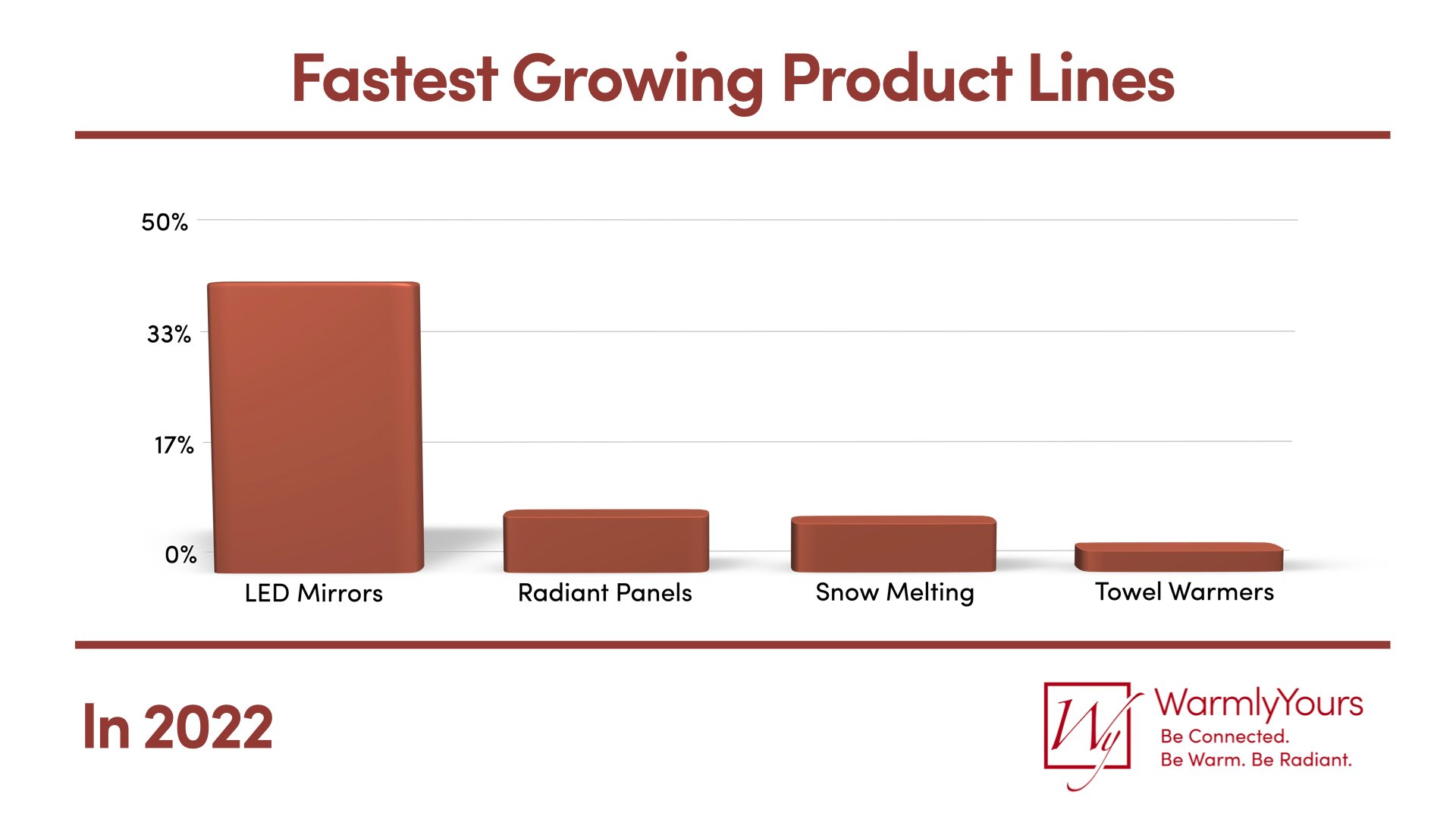 These products typically do well for ecommerce because they're largely visual products and they don't require support elements like a floor plan design. They're also easy to install for professionals and DIY-ers alike.
Some other fast growing product lines were snow melting (up 6.6%) and towel warmers (up 2.5%), which continued to post positive sales growth for the last several concurrent quarters.
Floor heating's volume leader for 2022 sales continued to be the TempZone Floor Heating Cable (up 1.5%). This product is particularly popular when combined with our Prodeso Cable Installation Membrane (up 16.9%) because of faster installation times (when compared to installing floor heating cable with fixing strips) and a number of other benefits such as crack isolation and uncoupling, which can extend the life of your floor.
The fastest growing floor heating product was the Slab Heating Cable (up 20.6%). This product is used to heat up concrete or cement slabs and is almost always used in new construction projects.
WarmlyYours Sales in Q4 2022
The final quarter of 2022 saw some surprising developments, which were particularly evident in floor heating.
In Q4 2022, the fastest growing floor heating product was also the Slab Heating Cable at a whopping 267.6% growth rate. The Slab Heating Mat (up 95.2%) also showed an increase so it's likely that a number of new construction projects helped deliver such explosive growth.
The fastest growing non-slab floor heating element was the TempZone Shower Mat (up 6.8%) which includes a number of different mats designed to go into tile shower floors.
However, the fastest growing "product line" was actually our SmartServices division which posted an impressive growth rate of 42.9%.
Growth for SmartServices in 2022
For many years, WarmlyYours has prided itself on providing exemplary service to our customers. But in recent years, those services have been expanded and developed into our industry leading "SmartServices."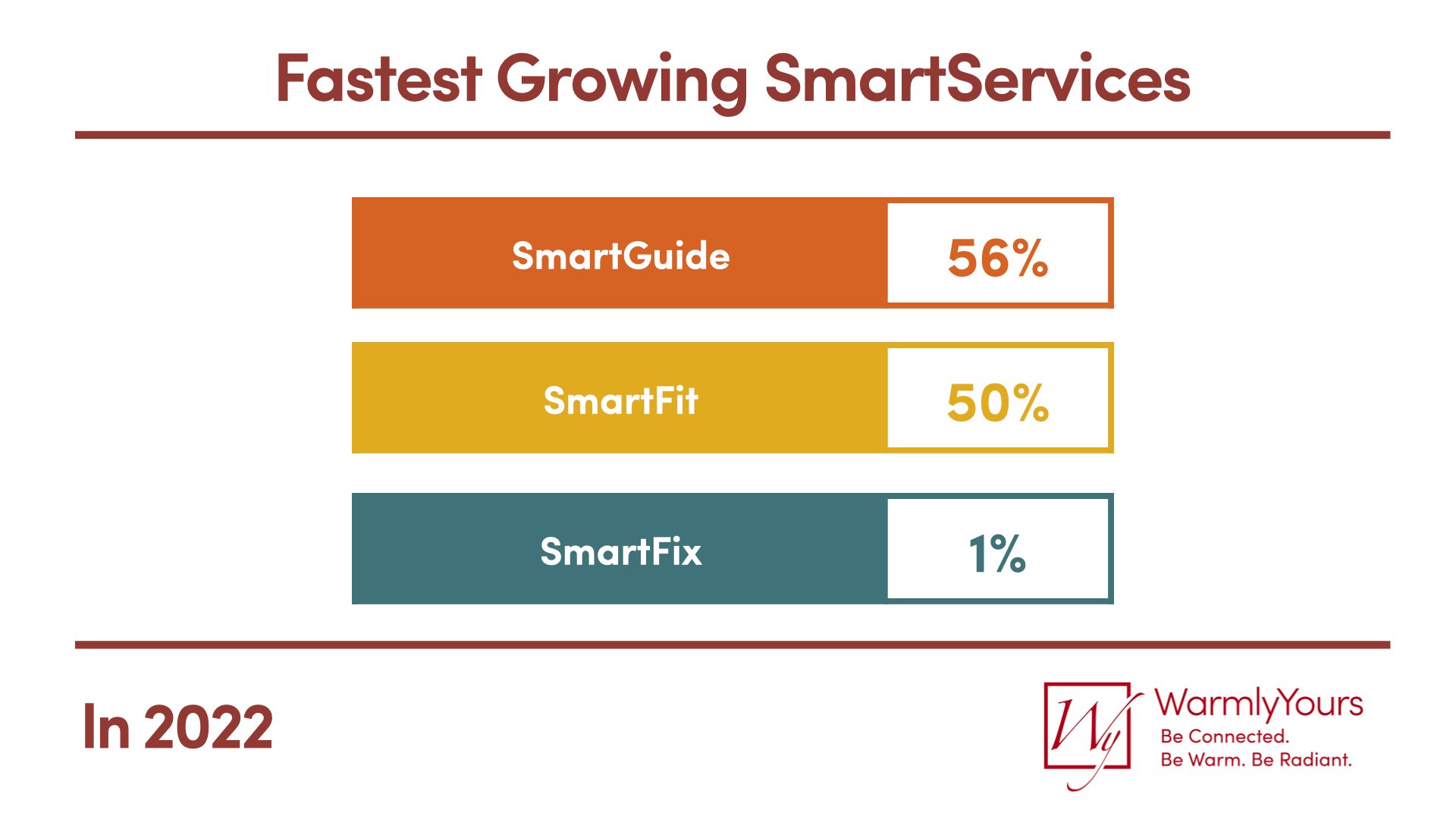 These services are offered for both indoor and outdoor radiant heating products and cover almost every aspect of installation, from pre-project activities like measuring the space to hands-on (or remote) installation assistance.
These services were initially introduced during the summer of 2020 when WarmlyYours launched their SmartGuide service for remote supervision of installs of floor heating and snow melting systems. The initial idea behind this service, which was launched during the earlier stages of the worldwide pandemic, was to help share our radiant heating knowledge with in-field installers without having extra people at the jobsite.
With SmartGuide, WarmlyYours Radiant Experts are able to coordinate with trade professionals at the project using video conferencing on a smart device. Part of what separates this from our 24/7 technical support hotline is that our staff is able to "see" more of the installation which can greatly improve clarity and concision and that can be extremely important to busy professional installers. This is particularly crucial during the installation process to help minimize potential issues before the final covering is laid down.
In 2022, SmartGuide was the fastest growing SmartService when compared to the prior-year-period with 56% growth. This increase has been spread between both the remote and in-field versions of the service. In the fourth quarter of this year, SmartGuide grew 27.8%.
SmartFit, the professional measuring service, was the next fastest growing SmartService in 2022 with a growth rate of 50%. This service is generally popular with homeowners but it has been used by a number of professional customers who use it as an opportunity to learn, in the field, how to properly measure for a radiant heating system and what sort of project details (like vent locations or permanent fixtures that touch the floor) are relevant to relay to radiant heating system designers.
Our troubleshooting and repair service, SmartFix, posted a 1% growth rate for the year but a very impressive 146.4% for Q4 2022. This service has been particularly popular with trade professionals as it often serves as in-field training for their own future troubleshooting or repair efforts.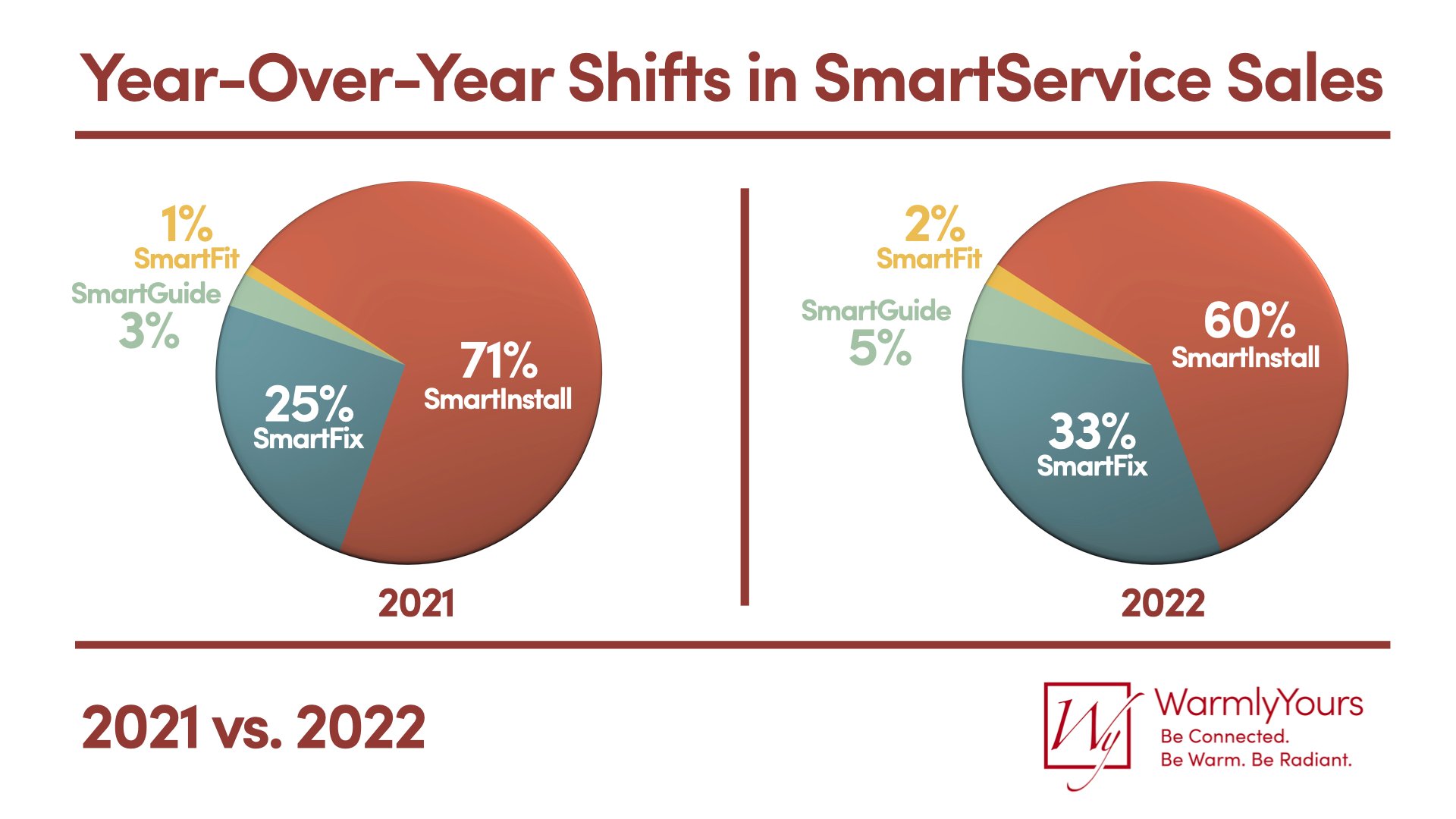 The growth in SmartFix has helped propel it from 25% of all SmartService sales in 2021 to 33% in 2022. This was the largest positive shift in total SmartService sales and is largely due to the fact that WarmlyYours will now service competitor's systems in addition to their own which has greatly expanded the pool of potential projects.
SmartInstall, the most popular service by sales volume, went from 71% of all SmartService sales in 2021 to 60% in 2022. During the same timeframe, SmartGuide grew to 5% of all service sales (up from 3%) and SmartFit went from 1% to 2%.
Regionally speaking, SmartServices have been largely based in the general area of the Lake Zurich headquarters for WarmlyYours with about 82% of total sales dollars coming from the Great Lakes region. This is followed by the Mideast region of the US (17% of all sales).
For the Great Lakes, most of the sales have come from Illinois (79%) and Indiana (3%) with Chicago being the largest metro-market. Sales for the Mideast consisted entirely of sales to New York City.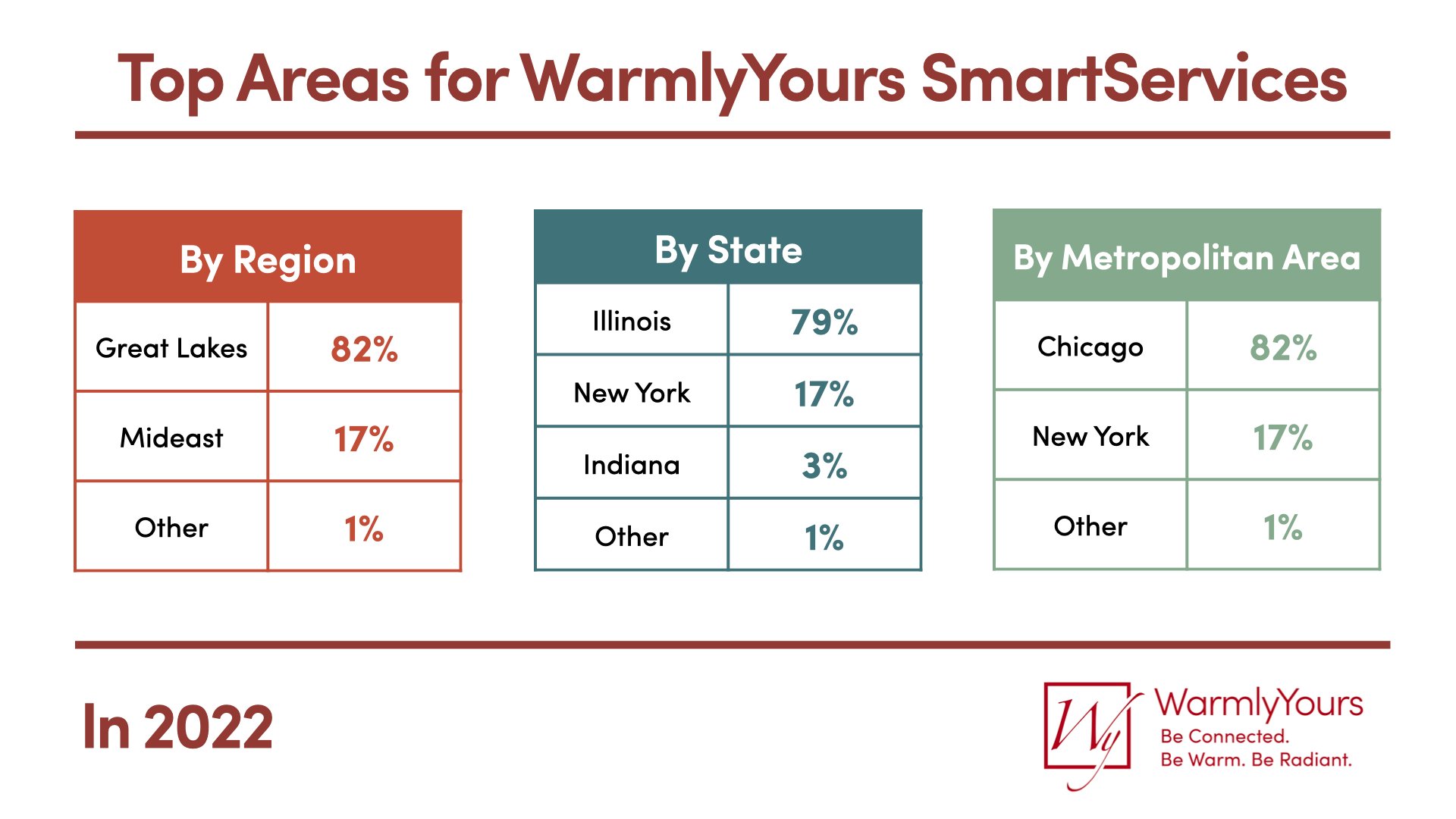 The customer channels that have engaged SmartServices have been particularly revealing. The largest cohort is actually trade professionals with 65% of sales. This is followed by homeowners (at 32%) and "other" (at 3%). While this may seem counterintuitive at first blush, it's actually by design.
These services are often as much about training as they are about the service being rendered. For many trade professionals, such as electricians or flooring contractors, only a relatively small portion of their projects in any given year will involve electric radiant heating products. And because of this, through no fault of their own, they'll ultimately be less familiar with advances in installation best practices and with product innovation.
Working with a WarmlyYours Radiant Expert via SmartServices gives these professionals not only needed assistance at the present time but also knowledge for the future. Julia Billen, owner and president of WarmlyYours, said that increasing product knowledge amongst the professional customer segment was one of the primary reasons that SmartServices were developed.
"For more than 20 years, we've been building an unrivaled knowledge base by designing hundreds of thousands of radiant heating systems and by answering perhaps millions of customer questions with our 24/7 technical support hotline," said Billen. "And now, with our SmartServices we are able to share that knowledge with the people who are actually in the field every day."
Billen said that similar reasoning is why the company also developed an online Installer Certification program for professional customers which will allow them to not only be trained in the "latest and greatest" regarding radiant heating but also potentially pair them with interested homeowner customers in their areas.
"I know from experience that our professional customers are some of the best installers in the world but I also know that radiant heating is just a part of what they do," said Billen. "Our certification program and services make sure that these professionals are being exposed to the latest and greatest in product and installation developments. And it also assures us that we're connecting our homeowner customers with the best possible installers for our products."
For the future, Billen said that the company is working to expand SmartServices to other locations and regions while maintaining the same level of customer satisfaction.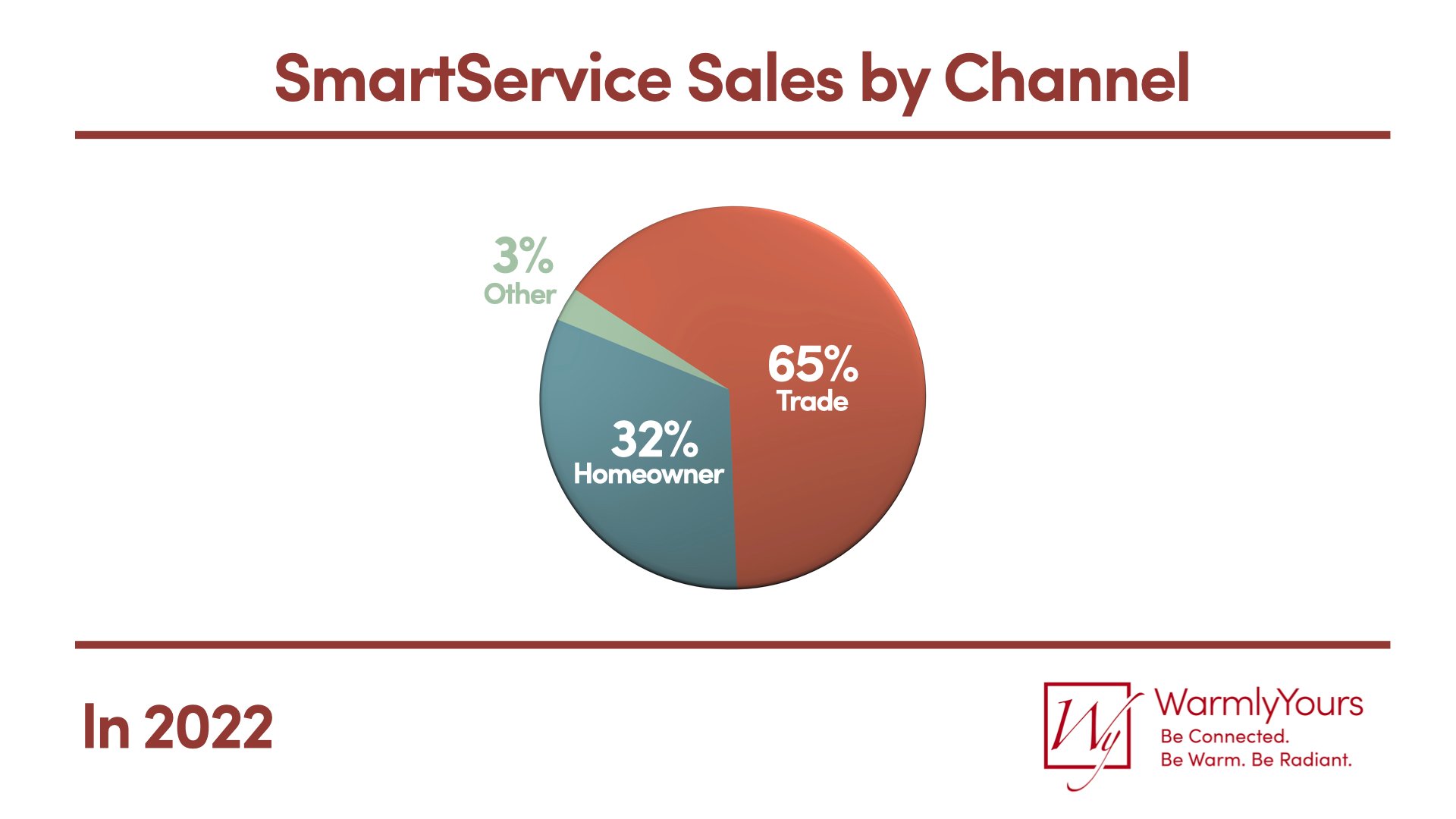 "The goal has always been to make sure our customers' installations go as smoothly as possible and the products are installed properly so that they can be enjoyed for years and years," said Billen. "Expanding our services geographically is just the logical next step. After all, we have customers all over the world."
The Housing and Remodeling Markets in 2022
The housing market is integrally connected to the remodeling market and both have a substantive impact on radiant heating sales. For several years, there has been rapid home sale growth but the market has more recently been throttled by low inventory levels across much of the country and increased home prices outpacing wage growth that has caused a relative slowdown.
According to the National Association of Realtors (NAR), eleven out of 12 months in 2022 saw existing home sales down when compared to previous periods. In December 2022, existing home sales were down 34% from December 2021.
"December was another difficult month for buyers, who continue to face limited inventory and high mortgage rates," said NAR Chief Economist Lawrence Yun. "However, expect sales to pick up again soon since mortgage rates have markedly declined after peaking late last year."
However, it does appear that inventory is starting to be less of a limiting factor for home sales as December 2022 saw a 10.2% increase in inventory when compared to the previous year.
During the same period, the median home price increased 2.3% which continued the longest streak (130 months) for home price increases in history. Despite this, Yun says that home price increases have begun to decelerate compared to the prior period.
"Home prices nationwide are still positive, though mildly," Yun said. "Markets in roughly half of the country are likely to offer potential buyers discounted prices compared to last year."
The outlook for the remodeling market also appears to be well tempered by concerns about home sale activity. According to the most recent Leading Indicator of Remodeling Activity (LIRA), which is a quarterly assessment from the Joint Center for Housing Studies of Harvard University, they expect to see a steep deceleration in annual gains of home renovation and maintenance spending from 16.3 percent at the close of 2022 to just 2.6 percent by year-end 2023.
"Slowdowns in existing home sales, house price appreciation, and mortgage refinancing activity coupled with growing concerns for a broader economic recession will cool home remodeling activity this year," said Carlos Martín, Project Director of the Remodeling Futures Program at the Center. "Homeowners are likely to pull back on high-end discretionary projects and instead focus their spending on necessary replacements and smaller projects in the immediate future."
While the rate of growth is decelerating, the actual size of the renovation market that the LIRA measures has grown more than their initial projections.
"The massive pandemic-induced changes in housing and lifestyle decisions fueled remodeling and repair spending in 2020 and 2021, growing 23.8 percent over these two years compared with the 12.5 percent originally estimated," said Abbe Will, Associate Project Director of the Remodeling Futures Program. "While the pace of expenditures is expected to slow substantially this year, we've raised our projection for the remodeling market size in 2023 by about $45 billion, or 10.2 percent, to $485 billion."
WarmlyYours Expectations for 2023
Our expectations for 2023 are that we will continue to grow our SmartServices in terms of geographic availability. This growth will come in stages because the primary concern is ensuring that we maintain the level of customer service that has led to the growth in these services in the first place.
Another expectation is that we fully expect to see growth regionally in the southeast region of the US. This area has benefited from wage growth and economic development which has driven more home sales activity than most of the US. And while those areas are typically warmer than their northern counterparts, we still expect to see substantial growth for our product offerings, particularly for floor heating and towel warmers.
Regarding our own products, we're also expecting to launch a new floor heating element that could substantially change how electric floor heating cable is installed. The new product will feature an integrated "ruler" that will allow installers to ensure that their installation is on track by comparing their real world measurements to their install plans. Julia Billen said that this product's development was inspired by another of WarmlyYours's unique selling points, complementary floor heating design.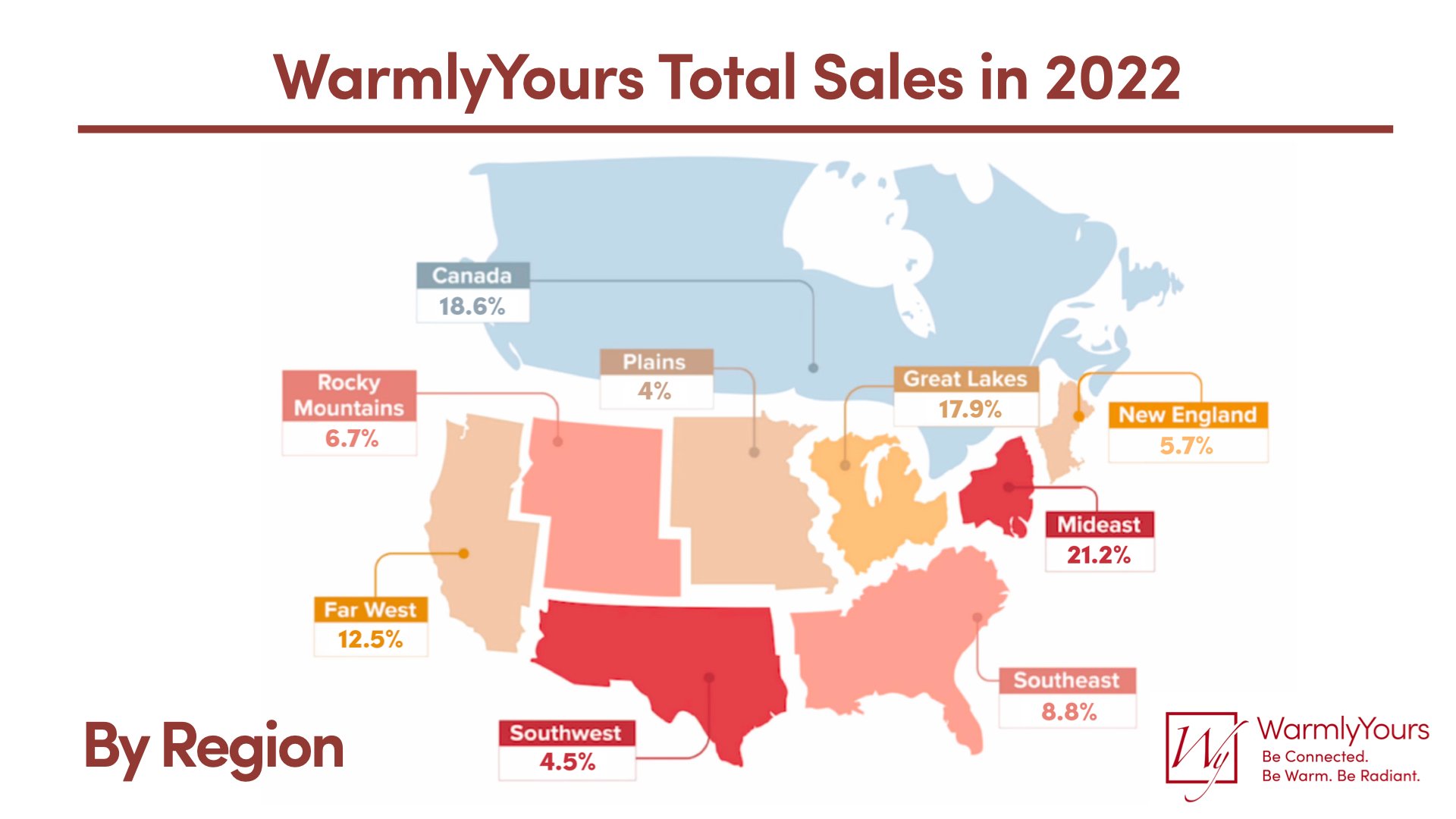 "We're taking something that we do better than anyone else, which is providing free layout designs for electric radiant heating, and we're combining that with an innovative product to make our installers' jobs easier," said Billen. "When you know your own strengths and the needs of your customers as well as we do, then it's your responsibility to improve your products and services like we have to make life easier for everyone."
Sources:
---
Tell us About your Project
Our team of Radiant Experts is ready to help! Just tell us a little about yourself and your project to get started.
---
Did you find this post helpful?
Let us know by giving it some applause.
---
---