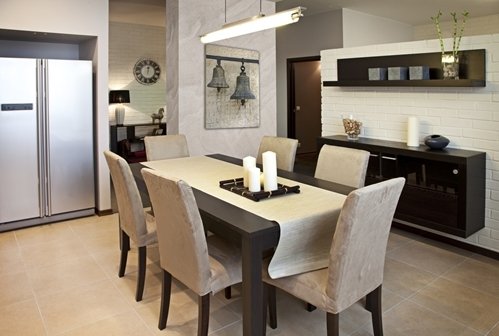 Too often, the dining room is nicely decorated, but not given the same welcoming feel that other rooms in the household have. With new emphasis on the importance of families taking time for dinner together, there's a good reason to re-design the dining room into a place where people will want to gather every day, not just for special occasions.
"Doing that does not have to break the bank. It can be something you do over time," Family Circle magazine columnist Stephen Saint-Onge wrote in his "Designer Dad" column. "You can de-clutter, paint walls, get a new table, then get new chairs later on, add some lighting details and new artwork."
Color, Light and Heat
When he took on a dining room project for the magazine, Saint-Onge's goal was to give the same attention to decorating the dining area as is generally given to other parts of a home. Rather than take on the whole project at once, he broke it down to essentials first and accessorizing as the budget allowed.
The starting point, as in most makeover projects, was to choose a color that will have staying power throughout different seasons and be neutral enough to coordinate with a host of colors and patterns.
Lighting, both essential and decorative, was upgraded with an existing chandelier  by spray painting it a new color and adding small lampshades to individual bulbs.
For real warmth as well as atmospheric warmth, homeowners might also consider installing an in floor heating system. Uniform radiant heat becomes available in the room by turning on an electric switch without requiring air ducts.
Movable Furniture Arrangement
With no baseboards or air ducts to consider with radiant floor heating, homeowners have greater flexibility in arranging furniture. In a large dining room that means the table can be situated in a different position from the usual vertical placement. For smaller spaces, Saint-Onge recommended a simple farmhouse table because it goes well with both contemporary and traditional home designs.
The arrangement of seating around the dining table can be diversified as well. For instance, a dining bench can expand seating by gathering all the chairs on the other sides of the table when more people are expected. At other times, it can be placed against a wall and accessorized with pillows.
A small bureau added to a corner provides storage for table linens and can be used as a surface during a buffet.
---
Tell us About your Project
Our team of Radiant Experts is ready to help! Just tell us a little about yourself and your project to get started.
---
Did you find this post helpful?
Let us know by giving it some applause.
---
---