Recently install electric radiant floor heating? Hear people working in the room with the brand new floor? You might want to check and look at what they are doing.
Sometimes, WarmlyYours receives calls from customers who have recently installed a brand new floor heating system. The radiant floor was tested and seemed to work properly for a while, but now it doesn't.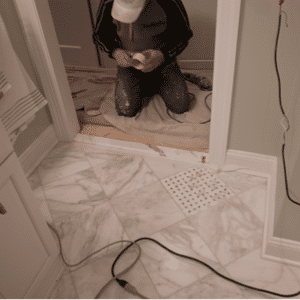 One of the first things we ask a customer in this situation is if any work has been done on the floor since the tiles were installed.
Why would we ask that?
After some floors are installed, a different tradesperson will come to install trim, plumbing, shower doors, etc. These new tradespeople may be unaware that there is heating wire installed under the tile. If they are unaware of the presence of this product, they do not know that this job isn't "business as usual".
The best thing to do is to let all new workers to the room know that there is a heating cable in that floor.
Do some detective work on the room pictured above. What was installed in the room after the tile? It looks like there was trim, cabinets, and a transition installed later. The installation of any of these items could result in heater damage if not executed correctly.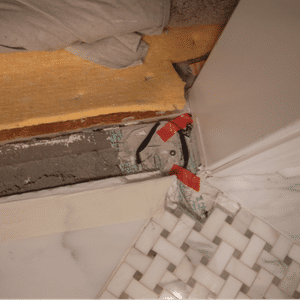 This floor worked and then failed after the transition was put in place.
We took our diagnostic tools and found the wire worked, right up to the transition and then went cold.
We lifted the transition, and found the wire cut. Here we can see the repairs to the wire. Now the floor works like a charm!
When discussing trim, the wires that usually sustain the most damage are the power supply leads (or cold leads) that run from the thermostat to the heating wire or the sensor wire. Trim installers who install baseboards incorrectly usually damage these wires.
In the picture below we can see where holes have been drilled into the tile, with 2 direct hits to the wire.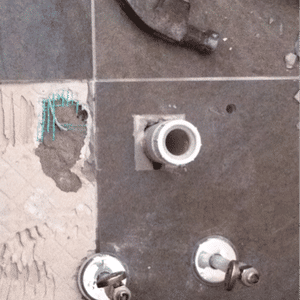 Another risk factor to severing the wires of your Radiant Heating System is all about timing.
It is important to make sure you always clean grout lines as you go or you can sever the wires if you wait until the floor is finished. You can read more on cleaning grout line with our Electric Radiant Floor Heating system here: Tech Tip: Don't Clean Grout Lines With A Knife Blade
Our heating wires are very resistant to damage, but don't stand a chance against drills, screws and nails. Please remember to pay attention to all work being done in a room with the new floor and let any new tradespeople on the job know that there is heating wire installed in the floor. Doing so will result in years of radiant heated-floor pleasure!
---
Tell us About your Project
Our team of Radiant Experts is ready to help! Just tell us a little about yourself and your project to get started.
---
Did you find this post helpful?
Let us know by giving it some applause.
---
---