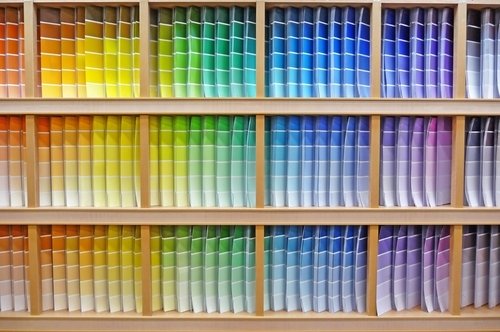 For those who want a serene feel in their homes, choosing the soothing colors of nature - sand and blue to reflect the ocean or various greens for a garden atmosphere -  are right in line with the two colors touted as the reigning favorites among homeowners. Green, blue and a mix of the two top the list of hues by the Paint Quality Institute.
"There are the greens that gravitate toward blue, which just happens to be projected as the other popular paint color this year," said Debbie Zimmer, the institute's paint and color expert. "Bluish-greens like teal, turquoise, aquamarine and cyan are hot designer choices."
Zimmer suggested that homeowners focus on the greens that appear in great variety within nature -  trees, ferns,  asparagus, celery, lime and mint. The same is true for blue, from robin's egg to the blue-gray of slate.
Warm or Cool
Using warm and cool colors as a gauge, home decorators can also find their inspiration for a new palette that's in step with the current color trends. Warm colors can create an atmosphere that's as vibrant as fire engine red or as subtle as pastel yellow. Cool colors, straight out of the seashore and pastoral settings, evoke a sense of peace and relaxation.
In recent years, interior designers have stepped up their use of oyster hues and variations of gray to replace the more traditional beiges in the neutral zone. For a casual look in family rooms or children's rooms, there are brighter versions of greens or blues that are toned down somewhat from pure primary colors.
The Right Finish
The finish of a paint is just as important as the color. While most people know about the basic levels of gloss - non-shiny flat, eggshell and glossy paints - they should also ask at their local paint shop about those that fall between.
These include a matte finish that's a midway point between flat and eggshell and contains porcelain dust for easier cleaning. Likewise, pearly finishes fall between eggshell and semi-gloss, and stand up well in rooms that retain moisture.
That's particularly true in the bathroom, which may be the room most likely to be affected by moisture. Homeowners who install an electric towel heater or choose to heat the bathroom with radiant heat may want to check to see if their bathroom paint will work well with such apparatus.
---
Tell us About your Project
Our team of Radiant Experts is ready to help! Just tell us a little about yourself and your project to get started.
---
Did you find this post helpful?
Let us know by giving it some applause.
---
---