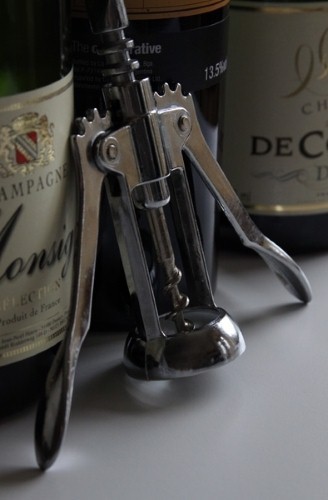 While it's easy enough to enjoy a glass of wine with dinner, there's no denying the draw of a home bar. Practical for entertaining, charming in its décor, a home bar is the flourish that a dining room or lounge might need to find its aesthetic and functional voice. So, whether you're anticipating a cold draught of beer after work or a Friday-night cocktail party with friends and neighbors, this checklist can help you design your own perfect home bar.
1. Theme. Maybe you're a tiki enthusiast, or maybe you have a warm place in your heart for the ale and Guinness-doling pubs of England and Ireland - or perhaps you and your spouse are wine collectors, devoted to a perfect recreation of a Parisian art-nouveau bistro. Your theme will influence more than your décor. For a draught system, you'll need space for a keg and refrigeration unit. For cocktails, you'll need plenty of shelving for ingredients, appliances and all the trappings.
2. Comfort.  This will be a matter of design as well. Leather chairs should do well in most environments, but those bars with a tropical theme may want something more evocative, like bamboo furniture or houseplants. Glass-topped tables or stools are also a good touch. To keep you and your guests comfortable on chilly summer nights and through the winter, consider installing radiant floor heating. It's an eco-friendly alternative to venting in hot air, perfect for a home bar.
3. Equipment. There are plenty of extensive checklists available to best equip your bar with everything from the right vintage Malbec to the ideal instruments necessary for a gin fizz, but essentially you're going to want a few staples, and of high quality. A variety of glassware, from highballs to snifters, will be great for cocktails, as well as an ice bucket, strainer and martini shaker.
4. A smaller option. If you're lacking in space, consider a dry bar without a sink. Sideboards or corner shelving can make for attractive bar space with some simple décor touches. Even a wine rack placed against a kitchen wall or in the pantry can serve a similar purpose. And, for those seeking out a retro feel, a wheeled beverage cart is an excellent option.
Like this post? Subscribe for regular updates
Make sure you don't miss out on the latest news in radiant heating by subscribing to our blog. We'll send you an email with links to the newest posts from WarmlyYours.
We won't share your information and you can unsubscribe at any time with a single click.
---
Did you find this post helpful?
Let us know by giving it some applause.
---
---