In a world that is constantly changing, it is very difficult to find the perfect material to remodel your home. Many homeowners become overwhelmed trying to keep up with the latest trends and newest developments, that it becomes virtually impossible to focus and muster up the inspiration they need to remodel their home. Often, remodeling causes homeowners stress instead of inspiration. Sometimes we become so busy crunching numbers to pay for our home remodels that choosing design and style for the project is unintentionally the last thing on our list. But, inspiration to remodel your home is all around you! Find inspiration in the organic trees and colors of the forests or in the geometric structure of the city. There are a variety of books, magazines, and websites that provide an infinite amount of information and ideas.
Sometimes your perfect vision doesn't always come to you; you have to go to it.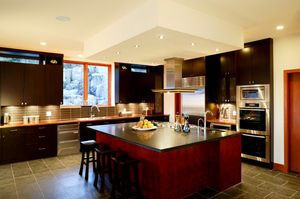 Everyone loves to travel! A great way to find new ideas to upgrade your home is to go out and see and explore the world. Explore fine hotels and imagine how the style and structure could look in your home. You can bring your favorite vacation spot into your house by creating a room that reminds you of your most relaxing vacation spot or visit other cultures to form richly creative and unique styles. Yet, another great way to gain inspiration is to tour a local model home or visit open houses. Custom model homes let you discover new gadgets and features to upgrade your home, and can also help you choose the ambiance and home atmosphere you want to dwell in. Instead of relying on two-dimensional images in a magazine or book, leaving your house and seeing the world will open a wealth of opportunity to future remodelers.
Just remember, when redesigning and remodeling your home, it's always important to add your own personal touch. Allow yourself the familiarity and comfort you so enjoy. This way, the space you are designing will not simply be a reflection of trends, but a reflection of your authentic self. Bringing warmth into your home is a great way to bring comfort into your surroundings. We believe in comfort and warmth in a home, and that's why we love offering our radiant heat products. With either a towel warmer, floor heating, a glass heating panel, or many other products we offer, you can add comfort and luxury to your home and customize it to fit your style and needs.
Design your home with something that is meaningful to you, ultimately creating timelessness to your home's design. Don't wait for the world of inspiration to come to you; go explore and find the inspiration! The world around us provides all the inspiration we need to design a beautiful home.
Like this post? Subscribe for regular updates
Make sure you don't miss out on the latest news in radiant heating by subscribing to our blog. We'll send you an email with links to the newest posts from WarmlyYours.
We won't share your information and you can unsubscribe at any time with a single click.
---
Did you find this post helpful?
Let us know by giving it some applause.
---
---