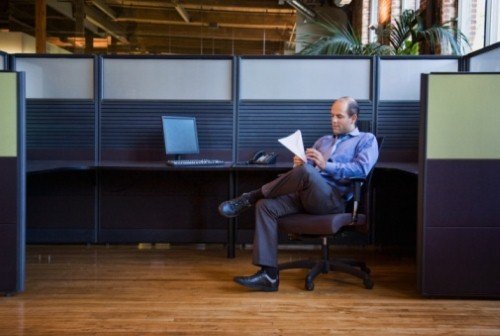 Most summer days you'll be wishing you could lounge in the park or go for a swim at the beach, but for better or worse, you'll be at the office, getting the daily grind done and looking forward to the weekend when you can make good on a few of those daydreams. While cubicles and office desks aren't the most welcoming of spaces, they can be made much more comfortable with just a few touches.

1. In a cubicle, face your entrance. This minimal bit of Feng Shui can make all the difference. It's more relaxing not to have your back to the door - just look at most offices - so there's no reason it should be that way in your cubicle. Feel free to move things around until you're at your most at ease and productive.

2. Plants - or at least pictures of plants. If you can't bring in a few potted plants for your desk or cubicle, consider bringing in photos of lush tropical locations or breezy, cool meadows. Or, just change your computer's desktop background if you think that will help. The main benefit of actual plants, however, is that they keep the air from feeling too recycled, which can be just as exhausting in an office setting as fluorescent lighting.

3. Air conditioning is great, except when it's on too high. You shouldn't have to pack multiple sweaters in the middle of a heat wave just to stay comfortable at work. When temperatures jump into the 90s or above, most offices turn on the air conditioning as though it were the only thing keeping the building from melting. To stay warm in an office tundra, consider investing in an Under Desk Heater. Models like the ones offered by WarmlyYours are environmentally friendly and easily adjustable to your comfort - so you won't be doing the environment any extra damage or heating up the cubicles and desks around you thanks to the radiant heat technology.

4. Stay organized. Summer commutes are exhausting, so when you finally collapse into your chair, the last thing you want to do is tidy up and get your stuff in order - but you should! Don't let any office spring cleaning opportunities go to waste. Stay organized and you'll be happy for it down the road.
---
Tell us About your Project
Our team of Radiant Experts is ready to help! Just tell us a little about yourself and your project to get started.
---
Did you find this post helpful?
Let us know by giving it some applause.
---
---