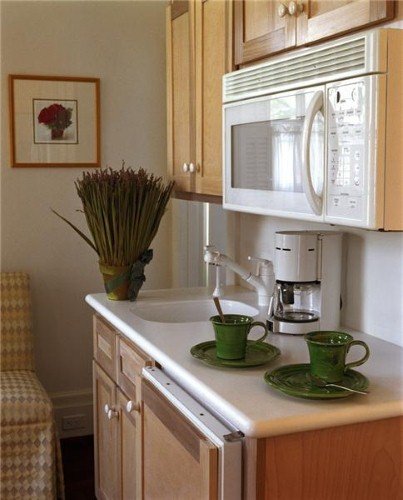 While you might spend most of your waking hours daydreaming about a grand hall of a kitchen with space for a table, ample pantry, a cookbook library and every appliance under the sun, the fact of the matter is that most folks living in apartments suffer through tiny kitchens for their love of cooking and baking.
While you probably can't update the size of your kitchen without moving, there are a variety of ways to make your space more functional and comfortable despite its size. If you're feeling the miniature kitchen blues, consider some of these tips for mitigating your problems and learning to love your culinary space for what it is.
1. Use space-saving design. When it comes to maximizing your room's storage potential, cabinets and drawers are only the beginning. Look for unlikely shelving - a windowsill, a range hood's flat top, the roof of the fridge or even any shelving right outside the kitchen itself. Install wall shelving in the hallway or space adjacent to your kitchen for spices, flour or even a magnetic knife rack. On the same note, consider a plate rack for an efficient way to show off your finest tableware.
2. Purchase smaller or undercounter appliances. Instead of a giant coffee maker, consider a French press, or a hand mixer instead of a top-of-the-line stainless steel electric one. While you'll be sacrificing some convenience, the space you save will accumulate and give you a lot more functional counter and cupboard room.
3. Trick the eye. Lighting, windows and color can go a long way toward making a room feel more substantial in size. Avoid heavy or dark paint hues or overly-busy wallpapers and be sure to have plenty of natural light and airflow coming in - the more windows the better. Lighting should be bright and plentiful, not only for the sake of your kitchen's size but the sake of the meal itself!
4. Stay comfortable in any season. Just as airflow and a good breeze are essential for the summer season, don't let the winter catch your kitchen in the middle of a deep freeze. Consider having radiant floor heating installed to keep both barefoot and slippered feet warm in the heart of December and January. It fits easily under any flooring type and has the benefit of being eco-friendly.
---
Tell us About your Project
Our team of Radiant Experts is ready to help! Just tell us a little about yourself and your project to get started.
---
Did you find this post helpful?
Let us know by giving it some applause.
---
---