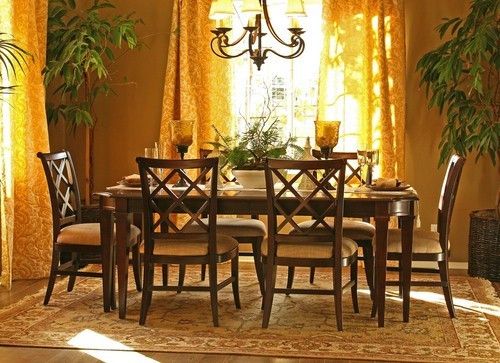 How many times have you found yourself passing on the opportunity to host a family get-together in fear of others thinking your dining room is lackluster? Whether it's been years since you last updated your dining room's interior or your furniture is worn, there's no better time to renovate the space than now. Doing so can give you the chance to entertain your loved ones more often. Furthermore, you'll become more comfortable with using the space on a frequent basis. Here are some tips for creating the dining room of your dreams.
1. Install a radiant heating system.
If you've been in a home with radiant heating before, you know how comfortable it can be to have this type of system in a space. Not only does radiant flooring make surfaces more pleasant to the touch, but it's a quiet way to create warmth in a room without relying on oil or gas.
2. Create elegance with a rounded table and chairs.
TLC.com reports that you can easily create a luxurious feeling in your dining room by bringing in furnishings with smooth edges. Look for a rounded table and oversized chairs with soft edges to create a glamorous appearance. Soft tones such as champagne and eggshell also work efficiently to develop this type of environment.
3. Select complementary colors.
If you're having trouble designing on one specific type of design, why not start by choosing a color theme? For example, think about creating a decor with purple and green or a simple black and white. Complementary hues are pleasing to the eye and can give you a great point to begin your interior design project.
4. Mix various styles.
Southern Living magazine recommends mixing different styles to create an eclectic, unique look that you'll want to show off to your friends and family. Whether you have an interest in contemporary design or you love French country, there's no better time to express your preferences than when you're remodeling. Choosing more than one style can also give you more leeway as you search for new furnishings, decorative accents and wall paint.
Whether you want to redesign your dining room in the coming months or next weekend, these four tips can help you make your interior decor spring to life. In the end, you'll be happy you did it when you have more opportunities to entertain!