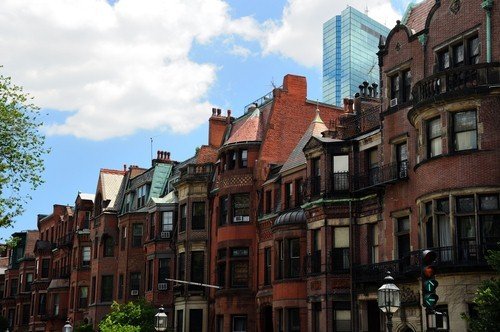 If you live in an urban environment like New York City, Chicago or Los Angeles, you probably find yourself yearning for a little countryside or rural charm every so often. In fact, you may miss the mountains and forests outside your hometown so much that you'd like to bring a little bit of that cabin-like quality to your city loft! Adding some rustic character to a metropolitan space can provide for an extremely satisfying contrast, and it's sure to catch guests' eyes when they stop by for a visit. If you think this look might be for you, consider a few of these touches.
Hardwood flooring
One of the biggest steps you can take toward making your urban apartment more rustic (and a lot more welcoming) is to install hardwood flooring. Whatever style of boards you decide to go with, their patina of wood grain and burnished earth tone hues are sure to bring your apartment to life, perfectly complementing everything from a stainless steel contemporary kitchen to mid century modern furnishings.
Radiant heat
Another choice you may want to make in tandem to your hardwood flooring - especially if you go with engineered hardwood - is installing radiant floor heating. If you've been looking for an opportunity to go green with your heating, radiant heat is the ideal answer. Equipped with an energy-efficient radiant heating system, your apartment will stay warm from the ground up using all natural convection currents!
Wool, burlap and flannel
With winter weather approaching, you're sure to be considering various ways to stay cozy while also decorating your apartment stylishly. A few throws could do the trick - especially in wool, burlap or flannel. In fact, a little plaid can go a long way with making a countryside feel - consider it for curtain valances or even wallpaper - as well!
Craftsman furniture
Wood floors weren't enough? If you want to go even more toward the rustic, consider changing up some of your fixtures - like armchairs and side tables or even shelving. Perhaps a craftsman style coffee table is just the thing your living room needs to give it the rustic charm you're seeking! Add a bench to your dining room table or consider other non-furniture fixtures, like a steamer trunk or wooden chest. The options are endless, so long as you've got an eye out at all your favorite decor stores or the closest flea market.
---
Tell us About your Project
Our team of Radiant Experts is ready to help! Just tell us a little about yourself and your project to get started.
---
Did you find this post helpful?
Let us know by giving it some applause.
---
---