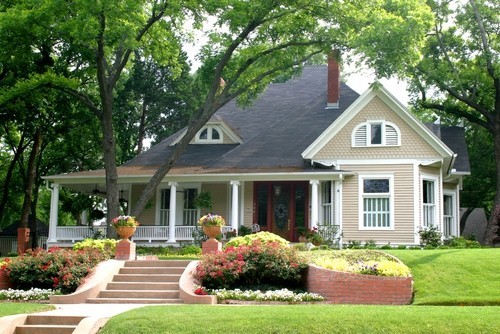 Spring may be the season for cleaning, but once your client has gotten all the clutter moved out of the way, summer is the time for renovations. While the weather's nice, make sure your customer's home gets the right seasonal updates to keep the family satisfied from July through next June. This means keeping them comfortable in blistering hot heat and the freezing cold, not to mention all the highs and lows in between. As you discuss summer renovation options with homeowners, keep these considerations in mind.
1. An elegant deck. Whether for sunbathing, reading, grilling, framing a pool or throwing a party, your clients will want their decks to be more than just afterthoughts. Deck additions are a great way to diversify the types of décor in a home. Have your clients pick a color theme, then decide on furniture and layout before settling on deck dimensions. Let their visions lead their designs.
2. Screened porch. As summer heat gives way, the sun fades and the air gets crisper. A screened porch, settled between the indoors and outside, may be the perfect vantage point from which to watch autumn pass. Have your client consider the benefits of a porch area untouched by weather - the perfect seasonal dining room!
3. Radiant heat. Although winter may seem distant, summer is the ideal time to install radiant floor heating in your client's home. These ingenious and eco-friendly systems fit right under a variety of floor types and keep your clients warm from the ground up. With easily adjusted heat levels - perfect for chilly summer nights - this option is far more effective and provides better air quality than gusts of dry heat from old ducts. Providers like WarmlyYours are leading the radiant heat movement through energy efficiency and client comfort.
4. Window design. Start by advising your client to replace all rotting windowsills. Wood takes a lot of damage during the winter, and rot often sets in during spring thaws. Also, discuss larger window renovations with your clients. Installing wider or taller windows in a room can spread light more effectively. Even interior wall windows, with a view from room to room, can help make a space feel bigger and brighter. Spring is about getting out of a cramped winter home, so make sure your client feels like there's room to stretch.
Like this post? Subscribe for regular updates
Make sure you don't miss out on the latest news in radiant heating by subscribing to our blog. We'll send you an email with links to the newest posts from WarmlyYours.
We won't share your information and you can unsubscribe at any time with a single click.
---
Did you find this post helpful?
Let us know by giving it some applause.
---
---