Recently, we decided to tackle my son's bedroom. We wanted to replace the old worn out carpet with new "click" laminate flooring from IKEA. We also wanted to add some Environ II™ (EVII) floor heating because the room sits right over top of the garage. I decided to recruit some friends to help. The first step was to remove the old carpet and padding. Once removed, the plywood subfloor was exposed, so we did some additional cleanup and removed staples and tack strip. Next, we used a pry bar to carefully remove all baseboards and trim located at floor level.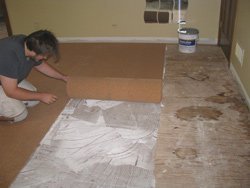 We decided to add a layer of cork over top of the subfloor to act as insulation. To lay the cork, we divided the room in sections and pre-cut the roll of cork to fit each section. Next, we applied an 1/8" thick layer of latex thinset to the subfloor to hold the cork in place. Then we placed the cork pieces on top, one at a time.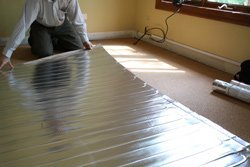 Once the cork was installed, we followed the custom installation plan provided by WarmlyYours to install the EVII floor heating panels. WarmlyYours specified the 240V product because of the room's large size. We positioned the EVII panels so that the lead wire would run the shortest path along the wall back to the thermostat. Where necessary, we carved out the cork with a mat knife to create a channel to house the lead wire, In retrospect, this would have been easier to do before the thinset settled completely. We then used an electric back saw to cut down the door's moldings at the bottom so they could accommodate the height of the flooring. We used a piece of the laminate to ensure that we trimmed the door to the right height.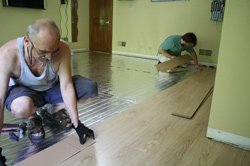 Our next step was to lay the laminate flooring. Large open sections were easy to do. We did have to cut pieces to go around the closets and door which was a lot more time consuming.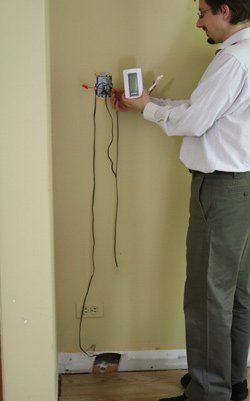 Finally, we neatly routed the lead wires back to a relay and then into the thermostat. A simple mat knife will easily carve a channel in the cork for the lead wires. Don't forget to put the sensor wire underneath of the laminate before you lay down your last piece. The sensor wire sends the signal about the floor's temperature to the thermostat. Last step was thermostat hook up.

The floor's looked great! And, my son is looking forward to warm floors this winter.
---
Tell us About your Project
Our team of Radiant Experts is ready to help! Just tell us a little about yourself and your project to get started.
---
Did you find this post helpful?
Let us know by giving it some applause.
---
---