Many homeowners ask this question: Can you install Electric Radiant Heat under Wood Floors?
The answer is both YES & NO.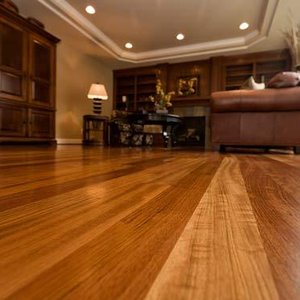 First, you need to do your homework and we will give you key tips so that you have a general understanding of exactly how you can use electric radiant heat under your Wood Floors. First, let's discuss the basics of Wood Flooring, Species, Engineered Hardwood, and Solid Hardwood.
All wood is Hygroscopic, meaning when exposed to air, wood will lose or gain moisture until it reaches equilibrium with the humidity (moisture in the air) and temperature of the air. Radiant heat tends to dry out the air, so you need to understand what the Hardwood Flooring Manufacturer recommends that the Relative Humidity percentage be, (typically 40%-60% Relative Humidity-RH). If you have an RH of 39% or 61% your Hardwood Warranty is void; it is important to be aware of this.
When a tree is cut down, the moisture content is 60% to 80%. Next it is dried in the yard and then it is kiln dried to 6% to 9%. This last percentage is the typical moisture content of wood when it arrives at your home. We could go on about fibre saturation, green lumber, milling of lumber, acclimation, etc. but you might fall asleep before you find the key information.
All species of wood have different grain patterns and fibre saturation that affect the stability of each species. The Beech species is not recommended for use over radiant heat, due to a lack of stability. My recommendation over Radiant Heat would be White Oak – Quarter Sawn Engineered (Solid Sawn).
With over 3000 Hardwood Manufacturers in the world, your choices are numerous. And even though Hardwoods may look the same, there are distinct differences. You might like Red Oak, but the quality, milling (how it fits together), and finish should be factored into your decision - this floor will outlive the house. When choosing Hardwood, you should consider the 'Penny Wise-Pound Foolish' saying. Solid Hardwood is typically 3/4" thick and can be sanded and refinished - first check the manufacturers warranty for guidelines regarding this.
You can install radiant heat under Solid Hardwood, but Engineered Hardwood is preferred as it is more dimensionally stable. Engineered Hardwood uses multiple layers of wood glued together with the grain running at 90-degree angles to the layer adjacent. As the wood fibre absorbs moisture (expands) or loses moisture (shrinks), each layer is restrained by the other and improved dimensional stability results. So essentially, Engineered Hardwood is the wear layer (Real Wood) with a cross sectional wood core. The minimum 5-ply Baltic Birch Core is an excellent choice for an Engineered Hardwood.
Hardwood experts say if you buy a quality Engineered Hardwood you would not be able to tell the difference between Solid Hardwood and Engineered Hardwood Flooring.
Engineered Hardwood is manufactured in 3 ways:
Solid Sawn
Rotary Peeled
Sliced
We recommend Solid Sawn Engineered Hardwood. Solid Sawn Engineered has the same look as solid hardwood and is the most expensive due to the reduced yield. Rotary Peeled has the look of plywood. The lumber is soaked in hot water in a pressurized chamber, a process that changes the stability of the wood making it prone to checking. Sliced tends to check also. Both Rotary Peeled & Sliced have a much better yield due to the maximum use of raw materials, so they are usually less costly. But you sacrifice visual appeal and durability. These are best suited for rooms with low traffic.
Adding radiant heating to your Hardwood flooring is highly recommended and is a desired addition to any home for comfort, luxury, and increased resale value. And, as long as you keep your WarmlyYours radiant floor heating at a constant temperature, you will enjoy your warm Hardwood Floors for many years. Radiant heat is especially beneficial in a basement. In the fall, remember to only increase the temperature 2 degrees a day in order to let the wood acclimate. Please do not shock the wood by turning your system off and on. Also remember the Relative Humidity concept. With these easy tips you will enjoy your hardwood heated floors forever.
---
Tell us About your Project
Our team of Radiant Experts is ready to help! Just tell us a little about yourself and your project to get started.
---
Did you find this post helpful?
Let us know by giving it some applause.
---
---