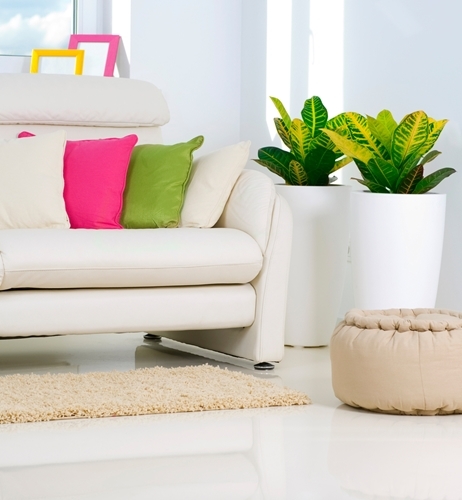 Just as floors have to withstand lots of use, sofas are among the most heavily used pieces of furniture in a household. As a result, the average consumer should know what to look for before making such a major investment.
A great sofa brings a sense of warmth and comfort to a room just as a floor with radiant heating creates real warmth in an energy-efficient system that keeps a room at a comfortable temperature year-round. When consumers buy top-of-the-line items like infloor heating, they ensure the long-term use of quality home products. Sofa buying is a good example of how to do it right.
The Right Fit
To have both durability and classic beauty in a new sofa, San Francisco interior designer Courtney Jones told the San Francisco Chronicle she advises homeowners to pay attention to the four F's - form, frame, fabric and fill.
Choosing the right couch for a home means taking into account how the sofa is used, its unique design and how much space it needs to be attractively situated in a room.
That's where form comes in, said Jones, who owns a custom home furnishings store in San Francisco. The lines of the sofa, its back height, style of arm rests and number of cushions all make up the form. Those factors will determine whether a sofa can fit into a certain space and match the homeowner's style preferences.
Quality Counts
The frame is the nuts-and-bolts construction that determines a sofa's quality and durability. Solid construction of hardwoods such as alder, maple and oak results in the sturdiest sofas.
While most people prefer cushion fill that has a foam core surrounded by materials such as wool batting and Dacron, others are choosing sustainable choices such as soy or organic cotton fabrics. Good Housekeeping magazine recommends a high-resilient foam for both comfort and long-lasting wear.
Finishing Touch
The fabric of a sofa may be the most decorative feature, but it also needs to be durable to stand up to regular use. From leather to chenille, there are endless colors and patterns from which to pick.
When choosing an upholstery fabric, thought should be given to the variety of finishes and colors that are part of the existing room design. Some homeowners may gravitate to a neutral fabric that can be updated periodically with a variety of pillows or decorative throws.