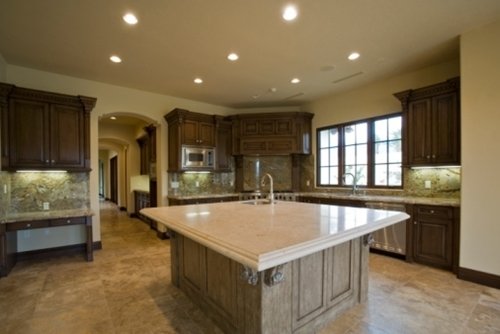 For many people, the kitchen is indeed the heart of the home. The fact that this room is used by family members and guests so often is just one of the reasons it is among one of the most common home improvement projects.
But kitchen renovations can be pricey. In fact, according to Remodeling Magazine's most recent cost versus value report, a midrange kitchen remodel can cost between $18,500 and nearly $54,000. Individuals who choose an upscale project can expect to spend even more - $100,000-plus, according to the publication.
Individuals embarking on this type of remodel should take a few things into consideration, according to HGTV experts. For instance, if you plan on selling within five years, invest in items that will increase the overall value of your home. If you're going to stay put for longer, spend money on the things that will make your family comfortable over the long term. 
These considerations will help you decide the budget and scale of your project. Regardless of the changes you want to make, experts say there are ways to keep costs in check without compromising beauty, style and comfort.
Plan ahead
A solid plan will help ensure your vision is achieved. Whether you hire a professional or do it yourself, setting a budget is the first step of any project planning exercise. Remember to set aside about a third of your total budget for labor costs and allow for a little wiggle room. After all, unexpected repairs and changes in your materials can often cost you extra.
Decide what really matters
If you're a gourmet cook, investing in high-end appliances may be worth it. Along the same line of thinking, if your kitchen is used round-the-clock by family members and you entertain often, you may want to ensure the space is comfortable all year long. Installing electric floor heating can be a worthwhile investment. 
Choose cabinets carefully
While cabinetry is certainly a major part of any kitchen, it can quickly eat up as much as half of your budget. Consumer Reports suggests opting for semi-custom or stock items rather than custom made cabinets to save money without sacrificing style or quality. 
Or, if you're keeping the layout of the room the same, refinish your existing cabinets or purchase new doors instead.
Do some work yourself
While homeowners should leave plumbing, electrical work and other specialties to a professional, rolling up your sleeves and taking care of demolition, painting and other projects can help stretch your budget. 
While planning and executing a kitchen renovation can be time-consuming and frustrating, the end product is likely to pay off. After all, what's better than a room you can be proud of?
---
Tell us About your Project
Our team of Radiant Experts is ready to help! Just tell us a little about yourself and your project to get started.
---
Did you find this post helpful?
Let us know by giving it some applause.
---
---