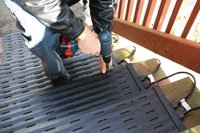 I'm Scott Rosenbaum, WarmlyYours Technical Support and Engineering Manager. Today, I'd like to share the details of an installation of HeatTrak outdoor portable heating mats to show you how easy it is. The WarmlyYours team recently put two HeatTrak systems in a local home in Kildeer, IL. The application called for entryway and stairway snow melting.

For the entryways, we took the mats out of the box and placed them in the desired locations. Then we plugged the ALCI protected plug into an outlet. It was that simple.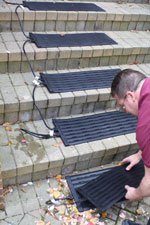 For the stairways, first we verified that the correct quantities of mats were shipped. Then we placed the mats on the stairs, centering them in the walking area of each stair. Once the mats were placed, we checked for proper routing of the power cable that runs to each mat. The cord that is included with each order is long enough to properly place the radiant mats on most normal depth stairs. (If the stairs to be heated are more than 13" -14" deep, an optional longer cord should be used.) Next we plugged the stair mats into one other. Finally, we plugged the ALCI equipped plug from the first mat into a power outlet. At this point, we verified proper operation of the system. If one or more of the mats weren't heating we would double check to ensure that the cords were fully seated into the input & output sides of the individual stair mats.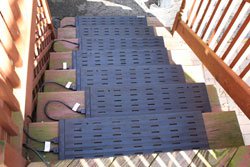 However, all of the mats were working properly and the layout was approved so we attached each radiant heating mat to the corresponding stair using the appropriate fastener for the surface material. (I.e. wood screws, concrete screws, etc.). That was all there was to it.

With winter fast approaching, now is the ideal time to install a portable snow melting system. Save yourself the cost of salt and other snow melting materials plus the hours spent shoveling your sidewalk and stairways. With very little time and effort HeatTrak portable radiant heating mats are installed and ready to make your life easier.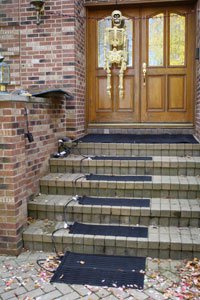 To see all of the new HeatTrak® snow melting systems, just click on https://www.warmlyyours.com/en-CA/snow-melting.

In addition to the HeatTrak portable heating mats, other applications include outdoor radiant heating cables for heated driveways, sidewalks and gutter deicing.
---
Tell us About your Project
Our team of Radiant Experts is ready to help! Just tell us a little about yourself and your project to get started.
---
Did you find this post helpful?
Let us know by giving it some applause.
---
---