Volunteering, Training, and On-Boarding
When employees are motivated, satisfied and innovative, companies are successful. Today we are concluding a three-part blog series looking at three key areas businesses can focus on to nurture and develop quality employees.
Part 1: Feeding Your Employees
Part 2: Education and Opportunities to Advance
Part 3: Volunteering, Training, and On-Boarding
Volunteering, on-boarding and training all play a role in fostering connection in your company. When employees feel connected, they are happier and more productive.
One of the core values at WarmlyYours Radiant Heating is to BE Connected: Engage and serve with each other, the community, and our customers.
This core value lists three key areas of connection in your company: 1) Connection with Your Employees, 2) Connection with Customers, and 3) Connection with Community.
1. Connection with Your Employees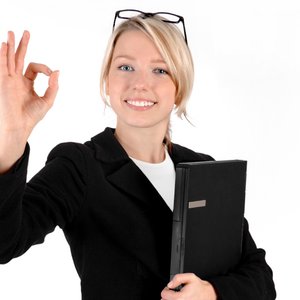 "Employees are a lot like plants: give them a place in the sun, just enough attention, but not too much, and room to grow and they'll thrive. Keep them in the dark, hover over them too much, or neglect them outright, and they'll fail to produce." -David Shadovitz, Editor, Human Resource Executive
Connection starts with the first day your employee joins the company and begins the onboarding process.
"Effective employee onboarding has a positive domino effect: it ensures that new hires feel welcome and prepared in their new positions, in turn giving them the confidence and resources to make an impact within the organization, and ultimately allowing the company to continue carrying out its mission," summarizes CareerBuilder's resource article, "The 10 Commandments of Employee Onboarding." Read the full article for the details on each of the 10 "commandments."
After onboarding, connection can be maintained through strong internal programs. There are many examples online you can modify to fit your company's culture. For example, Zappos, an online retail company, encourages employees to interact with each other in a meaningful way through its Grant-a-Wish Program. In the program, employees submit and grant wishes for themselves and fellow employees. "The theory behind the program is that it promotes team spirit. People get to really know each other," a blog post on HR Cloud summarizes when describing Zappos' program.
At WarmlyYours, employees connect with each other through a strong on-boarding program and internal programs aimed at connection such as the BE Radiant program, which was introduced when the WarmlyYours Living Brand: Be Radiant was rolled out.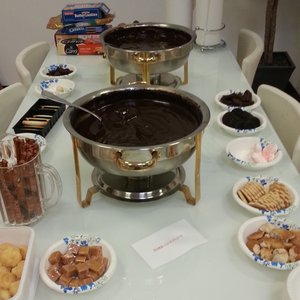 The program encourages employees to achieve excellence, be innovative, live positively, and be passionate.
The program contains a day each month in which WarmlyYours thanks the team for living up to the company's mission and encourages connection, shares Nia-Shea Grosche, marketing assistant at WarmlyYours. "The Be Radiant Days can correspond around that month's holiday, just to add to the celebration. Examples of these days include a chocolate fondue party on Valentine's Day, National Have Fun at Work Day in January (this day was full of coloring books and a paper airplane contest), and a fantastic holiday party on the cruise ship, the Odyssey, in December," Grosche describes.
There is so much engagement and encouragement in the Be Radiant Program that it "literally radiates through the company," Grosche adds, which is key, because when people are at work, connections with others compose the fabric of daily life.
"The Be Radiant Days and Be Radiant Newsletter encourage employee engagement and interaction, which leads to more knowledge about each other, connection and great memories," Grosche says.
2. Connection with Customers
"Individual commitment to a group effort — that is what makes a team work, a company work, a society work, a civilization work." -Vince" Lombardi, Athletic Coach
If you are connecting your employees to each other and the company, you are well on your way to strong connections with customers. "Customer engagement must start with employee engagement," notes Steve Farnsworth in the article, "Make Your Company Top-of-Mind and Your Employees Proud."
A company cannot provide a seamless customer service experience without everyone. There is no success without the behind-the-scenes roles — such as administration, billing, IT, research, and design, to name a few. "Great managers help employees understand how every role in the organization connects to the customer, write Susan Sorenson and Keri Garman in the article, "Getting the Most Out of the Employee-Customer Encounter."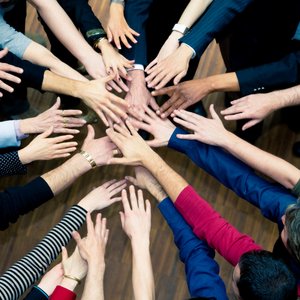 When employees are connected— to each other and to the company — and understand their role in the process that produces your company's product, they create engaging customer experiences.
3. Connection with Community
"Service to a just cause rewards the worker with more real happiness and satisfaction than any other venture of life." -Carrie Chapman Catt, American Women's Rights Activist
Lastly, companies need to connect with their communities. One key avenue is volunteering. It both enhances the connection with the community and provides another opportunity for employees to feel motivated, engaged, and satisfied.
A 2007 Deloitte study on volunteering reported that 62 percent of 18 to 26-year-olds polled said they would prefer to work for a company that offers volunteer opportunities. Also, a 2005 study by Boston College's Center for Corporate Citizenship found that 84 percent of company executives reported bottom-line benefits after they started a volunteer program.
There were many efforts to connect with the community in 2013 at WarmlyYours. Read some of the highlights in this blog.
If you don't have a volunteer program already, consider starting a volunteer program that fits your company and gets your employees excited. A great resource breaking down the seven common practices of successful volunteer programs was released by Points of Light. Use it to develop a rewarding employee volunteer program (or upgrade an existing one) and build connection in your company and in your employees.
Utilize volunteering, on-boarding and training to foster deeper connection in all areas of your company —between employees, with your customers, and in your community.
Sources:
http://webuser.bus.umich.edu/janedut/high%20quality%20connections/power%20high%20quality.pdf

http://www.causecast.com/blog/bid/127697/How-Corporate-Volunteer-Programs-Increase-Employee-Engagement
http://hrcloud.com/create-relationships-create-employee-engagement/
---
Tell us About your Project
Our team of Radiant Experts is ready to help! Just tell us a little about yourself and your project to get started.
---
Did you find this post helpful?
Let us know by giving it some applause.
---
---