When WarmlyYours launched the Prodeso Cable Installation Membrane in late 2015, we knew that it would be a hit with busy trade professionals looking to cut down on floor heating installation times. What we couldn't predict was just how popular it would be. In the last quarter of 2016, consolidated sales of the Prodeso Membrane grew 4083.2%, when compared to Q4 2015.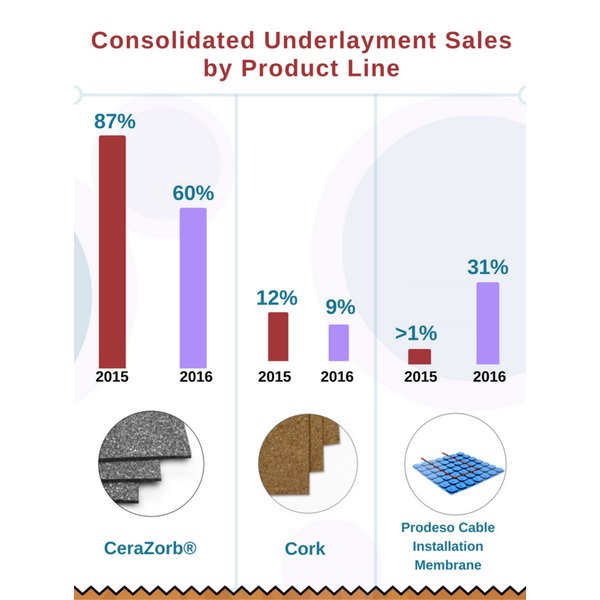 This data comes from a recently released report from WarmlyYours, "The 2016 Fourth Quarter and Annual Industry Report." This report shows that the Prodeso Membrane is not only the fastest growing underlayment product that we sell, but it has also come to represent a huge contingent of underlayment sales in general—it made up 31% of total underlayment sales in 2016.
Each of our underlayment options, which also includes cork and CeraZorb synthetic cork, has unique properties that make them useful for specific applications. The Prodeso Membrane's primary benefit is in the speed of installation that it affords for electric floor heating systems. The uniquely shaped nodules allow for the heating cable to be easily snapped into place—which also makes it super-easy to maintain consistent spacing of the heating cable.
By pairing the membrane with TempZone™ 3.7-watt heating cable (which grew 1941% in Q4 2016), busy professionals can side-step having to wait for the thinset the heating element is embedded in to cure before installing the flooring itself. With the Prodeso Membrane, you can work from the membrane as you can spread thinset on the membrane and then back-butter the tiles as you put them down. Using this method turns  multi-day projects into single day installs, which means you spend less time at each jobsite.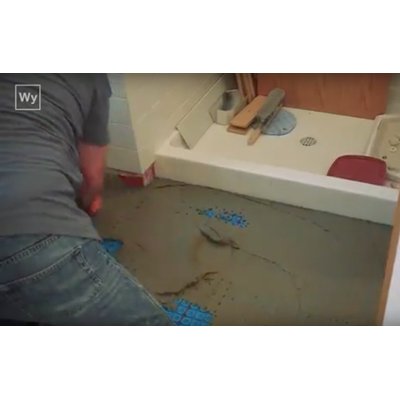 While the Prodeso Membrane saves time for the installer, it also has benefits that any homeowner would appreciate. Such as uncoupling and crack isolation, which will insure that their tile, marble or stone floor will last for many years to come. With its polypropylene construction, the membrane is also great for high-moisture applications, like kitchens and bathrooms. In 2016, 86.6% of the floors WarmlyYours heated were tile, marble, or stone and nearly 60% of the rooms were either kitchens or bathrooms. By using the ProBand line of accessories, you can actually waterproof a subfloor, which is great for wooden subfloors.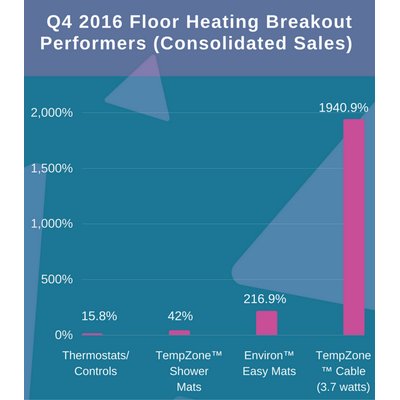 In addition to discussing the growth of the Prodeso Membrane and TempZone™ 3.7-watt heating cable, the report also focused on analyzing the 2016 housing and remodeling markets.
While remodeling showed some growth, it was below the projections put forth by the Leading Indicator of Remodeling Activity (LIRA), which is compiled by the Joint Center for Housing Studies of Harvard. This disconnect was addressed in a press release by Abbe Will, a research analyst at the Joint Center.
"Although above-average growth is expected this year, we've lowered our projection for market size somewhat with the recent release of new benchmark data from the American Housing Survey," said Will. "Spending in 2014 and 2015 was not quite as robust as our LIRA model estimated, growing 11.3 percent over these two years compared to 14.3 percent as estimated."
The 2016 housing market was marked by low growth rates in new construction projects and rising prices for existing inventory. These rising prices, coupled with the lack of available homes for sale, seem to indicate that remodelers will be reaping the benefits in 2017, especially considering the fact that Gallup has recently said that consumer confidence reached its highest point in January 2017. It looks like this year is going to be a very good year to be in the trades.
To read the WarmlyYours report "2016 Fourth Quarter and Annual Industry Report" in full, click here. 
---
Tell us About your Project
Our team of Radiant Experts is ready to help! Just tell us a little about yourself and your project to get started.
---
Did you find this post helpful?
Let us know by giving it some applause.
---
---