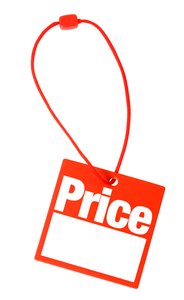 In most sale situations, there is a point where the customer says, "it costs too much." And the majority of people you sell to will likely fear making changes that affect their budgets.
And at this point, what do you do? Well, here are some tips to help get a sale and overcome the "it costs too much" obstacle.
1. Reveal the Actual Objection
The real objection may or may not be about the price of the product. There could be many other factors that contribute to the objection such as location of service centers or the products you supply. To uncover the reason(s) you should ask the customer questions tailored to find your answer, but ask them beforehand to imagine price is not a factor. This way you will discover what issues they may have other than price. It is important to discuss those objections first, because the customer may have problems with your service or support that need to be addressed separately.
Yet, if the customer has no concerns other than price, it is appropriate to discuss and focus on price. While negotiating price, you may need to explain that your products are higher quality than the competitors', or your service is superior, or, finally, you may need to introduce payment terms if necessary.
2. Is it an Objection or Condition?
It is critical to understand whether you are dealing with an objection or a condition before going any further with the discussion. When someone has an objection, you can negotiate with them, if someone has a condition, then it is pointless to negotiate with them.
In order to determine whether the concern is an objection or a condition you should ask about the specific concern. If their concern involves the comparison of a competitor's product then that would be an objection because you can differentiate the products. If the concern is non-negotiable, such as if the customer literally cannot afford your product, then that is a condition.
If the concern is a condition, you can offer another product that might be different from what they were searching for, but could offer them a comparable, less expensive solution.
For example, if a customer wanted radiant heating in their bathroom and was seeking to install floor heating but is unable to afford it, you can offer other options such as WarmlyYours Towel Warmers or radiant heating panels.
3. Show Empathy
While coming up with a solution and confirming that you are dealing with an objection, you should be sure to focus on the customer and what they need. Stating you understand and empathize with the customer will put you on the customer's side of the issue and prevent future assumptions or concerns.
4. Recognize the Problem
When an objection is viewed as a conflict, then it is difficult to negotiate. The negotiation should never be a win-lose situation but rather a win-win. You may need to think outside the box in order to find a solution to the problem and you and the customer should also steer clear of any emotional attachments in order to achieve a win-win solution and avoid an impasse.
5. Deliberate Possible Solutions
In order to overcome the objection and find a solution, you and the customer need to join in a team effort to find a combination of ideas to achieve the desired solution. This would be a good time as a seller to detail any guarantees, services, and other factors that will support the solutions that you present.
For example, we offer signature services such as 24/7 installation support, same day shipping, overnight plans and quotes, and easy installation. With these types of services, it is easy to assure the customer about the purchase value and it also establishes more trust in your company.
---
Tell us About your Project
Our team of Radiant Experts is ready to help! Just tell us a little about yourself and your project to get started.
---
Did you find this post helpful?
Let us know by giving it some applause.
---
---