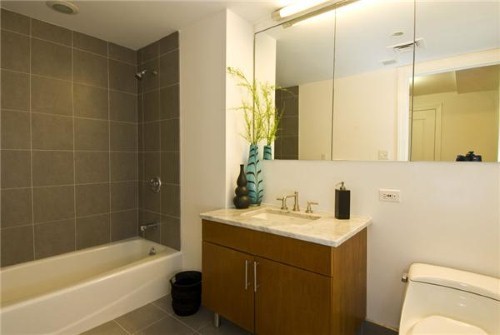 Although the bathroom can be a tricky area to remodel as a result of piping and heavy fixtures, familiarizing yourself with common design mistakes can help you create a flawless renovation plan for your clients. As an interior designer, it's important to recognize errors that are often made during the remodeling process to avoid making these mistakes yourself.
HGTV reports that when it comes to laying out the floorplan for your new bathroom, it's important to make sure you include enough counter and storage space. One of the biggest mistakes that interior designers make it failing to add enough room for cabinets.
By making sure you have ample counter space, you can ensure comfort when more than one person is using the area. Similarly, you can avoid creating a cramped feeling by having the right amount of space to store toiletries out of the way. Your clients will appreciate making storage room a priority while designing by the end of the project.
In addition to incorporating convenience into your design, you might want to think about adding special touches to make the bathroom as comfortable as possible for the homeowners. For example, include radiant floor heating or create room to install heated towel warmers. Warm towels and heat underfoot can go a long way when it comes to making a bathroom a relaxing place that homeowners look forward to using.
Once you have comfort covered, Yahoo! reports that another mistake to avoid is failing to install proper ventilation. Without windows that can be opened or a fan to circulate air, mold and mildew can quickly build up in the newly-remodeled bathroom.
Finally, take the time to make sure you have the right amount of lighting in the space. Because the bathroom is an area where the homeowners will likely be applying makeup or doing their hair, they will want to be able to see their faces clearly. Don't just think about bringing in numerous fixtures - be mindful of the type of lights you intend to use. For instance, fluorescent lighting can be bright, but not ideal in a bathroom.
Taking these common design mistakes into consideration can go a long way when remodeling a bathroom into a functional, appealing space. If your clients are happy with your remodeling job, they can provide positive references to your business in the future.
Like this post? Subscribe for regular updates
Make sure you don't miss out on the latest news in radiant heating by subscribing to our blog. We'll send you an email with links to the newest posts from WarmlyYours.
We won't share your information and you can unsubscribe at any time with a single click.
---
Did you find this post helpful?
Let us know by giving it some applause.
---
---