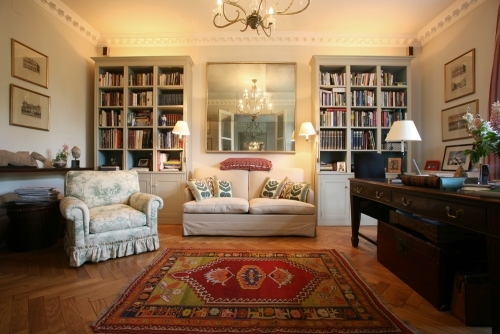 If you're in the process of decorating a family room and you've never had this type of space before, you might not know where to begin. This area of your home is similar to your living room, but it may serve a difference purpose - perhaps you want to use it for entertaining or dedicate it to child's play. Regardless of how you want to utilize the area, there are a couple of strategies you can use to ensure this living space is practical as well as pleasing to the eye. Here are some tips on how to create a sense of comfort in your family room while making it aesthetically pleasing.
Install radiant floor heating
Whether your family room is located underground in your den or upstairs, you can install a radiant floor heating system to boost the coziness level of the space. Not only can this reduce your reliance on oil or gas, but it can provide comfort underfoot and make the family room an area everyone wants to use. Radiant heat can be easily installed, and you won't have to worry about coping with a noisy heater or vent kicking on the next time you want warmth in this area of your home.
Make it functional
To let your kids frolic through your family room without worrying about them creating a mess, make functionality a priority as your decorate and design your family room. This means investing in furniture covers if necessary or easy-to-clean decor that makes housekeeping less of a chore, according to Better Homes and Gardens magazine. In addition, think about providing shelves and cabinets for storage to prevent clutter from becoming a problem.
Incorporate fine detail
Just because your family room is an area dedicated for heavy use doesn't mean that it has to be more durable than stylish. There are ways you can boost the appeal of this space without sacrificing its eye-pleasing decor. House Beautiful magazine recommends looking for furnishings and decorative accents that include fine detailing. For example, try to incorporate throw pillows or wall paper with a pattern such as paisley to make a statement. This can keep any functional space from becoming too boring.
Embrace art
Even if you aren't an expert on impressionism, there's no reason why you can't embrace art and use it to enhance the interior of your family room. This is another strategy you can use to make the living space truly special. Southern Living magazine recommends casually hanging art on your walls wherever you see fit to generate conversation and dress up the room. Don't feel the need to invest an ample amount of cash in gallery-worthy art, either - simply choose what appeals to your personal taste to make the family room truly unique.
Value nostalgia
Another way to ensure you and your loved ones are always comfortable in your family room is by bringing in items that evoke a sense of nostalgia. This might involve incorporating a pattern that reminds you of your wedding dress or a figurine that reminds you of a vacation. Involve your family to help you find items that you all love and want to include in this frequently used room. A brainstorming session can do wonders for the designing process!
Whether you want to redecorate your family room now or in the near future, these tips can help you achieve your interior design goals. In the end, making comfort a priority can help ensure this space is one you'll all want to utilize for years to come.
Like this post? Subscribe for regular updates
Make sure you don't miss out on the latest news in radiant heating by subscribing to our blog. We'll send you an email with links to the newest posts from WarmlyYours.
We won't share your information and you can unsubscribe at any time with a single click.
---
Did you find this post helpful?
Let us know by giving it some applause.
---
---