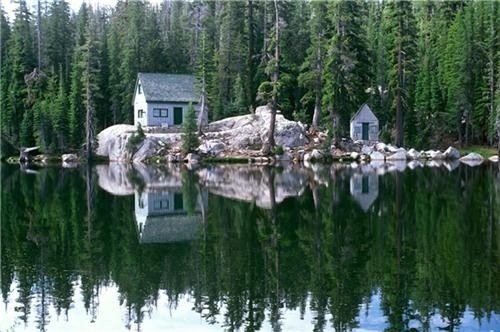 A one-bedroom lake house in the heart of the Adirondacks, a backwoods, upstate New York cabin or a beachfront property in coastal Maine - no matter where your summer getaway is, you're probably dying to get away. The first step of your vacation at the summer home should be double-checking its condition. In any state, the ravages of winter can wreak havoc on an unoccupied home. But even if everything's in tip-top shape, consider doing some remodeling before this year's visit. Keep your summer home fresh but familiar with a few of these design suggestions.
1. Make a bigger window. We go on vacation for a change of scenery, so even when we're indoors we should take advantage of those new vistas. While your cabin may already be outfitted with a deck, consider expanding the windows a bit and letting in more light. The only thing that can improve dinner prep is a perfect view of a gorgeous rural sunset.
2. Let the outside inform the inside. If you live in the wilderness, seek out furniture built from local wood. This can be especially effective with iconic-looking trees like dogwood or birch. Have a fireplace constructed of stone from a local quarry or simply keep fresh wildflowers in vases. A beach getaway could incorporate shells, green-glass bottles and fishing nets or old buoys.
3. Stay comfortable morning and night. By installing radiant floor heating, you can keep your family's feet comfortable on chilly mornings and nights. The technology spreads head upward from under the floor for eco-friendly, easy heating that fits under almost any surface and won't overwhelm you like blasts of hot, musty air from overhead ducts.
4. Rethink your lighting. Changing a room's lighting can entirely alter its look without having to move a single piece of furniture. Hang an antique chandelier above the breakfast table, or install vintage sconces.
5. Vary your artwork. While the views may be the stars, be sure to have lots of artwork that complement your home's theme. If your cabin has a rustic or nautical style, harness that and do some shopping, either at an online print supplier or the local antique store, where you're likely to find a lot of framed paintings unique to your location.
 
---
Tell us About your Project
Our team of Radiant Experts is ready to help! Just tell us a little about yourself and your project to get started.
---
Did you find this post helpful?
Let us know by giving it some applause.
---
---