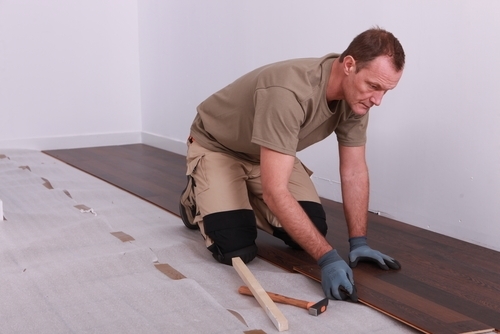 As the U.S. economy continues to improve, many homeowners are going forward with home improvement projects. In fact, Harvard University's Joint Center for Housing Studies predicts spending on home remodeling will increase by as much as 20 percent this year.
Experts say kitchens and bathrooms remain the most commonly renovated spaces in any home. These projects are also likely to result in the biggest return on investment. According to Remodeling Magazine's annual Cost versus Value report, homeowners can expect to recoup as much as 75 percent of the cost of a kitchen remodel project and 65 percent of a bathroom renovation.
Whether you want to make changes to your home in order to attract buyers, increase its value or just to make it more comfortable for you and your family, you don't have to spend a lot in order to reap the rewards.
Kitchen
The kitchen is one of the most well-used rooms in any home, making the room ideal for any type of improvement project, whether you're planning on selling or staying put. In fact, real estate experts say a kitchen can mean the difference between a quick sale and a home that spends months on the market.
"For most buyers, [the kitchen] is the heart of the house," real estate agent and author Michael Murphy explained to SmartMoney magazine. "Paint, wallpaper, and even [install a new floor] to the room if necessary. Consider sanding, staining or painting dingy-looking cabinets. Replace old cabinet hardware for a low-cost improvement that makes a big difference in appearance."
Other common kitchen renovation projects include replacing old appliances with new, energy-efficient models, installing new countertops and a tile backsplash.
Those who want to add another level of luxury to their kitchen should consider different kitchen heating options, such as radiant heat. These infloor systems provide a comfortable warmth and help homeowners save significantly on heating costs, compared to other options. 
Bathroom
Bathroom renovations can run the gamut from simple to complex. Changing plumbing fixtures, floors and wall colors can instantly make a tired space look more modern. However, larger projects can really stand out.
Many homeowners strive to update their bathrooms as well as increase their  functionality and efficiency, and they choose projects accordingly. For instance, they install water-saving faucets and toilets, purchase new vanities, install large showers and purchase luxury extras like heated towel racks and electric radiant heating. These changes not only help the rooms look great, but they increase the comfort of any bathroom.
Adding an additional bathroom is another common home improvement project. In fact, many experts say this improvement will pay for itself in the long run.
Outdoor living space
Homes with outdoor living space are becoming increasingly popular.
Adding a deck is one way to increase the overall space in your home and increase its value. Remodeling magazine reports that homeowners who add a deck can expect to recoup between 67 and 77 percent of its cost when they sell their property.
Other outdoor features such as landscaping, a swimming pool and a fire pit can also make the home more beautiful and livable. These projects also help boost the curb appeal of the home, which can make it desirable to potential buyers.
Energy Efficiency
Energy efficiency isn't just about buying new appliances or updating your heating system. Homeowners who want to increase the value of their homes and make them more efficient and comfortable often choose to install new windows and doors, a new roof and improved insulation.
Experts say these projects, although pricey, make homes more cozy now and in the future.
Other projects that help increase the value of your home and make it ideal for the current homeowners immediately include basement renovations and adding an attic bedroom.
Additionally, spending money to keep existing systems in good working order is always important. After all, experts say a home with a beautiful kitchen, luxurious bathroom and gorgeous outdoor living area still isn't appealing to many if the roof leaks and the heating system is antiquated.
Like this post? Subscribe for regular updates
Make sure you don't miss out on the latest news in radiant heating by subscribing to our blog. We'll send you an email with links to the newest posts from WarmlyYours.
We won't share your information and you can unsubscribe at any time with a single click.
---
Did you find this post helpful?
Let us know by giving it some applause.
---
---