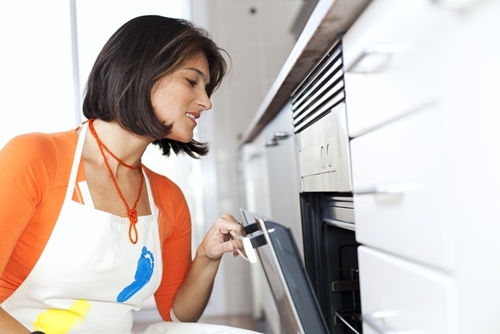 Budget is often a major issue when dealing with any home renovations, and kitchens are no different. This factor determines whether your new tiles are travertine or ceramic, or what type of appliances you purchase and install.
However, if you're fortunate enough to have a substantial amount of disposable income to put towards your kitchen makeover, your possibilities are all but endless. Your primary focus can be on the actual appearance, functionality and long-term benefits of all the new products or updates you've put into your renovation, rather than on whether or not you'll break the bank.
Consider some of the following luxury upgrades - ranging from Queen Anne cabinet molding to radiant floors - if you're confident that you'll have the necessary budget to include them in your renovations.
Open floor plan
While this renovation isn't necessarily something that you'll need a luxury budget for, the things you can do with an open floor plan are considerably more numerous when you've got the cash to make it happen. Carmen Giralt, design director and showroom manager for fine kitchen designer Bulthaup in New York City, told HGTV that owners of luxury homes are often choosing to have the kitchen open to the living room or dining room.
"Cooking becomes part of your entertainment when you host in such a well-designed and beautiful space," Giralt said.
Classic design styles
When you have to scrimp on your kitchen, you're obviously confined to buying what you can afford and hoping that it looks as good as possible. According to HGTV, when you have a budget in the tens of thousands, you can choose period styles like Spanish Colonial or authentic Queen Anne for your cabinets and cupboards.
Conversely, you could go the opposite route and adopt a slick modern style with all the latest high-end features. You can even have multiple appliances - perhaps you want a freezer the size of a refrigerator to have more space in your actual fridge.
Make a kitchen island that can multitask
Kitchen islands are not in and of themselves a luxury item - they've been popular in kitchen design since the 1970s and as such are considerably more common now than they were then. That said, if your funds can accommodate it, you can design a kitchen island to be something truly special.
Often, islands will have space built in for extra storage of pots, pans, dishware and other necessities. You can take a cue from the house picked as HGTV's Dream Kitchen of 2012 and have your dishwasher built into the island. This will allow the island to serve as an all-purpose food prep and cooking supply storage area, so you can have more freedom in what you do with the rest of the kitchen.
Radiant panels for your kitchen floors
If you have the money to enhance the aesthetic, functional and practical aspects of your kitchen in the best ways possible, then why not also spend it on making the space as comfortable as you possibly can?
With radiant floor heating, you can easily turn your now-luxurious kitchen into a place you literally don't want to leave, even after you're done cooking and eating. No matter whether you've got rich hardwood for your flooring or elegant travertine tiles, radiant panels can be installed underneath them to span the whole of your kitchen space. This will ensure that the jarring, unwelcome feeling of a cold floor in the morning when you're making coffee is entirely a thing of the past, and make the entire kitchen experience that much more pleasant.
---