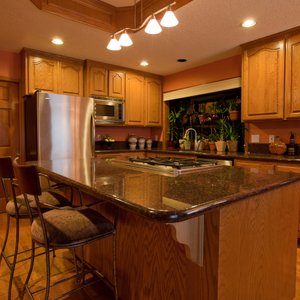 "Good food and a warm kitchen are what make a house a home," according to Rachel Ray. Here at WarmlyYours Radiant Heating we couldn't agree more. While a lot of planning and research can go into the perfect kitchen design, it results in a warm, functional space that invites the conversations, cooking collaborations, and memories a good kitchen can foster.
Warmth and functionality in your kitchen can be enhanced by mindfully choosing the dimensions and features of your cabinets and counters.
First, warmth. Many of today's popular countertops — granite, marble, stone, stainless steel, engineered quartz, concrete and soapstone — are high-quality surfaces that will last a lifetime, are generally low maintenance and provide a strong return on investment if you ever sell your home, but they aren't inherently warm and inviting. On cold winter mornings, resting your hands or arms on the counter can be a chilly shock to the system, quite the opposite of warm and inviting.
One solution is WarmlyYours FeelsWarm®* Countertop Heaters. You exchange the unfriendly, cool counters for warm comfort.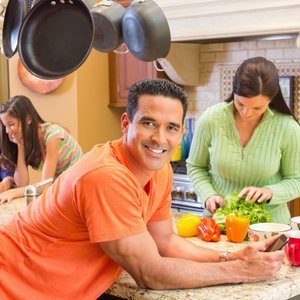 "Homeowners love the luxurious look and functionality of stone, but the fact that stone feels cold has some people looking at other surfaces for their kitchens," says Julia Billen, president of WarmlyYours Radiant Heating. "With Countertop Heaters it's easy for people to choose stone, making it more comfortable to gather around a countertop, no matter if they're having a cup of coffee, doing homework, enjoying a snack, checking social media, or hosting a party."
These adhesive-backed heating elements are less than .025 inches thick and adhere to the underside of the countertop, discreetly eliminating the cold feel of granite and stone. The WarmlyYours FeelsWarm® Countertop Heaters bring radiant comfort to overhangs on bars, islands, peninsulas, and even desks — anywhere elbows rest. The cost to operate the countertop heater varies based on the size. However, remarkably, the cost to heat a countertop is very low. Although the cost of electricity changes by location, the approximate cost to operate a four-square-foot heater continuously will be similar to a 75 watt light bulb or approximately $0.25 per day. Only a standard outlet is needed.
You don't need to heat the whole counter. Instead, on average, customers heat 10 to 14 inches from the edge of the counter where people are often making contact. In addition, stone is not a good thermal conductor so it is important to place the heater near the edge and where heat is desired.
The heating elements are available in five standard sizes or custom designs, which is key to maintaining flexibility as you design your kitchen. There are no limitations. The custom designs let you work with counters of any size and shape.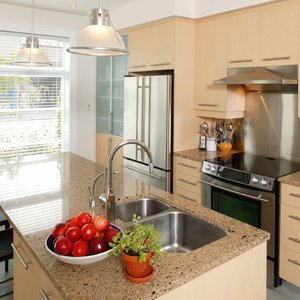 Some sizes are better than others though, as the size of your counters will impact the functionality of your kitchen.
There are four generally recognized standard heights for counter tops: 48 inches, 42 inches, 36 inches and 30 inches. If you're looking for an extra-tall bar, consider 48-inch and 42-inch heights, otherwise, the standard kitchen counter height is 36 inches. A height of 30 inches, rarely used for counters, is considered a table height.
"Unless your counter is actually part of a bar setup, it is probably best to stick to the 36-inch height. Most appliances are designed with 36-inch counter tops in mind, and most people are comfortable with this height. Odd heights may cause issues with fixtures, plumbing and the fit of stoves and dishwashers," according to the article.
Most people prefer standing at a counter top that allows their elbows to open at a 45 degree angle when they place their hands on the counter top.
"For most people, the 36-inch counter height hits this sweet spot. However, if you are of shorter stature, 32-inch counter heights may fit you better. They can be a snug fit for cabinets and appliances, however. Try all the standard heights and see which one passes the 45 degree angle check for you," the article cautions.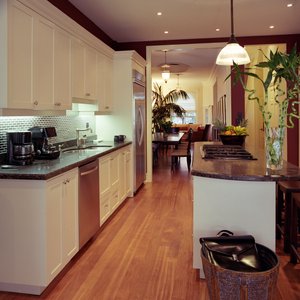 Another good tip from the article is to account for the height of the counter top itself when choosing your counter top height. "The thickness of the counter top can actually alter the effective height of the counters by up to an inch. That inch can affect the comfort of your kitchen. Tile and stone counter tops make the most difference in final counter height, while Formica tends to stay closer to the measured height. Pick a material that is pleasing and keeps your hands at a comfortable height," the article states.
Standard counters are 24 inches deep, but it is important to note any details of backsplashes, cabinetry, or appliances that would effect this, Regina Yunghans, a LEED Accredited Professional, advises in "Kitchen Design By the Numbers: 6 Key Measurements."
She also recommends making the distance from the countertop to the upper cabinets or shelves 15 to 20 inches. "Any lower and you'll impede on work space. Any higher and it's going to be tough to reach uppermost shelves," Yunghans explains.
Lastly, don't forget the space between the counters. With galley layouts, islands, or U-shaped kitchens Yunghans suggests you make the circulation space between countertops at least 48 inches, a common recommendation.
"If you're upgrading a small kitchen, this will seem huge. If you have the space to work with, don't get over zealous, however. Experts say making the space between counters more than 64 inches will feel too big and you'll lose valuable efficiency when working in the kitchen," Yunghans says.
Someone somewhere once said that eating is a necessity, but cooking is an art. Similarly, with your kitchen design many elements (a stove, a refrigerator, counters, etc.) are necessities, but when molded with a conscious awareness of common measurements and comforting details such as WarmlyYours FeelsWarm®* Countertop Heaters,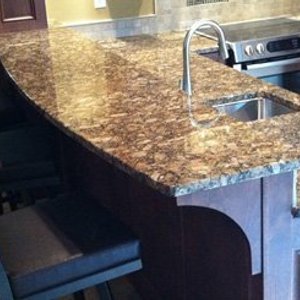 your design can transform into a work of art: inviting, comfortable, functional, and warm.
Every kitchen design is a unique reflection of the designers and home owners that put them together. We'd love to hear how you crafted your kitchen space and your use of WarmlyYours FeelsWarm®* Countertop Heaters. Please share your story, send us photos on the WarmlyYours Facebook page, or tweet us at @WarmlyYours.
*FeelsWarm® technology is a registered trademark of Heated Stone Products, patent pending
---
Tell us About your Project
Our team of Radiant Experts is ready to help! Just tell us a little about yourself and your project to get started.
---
Did you find this post helpful?
Let us know by giving it some applause.
---
---