If you want others to be happy, practice compassion.  If you want to be happy, practice compassion.
~ Dalai Lama



In late April, I contacted St. Vincent de Paul - a local food pantry which is a ministry of St. Frances de Sales Catholic Church - located in Lake Zurich. It was then that I began what came to be a real journey of renewal for me. I have to say that when I undertook this project, I was not fully prepared for everything I would come to realize and re-discover.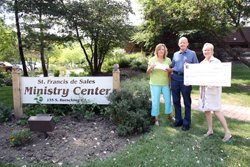 So, I kicked things into high gear, and I was very thankful when Cushman & Wakefield agreed to co-sponsor this outreach event and worked to get the support of the other tenants at Kemper Lakes, where WarmlyYours is headquartered. Also, WarmlyYours President, Julia Billen, promised a "dollar for dollar" match of any monetary contribution made by a WarmlyYours employee.

The St.Vincent de Paul food pantry is a "client choice" pantry. In other words, folks come to the pantry and select from what is available on the shelves. This pantry services Lake Zurich, Palatine, Kildeer, Wauconda, and Mundelein, in addition to other area communities. They provide about 3 tons of food a month and service 200 families a week. Those facts alone made my head spin. The overwhelming need for food in our own backyard is alarming to me.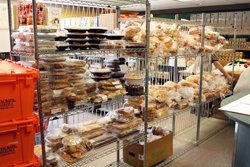 And, I really had to look no further than to my own colleagues at WarmlyYours to know the true meaning of kindness and generosity. The human heart knows no limits. Like the Kemper Lake tenants, many contributed canned goods, juice, cereal, baby products, personal hygiene products, and so much more. My truck was filled to the brim. But, even more heartwarming was the amount of money my colleagues donated – a total of $425 dollars. WarmlyYours matched that amount for a grand total of $850! To put it in perspective, $100 buys 400 lbs of fresh meat from the Food Bank. Think of all the fresh meat, fruit, and vegetables this money will buy for hungry families in the surrounding communities. My colleagues have truly touched me, so much so that I found myself spontaneously hugging them in the office!

People are basically good and kind. That's not an epiphany for me. I have always believed this even after seeing the worst that society had to offer when I was prosecuting truly evil and violent criminals. But, what I am so amazed by is the willingness to help others in need – perfect strangers – even when so many of us are challenged in so many ways ourselves, whether it be financially because of the economy or just simply by the demands of everyday life. Refreshed and renewed in the human spirit, I am hopeful that you will find a way to make a contribution to your local food pantry - whether it's food or money - so that you, too, can experience the goodness that comes from giving back. 

Vickie L. Wash, Esq.
Marketing Communications Manager
---
Tell us About your Project
Our team of Radiant Experts is ready to help! Just tell us a little about yourself and your project to get started.
---
Did you find this post helpful?
Let us know by giving it some applause.
---
---