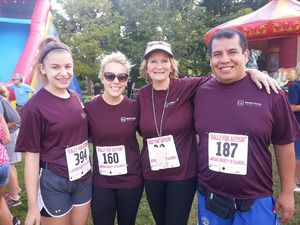 Sunshine, camaraderie, exercise and support of a great cause: what could be better on a Saturday?
WarmlyYours Radiant Heating's employees and their family members spent a Saturday supporting autism spectrum disorder (ASD), also simply known as autism, at the 12th annual Rally for Autism held August 16, 2014 at Independence Grove in Libertyville, Ill. This was the company's first time joining in this event and second 5K this year (the first was the EmpoweRun 5K benefiting A Safe Place, an organization that advocates and provides services for victims of domestic violence in Lake County, Ill. Read about WarmlyYours runners' participation here). Ten participants total (two of which were family members) from WarmlyYours ran the race, which attracted more than 600 people.

"It was incredible to see so many people participate in the rally. You could see how passionate each person was. It was a moving and inspiring experience," reflected Linnay Grosche, who has managed social media communications for WarmlyYours the last three years.
The race raises support for The Autism Society of Illinois (ASI), an organization that supports parents, increases public awareness, and provides the education and research needed to tackle autism.
Employees also donated monetarily to the cause. Between donations, registration fees and a WarmlyYours company match, $570 was donated to ASI, which was founded more than 30 years ago.
Early Diagnosis Of Autism Is Key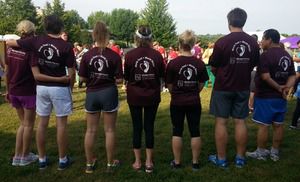 ASD continues to touch more and more people as new estimates from The Centers for Disease Control and Prevention (CDC) find that one in 68 children (or 14.7 per 1,000 eight-year-olds) in multiple communities in the United States has been identified with ASD.
ASD's growth rate is scary and swift. The CDC's new 2014 estimate is roughly 30 percent higher than previous estimates reported in 2012 of 1 in 88 children (11.3 per 1,000 eight year olds) identified with ASD.
"The most important thing for parents to do is to act early when there is a concern about a child's development," said Marshalyn Yeargin-Allsopp, M.D., chief of CDC's Developmental Disabilities Branch. "If you have a concern about how your child plays, learns, speaks, acts, or moves, take action. Don't wait."
If you suspect your child may have ASD:
Talk to your child's doctor about your concerns.
At the same time, call your local early intervention program or school system for a free evaluation.
It's never too late to get help for your child.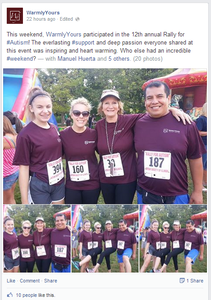 "More needs to be done to identify children with autism sooner," said Boyle. "Early identification is the most powerful tool we have right now to make a difference in the lives of children with autism."
While the annual Rally for Autism funds a serious cause, spirits were high with a lot of smiles and laughter, new participants and plenty of engagement both among colleagues and with the community.
"There is a different sense of camaraderie you experience with your colleagues that extends outside of the work place," shared Nia-Shea Grosche, who's been with the company more than a year. "You are teaming together to help a great cause, and it is very rewarding. By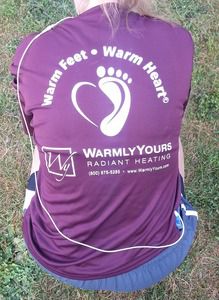 attending these events, there is a chance for some friendly competition and the opportunity to learn more about each of your co-workers. Also, there is a great sense of community when we participate in events such as Rally for Autism—not just within the company, but also the entire community."

Find out more about Autism Spectrum Disorder:
Sources:
https://www.autismillinois.org?page=CiviCRM&q=civicrm/event/info&page=CiviCRM&id=7&snippet=2
http://www.cdc.gov/media/releases/2014/p0327-autism-spectrum-disorder.html