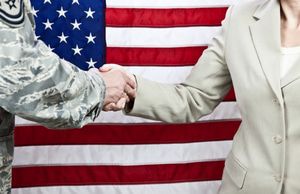 On the 11th hour of the 11th day of the 11th month in 1918, an armistice, or temporary cessation to war, was declared between the Allied nations and Germany in the First World War. In 1919, President Woodrow Wilson proclaimed the first Armistice Day saying, "To us in America, the reflections of Armistice Day will be filled with solemn pride in the heroism of those who died in the country's service and with gratitude for the victory, both because of the thing from which it has freed us and because of the opportunity it has given America to show her sympathy with peace and justice in the councils of the nations."
On November 11, 1921, the United States pursued an individual commemoration. An Unknown Soldier, who had already been laid to rest at a cemetery in Europe, was shipped to the U.S. and placed in the "Tomb of the Unknown Soldier." This Unknown Soldier not only symbolizes the losses in the war, but also, each American's loss and sacrifice. Veterans Day honors all American veterans, both living and those who have sacrificed their lives. This day is largely intended to thank veterans for their dedicated and loyal service to their Country. November 11 of each year is the day that we can show military veterans that we sincerely appreciate all the sacrifices they have made to keep freedom alive in this Country.
Americans live in freedom because of a veteran's dedication, courage, and honor. Through the many endeavors of a soldier, there brings countless trials and burdens. We may never truly be able to understand the great sacrifices and losses a soldier experiences through war. And, here at WarmlyYours, we want to express our genuine appreciation to our veterans. But we feel that just saying "thank you" is not enough when it comes to sincerely showing recognition to our veterans.
As a part of expressing our deepest gratitude, WarmlyYours is honored to extend a 15% military discount on all WarmlyYours products for our Nation's service members. We understand how important home is to you and your family. And, making your home warm and comfortable is the least that we can do to say "thanks."
Like this post? Subscribe for regular updates
Make sure you don't miss out on the latest news in radiant heating by subscribing to our blog. We'll send you an email with links to the newest posts from WarmlyYours.
We won't share your information and you can unsubscribe at any time with a single click.
---
Did you find this post helpful?
Let us know by giving it some applause.
---
---