The New Year is almost here which means that new styles and trends are starting to emerge.
The remodeling industry is flourishing with new ideas and directions that are created to benefit your home. We have all felt the punch of the flat economy, so the remodeling industry is taking a new approach this year and practical trends are blossoming to better your home.
Instead of going big and extravagant, people are now settling for more cost effective and useful features for their home.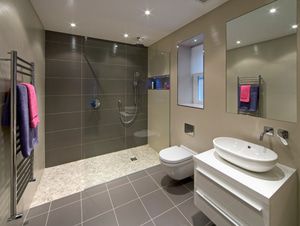 Many homeowners are now installing steam showers. Soaking tubs were mainly a decorative piece for show and rarely used because it can be expensive. Homeowners remodeling their bathroom now focus their budget on a larger and more comfortable shower. Steam showers have risen in popularity for their therapeutic effects and conservation of water ultimately allowing the homeowner to relax and save money at the same time!
No one wants a house that is cluttered and disorganized. Drop Zones/Mud Rooms have captured many homeowners; because these drop zones serve as a great way to de-clutter. This room contains cubbies, hooks, or closets for items that you may not want to have out in the open, subjecting your home to clutter.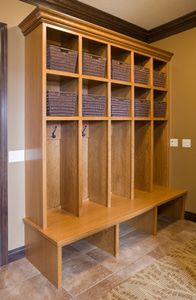 Many people view the formal living room as a wasted space, only used for holidays and special occasions. Opening the living room is a new trend that creates a great room that is warm and inviting. An open family room or great room will typically combine the kitchen, living room, and dining room. Creating one big room will help lessen energy consumption and positively effect the living environment by creating a sense of wholeness.
Instead of having an office, a lifestyle center is a room with a computer and various electronics that allows kids to do homework and helps parents monitor their children. You can use this room to work at home or pay the bills, instead of being isolated in an office that is closed off from everyone.
Radiant heating in every room; this trend to add radiant heating to rooms throughout the inside and outside of a house has become popular with many who are looking for a practical and efficient way to heat their home. With radiant heat, you can enjoy luxury and efficiency wrapped in one economical package.
Another new trend is adding a patio to your home, creating an outdoor living space! A patio can serve as a secondary dining room when the weather is nice which allows you to have more company for the holidays or celebrations! Making this outdoor living space available year-round with electric radiant heat, like slab heating or a snow melting system is the ideal way to keep this investment paying you dividends all year long. You can also make your house feel larger, by adding sliding doors that lead from inside your house to the patio.
These 2012 trends are definitely going to get everyone motivated for the New Year! Forget about expensive luxuries and go for practical, sustainable solutions in 2012.
Like this post? Subscribe for regular updates
Make sure you don't miss out on the latest news in radiant heating by subscribing to our blog. We'll send you an email with links to the newest posts from WarmlyYours.
We won't share your information and you can unsubscribe at any time with a single click.
---
Did you find this post helpful?
Let us know by giving it some applause.
---
---