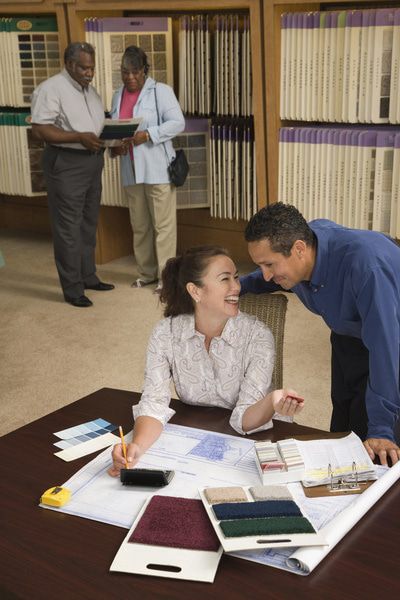 In a kitchen and bath showroom, the customer is surrounded by a plethora of choices. Every vignette shows them a different option of cabinet, countertop, faucet, backsplash, flooring and more. So how do you get them to consider yet another option: in-floor radiant heating? Simply follow these three steps.
1. Promote floor heating near flooring materials.
It sounds simple enough, but promoting electric floor heating in the same area where you display different flooring types will remind customers who are interested in replacing their floors to consider floor heating as well. To put floor heating on their radar, you should place merchandising materials like displays and literature near the flooring section of your store.

Once new flooring is installed in a customer's home, the opportunity for radiant floor heating is lost until the homeowner is ready to replace the floors again. Therefore, it's important to make customers aware of this upgrade when they're in the process of selecting their flooring materials.
2. Let customers feel the warmth for themselves.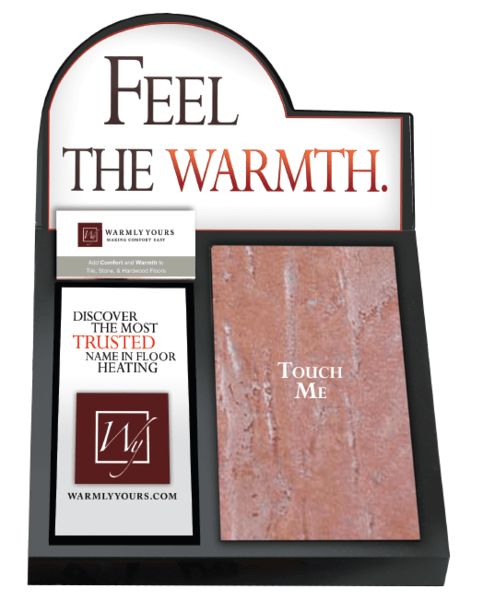 Above and beyond, the best way to sell in-floor heating to customers is to let your customers feel the warmth for themselves. This will allow them to visualize having a floor-heating system in their own home.
WarmlyYours offers two different interactive experiences: the first is its heated tabletop display, and the second is an in-floor showroom display kit.
The heated tabletop display features a ceramic tile heated by a TempZone™ floor-heating mat. The display only takes up 1 square foot of space and can be plugged into a standard outlet. It radiates soothing heat so that when customers touch the tile they can imagine that same heat working its magic underneath their bathroom or kitchen floors.
The in-floor showroom display kit is an even more interactive experience because it takes place right under customers' feet — just as it would in their homes. Showrooms can install a 3- by 5-foot TempZone™ mat under their tile, stone or hardwood floor so that customers can take off their shoes and experience the warmth of heated floors right in the showroom. The kit includes the floor-warming mat, a thermostat, and decorative metal tiles, which offset this area of flooring so that customers can clearly see that there's something to experience.
Both options aim to create an "aha" moment for customers that immediately helps them to understand what it would be like to have radiant heated floors in their home.
3. Inform customers about the benefits of radiant heat.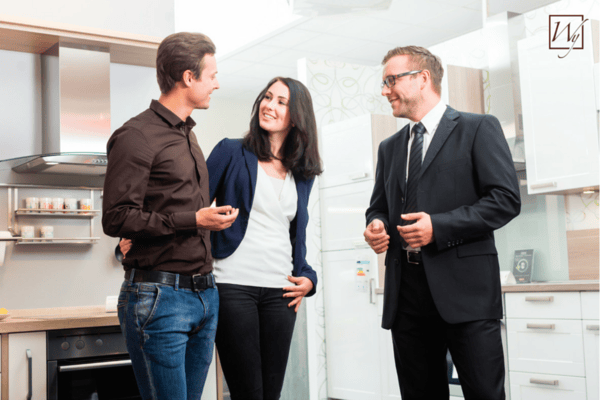 To bring the sale home, customers will be pleased to hear that radiant heat offers even more than comfort.
As a primary or supplementary heat source in a room, electric radiant heat has the ability to reduce heating bills. WarmlyYours offers multiple tools — Instant Quote, Energy Use Calculator and Heat Loss Calculator — that can determine precisely how much our floor-heating systems cost and how much they cost to operate. This way, customers can see for themselves how much they would save compared with their current heating bills.
Radiant heat also is a healthy heating option, which might not be apparent to many customers. Forced-air systems distribute dust and other allergens around the house because they blow air through a duct system. Electric radiant heat works from the ground up without any vents, so it's not kicking up any harmful allergens. The heat is clean, quiet and evenly distributed.
According to experts, radiant floor heating is one of the top upgrades that homeowners wish they had installed in their home remodeling project. Don't let your customers to miss out on an opportunity, and don't let your business miss out on the added revenue!
---