Missed your sales numbers? It happens to the best of us! At one point or another, we all face the unfavorable result of low sales that have missed the mark of quarterly or even annual goals. But, instead of panicking, view it as an opportunity to reset and realign your sales strategy.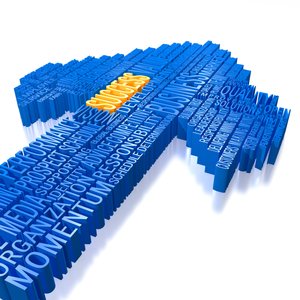 The best advice we can give you is - don't panic, stop and take a deep breath - then take a moment to think! When you don't reach your numbers, often the impulse is to do something immediately decisive. In sales, the knee-jerk reaction is usually to lower your price and offer a discount, but we caution you to be careful when doing this because that can introduce a very slippery slope for you and your business.
In our research, we've found that only a small percentage (10% or less) of consumers purchase simply on price alone. Yet, we've found that the majority of sales that close are from customers who choose to buy based on quality and value from people they like – as in, good customer service.
Unfortunately, putting all of your focus on the short-lived immediate sale, rather than a long-term revenue-building strategy will leave you with a less than loyal customer-base with decreasing repeat sales. Simply put, if a customer only buys from you based on the low price, the next time your competitor offers a lower discount, they will leave you and purchase from them. The brand loyalty from these types of customers simply doesn't exist.
On top of this, reacting over pricing and offering a knee-jerk reaction sale will turn into a "penny-pinching" war, much like the two rival gas stations that are located directly across the street from each other – competing on the lowest price to the penny.
Instead, we recommend offering these 3 FREE services and tools to your customers as an added value when you find your radiant heating sales are coming up short – it will help you recover that radiant heat revenue:
SmartFit In-Home Measuring: Use this free service from WarmlyYours Radiant for the "front-end" of your projects to save you time and to provide added-value to your customers, in order to receive accurate, professional measurements.
SmartSet In-Home Thermostat Programming: We will come to program your customers' floor heating thermostat, helping them understand their lifestyle and daily schedules – saving them money, time, and providing energy efficiency.
IQ (Instant Quote) Tool: Add this smart radiant floor heating tool to your own website, fully branded with your logo and colors, and make it simple and easier for your customers to receive quotes on their floor heating and snow melting projects, and let us do the thinking for you!
By including these free 'value added' services with your radiant heating product offering, you are able to provide your customers with more than floor heating – you can offer them an entire radiant heating experience that cares for them from start to finish. You will gain their loyalty and business with this full service offering without you having to invest any additional money.
---
Tell us About your Project
Our team of Radiant Experts is ready to help! Just tell us a little about yourself and your project to get started.
---
Did you find this post helpful?
Let us know by giving it some applause.
---
---