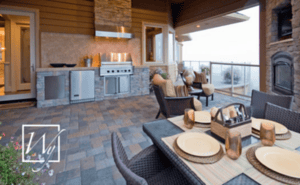 With family and friends visiting for the holidays, extra space can start to take on a whole new level of importance in your home. Outdoor rooms have been a trend for homeowners to maximize the usable space in their homes, and there's no better time to put them to use than during the holidays to give people room to spread out and spend time together. Many homeowners, minus those living in the north (sorry folks, there's not much you can do to tempt people to hang out outside in snow and ice!), have the option to extend the usability of their outdoor rooms by taking some extra steps to keep them warm and comfortable this holiday season.
So much about the holiday season is about staying cozy. We pull on wooly sweaters, bundle up in scarves, curl up by the fire with steaming mugs of tea or coffee, and scoot a little closer to the ones we love to stay warm. Like pulling on a pair of extra mittens or snuggling up under a soft blanket, here are five things you can do to warm up your outdoor spaces and make them extra cozy for the holiday season.
1) Install radiant heating solutions.
The groundwork of lengthening the usability of your outdoor room into the holiday season starts when you create or update your outdoor rooms. Include electric floor-heating systems from WarmlyYours Radiant Heating to combat cold from the ground up.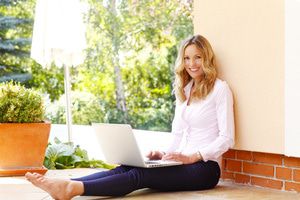 Multi-seasonal indoor/outdoor rooms include concrete, tile or wood floors that flow out from the main house, but these are naturally cool, especially during the winter months. WarmlyYours' concrete-heating cables and mats help transform the naturally cool cement slabs and tile into warm, inviting floors.
WarmlyYours has multiple options to connect the comfort of the indoors to the outdoors.
Once you lay the foundation with electric floor-heating systems, these additional simple touches will keep your outdoor space warm and cozy for the holidays.
2) Add rugs.
Porch.com shares that historically wealthy homes would change or add area rugs seasonally. It's a time-tested strategy, as wall-to-wall carpeting in homes was not common prior to the 1950s. Throwing down an extra rug creates a barrier against cold and also adds a warmer — and dare we say cozy — look and feel to the room.
"If you have rooms without area rugs, like your kitchen, entryway, staircase landing, etc., think about purchasing area rugs for the colder months," writes Anne Reagan in "Warm Up Your Home With Time Tested Tips." "If you already have area rugs in your home, consider temporarily changing them for plusher, thicker rugs; it will lend a warmer look and feel to the room. Another advantage in doing this is that you can change your interior colors with the season."
3) Wear more clothes.
"This is an obvious 'ah-ha' tip; however, just adding extra layers on your body (think slippers, warm socks, sweaters, etc.) can help," Reagan shares. Did you know that our bodies feel coldest in the parts with the least insulating fat: the head, ankles, feet, wrists and hands? If you are hosting a party, you can offer festive, fun, inexpensive mittens, gloves, slippers, etc., for your guests to wear when headed outdoors.
4) Add a fireplace.
This is one tip of many shared in the article "Warm Up Your Outdoor Spaces."
"An outdoor fireplace makes a great gathering spot," the article states. "It creates a feeling of intimacy while letting you stay outside to take advantage of crisp winter evenings. You can install one in a sheltered entry courtyard, along the rear wall of a home, or at the boundary between paved and planted areas." Read tips for planning an outdoor fireplace and view inspirational photos here.
5) Heat counter tops.
Many outdoor spaces come with beautiful, functional countertops for cooking and grilling. Make these more comfortable during cooler temperatures by adding WarmlyYours FeelsWarm®* Countertop Heaters. These adhesive-backed heating elements are less than .025 inches thick and adhere to the underside of the countertop, discreetly eliminating the cold feel of granite and stone. Read more about how they work in our previous blog, "The 1, 2 Counter Punch: Functionality & Warmth."
WarmlyYours added the popular radiant heating accessory in February 2014.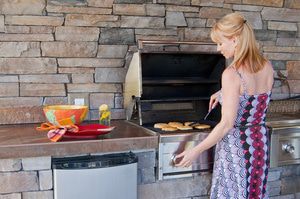 During the cooler winter, resting your hands or arms on the counter can be warm and inviting rather than a cold shock. It is just one more simple way to add warmth and comfort to outdoor spaces, which will give you extra space to entertain guests — or create that perfect getaway for you to unwind after attending holiday parties.
We'd love to hear how you warm up you outdoor space with WarmlyYours electric floor-heating systems and FeelsWarm®* Countertop Heaters. Please share your story, send us photos on the WarmlyYours Facebook page, or tweet us at @WarmlyYours.
Sources:
http://porch.com/advice/warm-up-your-home-with-time-tested-tips
http://www.myhomeideas.com/outdoor-living/gardening/warm-up-your-outdoor-spaces
http://www.hgtv.com/remodel/outdoors/how-to-plan-for-building-an-outdoor-fireplace
http://www.concretenetwork.com/outdoor-kitchens
* FeelsWarm® technology is a registered trademark of Heated Stone Products, patent pending.
---