Referrals are an important aspect of success in business. Why? It is easier to get a sale with a prospect that was referred to by a friend rather than a cold prospect. Yet when it comes to getting referrals for yourself, most of us may feel uncomfortable to ask business owners, for a variety of reasons. That is why WarmlyYours is here to provide you with 5 ways to attract referrals without asking!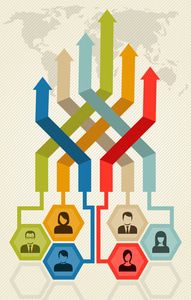 Give and take: If you want to receive referrals, you are going to have to give them first. Word of mouth can spread like wildfire so if you are generous in giving referrals, business owners will notice. Not only will they feel respected and grateful, but also it will make them eager to point business your way!
Be grateful: Once you have given referrals, it is important to show gratitude towards the people who referred you. There are many ways to show your thanks such as sending cards, gifts, or even discounts. If you show that you're grateful then those who referred you feel reassured and fulfilled.
Create a program: Who doesn't like rewards? A great way to generate more referrals is by creating a rewards program. By offering discounts or coupons for your services as a reward for giving referrals, more people will be encourage to help you generate business.
Have Partners: Partnering with another company will not only help you with referrals but is also a great way to boost business for both of you. Try finding businesses that offer services that complement yours. Make sure not to partner with a competitor of yours but with a company that will have people who would be interested in your product as well.
Good Reputation: If you have a bad reputation, almost all companies will not refer you. Why? It puts their own reputation on the line. If you make a bad impression or you're not professional, then that will eventually carry to all of your prospects and will also affect the business that referred you. Professionalism, money back guarantees, and free consultations not only make a good impression, but allows referrals trust you more and feel risk free instead of feeling that they are being scammed.
Referrals allow your business to grow and build a better reputation. Yet asking for them can be an obstacle some don't want to face. By following this list, you can generate more referrals and boost business without even asking a question.
Like this post? Subscribe for regular updates
Make sure you don't miss out on the latest news in radiant heating by subscribing to our blog. We'll send you an email with links to the newest posts from WarmlyYours.
We won't share your information and you can unsubscribe at any time with a single click.
---
Did you find this post helpful?
Let us know by giving it some applause.
---
---