A video summation of the report is available here.

This year has started strong for sales of radiant heating products like floor heating systems and towel warmers, which have benefited greatly from record setting increases in sales from ecommerce sites like Amazon and online sales from traditional big-box stores like Home Depot and Costco.  
This is in spite of a continued lack of available housing inventory which is causing a sustained increase in national median home sale prices (up nearly 6% between March 2018 and March 2017), which has in turn limited total home sales.
The first quarter growth of ecommerce sales also led to some interesting shifts in product performances within their respective categories such as the emergence of towel warmers as a core product line for WarmlyYours and the Prodeso Cable Installation membrane becoming the number one underlayment by sales volume.  
In this report, we'll take a closer look at the causes of these developments along with analyzing the performance of radiant heating product sales within the larger context of the remodeling and housing markets, along with offering some of our market projections for Q2 2018.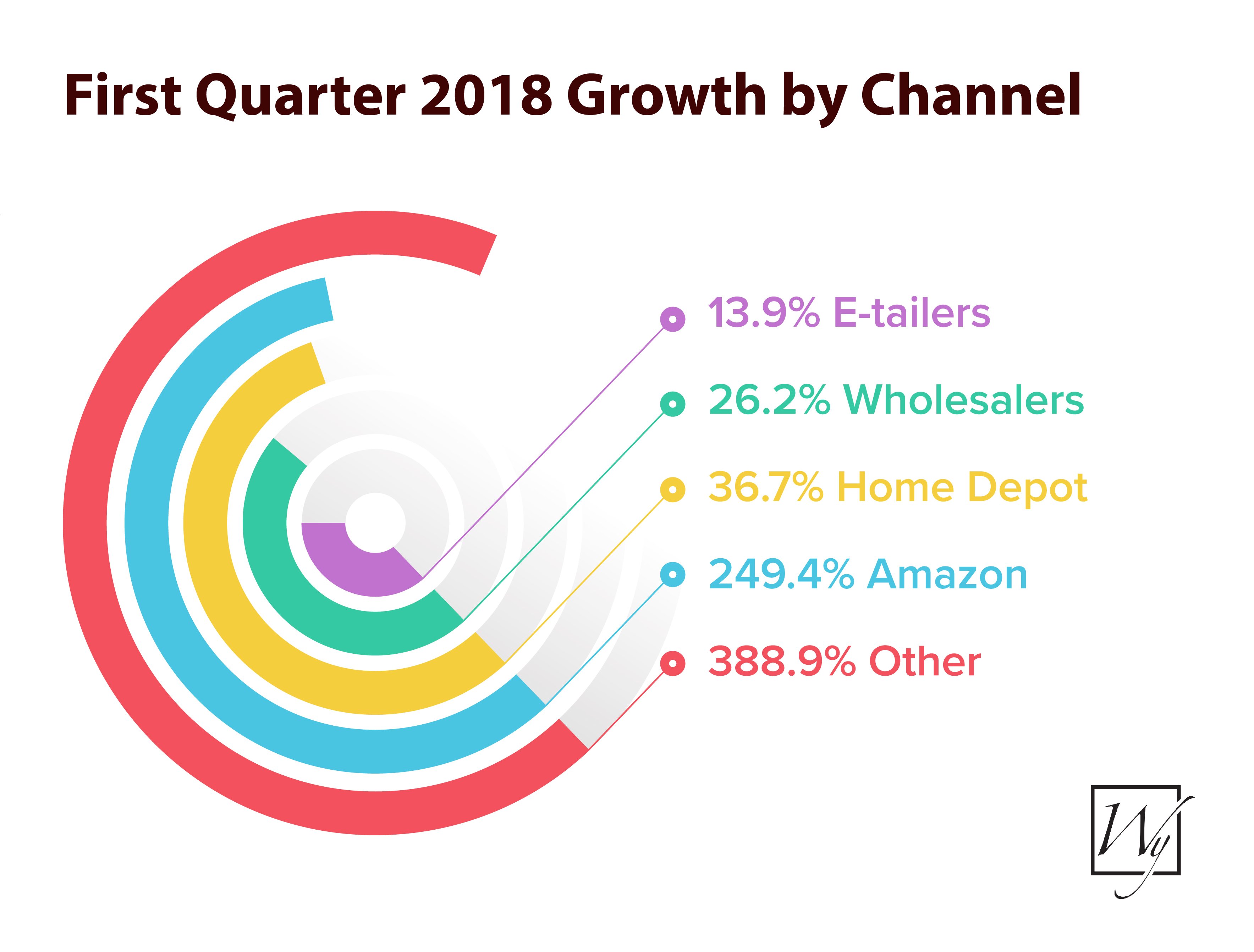 First Quarter 2018: E-tailer and Heating Cable Sales Lead Radiant Heating Increases
In addition to first quarter growth of 26.2% within the wholesaler market (primarily flooring and electrical suppliers), WarmlyYours saw sizeable increases in direct online sales. Pure online sales made on the WarmlyYours website started the year strong in January before dipping in February and then rallying at the close of the quarter, which resulted in a 5.16% net gain. Much of this can be attributed to concerted efforts to optimize the WarmlyYours website and to streamline the purchasing process online.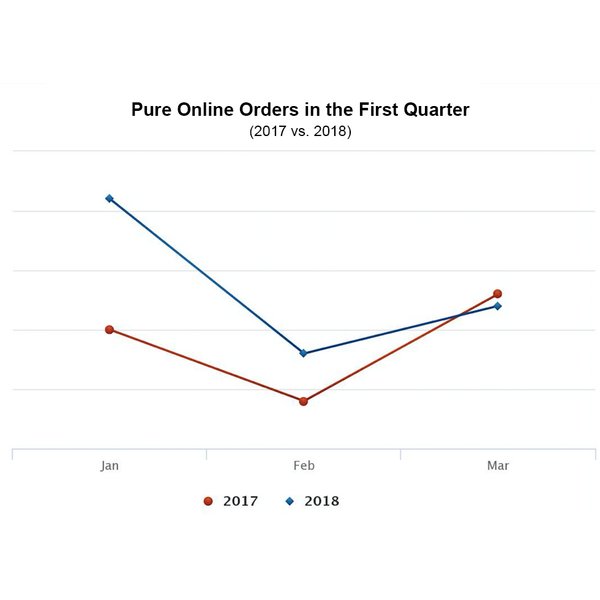 The first quarter of this year also saw an acceleration of a multi-year trend toward growing ecommerce sales for electric radiant heating products. Despite sustained and continued growth for several concurrent quarters, Q1 2018 saw an incredible upsurge of 37.3% in total ecommerce sales volume. Sales of WarmlyYours radiant heating products via ecommerce channels increased from 3.2% of total sales to 11.4% this quarter. Ecommerce channels such as Home Depot (up 36.7%) and e-tailers (up 13.9%) certainly played a part in this growth, but it was Amazon which contributed the fastest growth and the largest sales volume increase by channel.  The nearly 250% first quarter growth was so significant that Amazon actually had to be separated from the general "e-tailers" channel for data reporting purposes.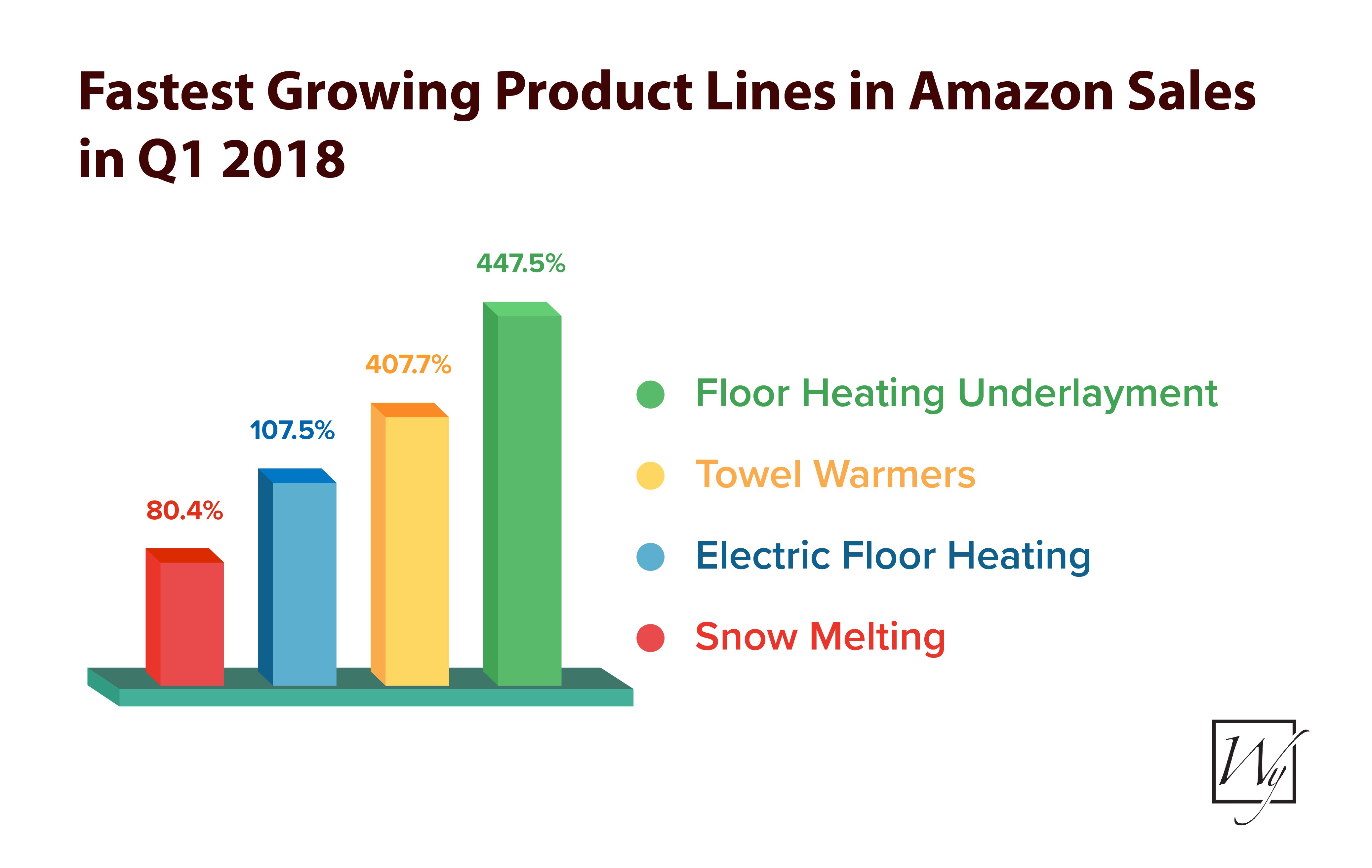 Within Amazon sales, first quarter growth was led by electric floor heating products including underlayments and heating elements which grew at 447.5% and 107.5% respectively. Amazon itself had a very impressive Q1 with a quarterly revenue of $51.04 billion (up 43% from the prior year). However, most of this growth was attributed to their AWS cloud service and increases in ad-spend from vendors; so, growth in radiant heating sales resists the easy explanation of an expanded marketplace and instead suggests the possibility of emerging changes in consumer behaviors.
It could be that as the ever-increasing product offering of Amazon expands, more and more DIYers and trade professionals are turning to the ecommerce giant as a one-stop-shop for a huge variety of building/remodeling materials. Julia Billen, owner and president of WarmlyYours said that there will always be market share for direct sales because of value-add services.
"For many customers, using Amazon is a matter of convenience," said Billen. "But there will always be value-add services, like custom installation plans for electric floor heating, that Amazon just isn't equipped to provide."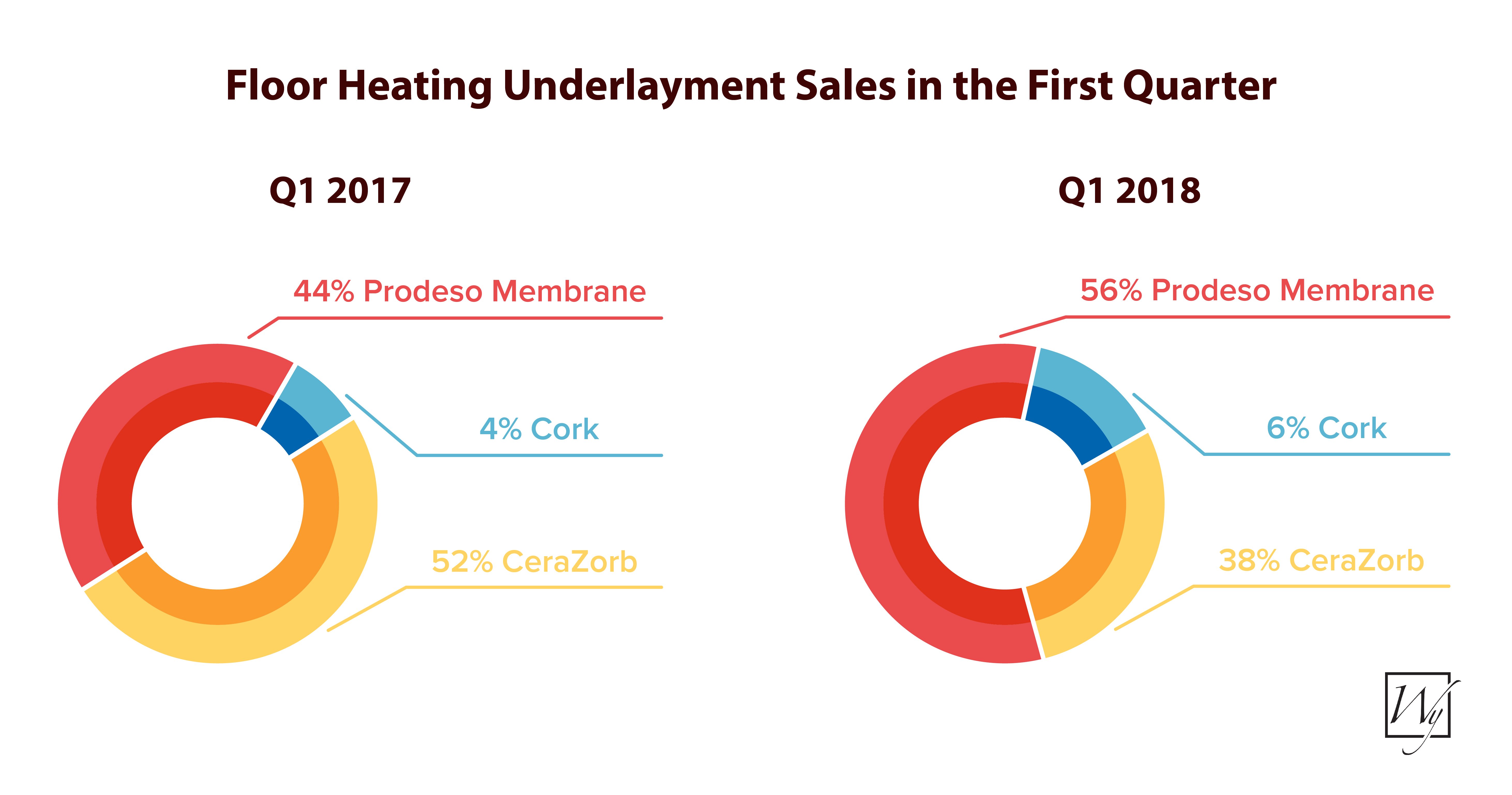 The floor heating combination that has garnered the most traction for Amazon sales (and for sales in general) is our TempZone Floor Heating Cable partnered with the Prodeso Cable Installation Membrane, both of which grew 17.1% and 42% respectively. This combination is popular with both homeowners and trade pros for the long-lasting uncoupling benefits it provides for tile floors and for the speedy installation times compared to traditional underfloor heating systems. This quarter officially marks the first time, since its launch in late 2015, that the Prodeso membrane has outsold CeraZorb to become the top underlayment by volume sales. Prodeso made up 56% of underlayment sales in Q1 2018 and CeraZorb was down to 38%. While uncoupling and insulating underlayments have drastically different uses and benefits, this shift could further indicate developments in how installers are approaching radiant heating systems. We fully expect to see continued growth for the pairing of heating cable and uncoupling membranes.  
The product category with the largest volume increase for Amazon sales was towel warmers which grew by 407.7% in the first quarter. This has led towel warmers to go from 13% of all WarmlyYours sales in Q1 2017 to 18% in the same period this year. The fastest growing models were the Riviera (up 101.3%), the Infinity (up 71.8%), the Elements (up 49.3%), and the Metropolitan (up 22.4%). The Riviera now makes up 28% of all towel warmer sales while the Infinity makes up 33%.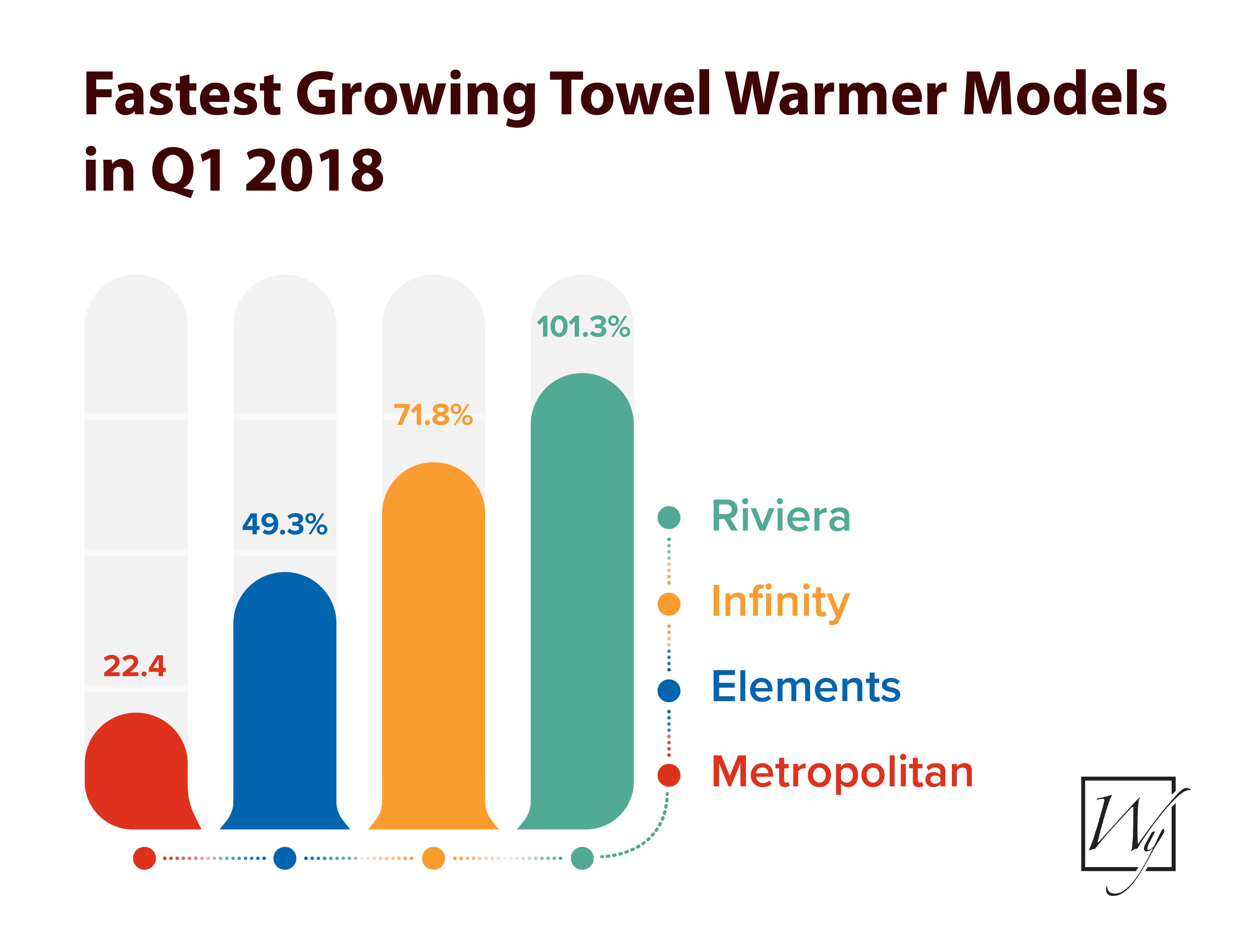 With the release of more towel warmer models and collections throughout 2018, we fully expect to see this product line continue to grow as well.

Remodeling Projections Look Optimistic Despite Continued Housing Inventory Crunch  
2018 has started off strong for most vectors of the national economy, including a first quarter national unemployment rate that was 0.57% lower than prior-year-period and a 2.3% increase rate for the GDP. However, one component of the economy that continues to stutter-step is the housing market, which is nearing a plateau of sales activity due to unit pricing outpacing production and supply, leading to high average sale prices for homes across the country.
By the end of Q1 2018, home prices had reached March median home sale prices not seen since before the recession. According to Redfin, which tracks 174 different markets, the median home price had increased 8.9%. The National Association of Realtors (NAR) has the median price at 5.8% up from last year and the U.S. Census Bureau has the figure up at 4.8%. While there may be some disagreement about the degree, all sources concur that the shortage of available housing is stifling sales activity in an otherwise healthy economy.
In a press release, Lawrence Yun, chief economist for NAR, said that the primary issue facing most homebuyers (particularly potential first-time buyers) is the same issue that they've faced for several quarters in a row: astronomical home prices from low supply and high demand.
"Much of the country is enjoying a thriving job market, but buying a home is becoming more expensive," said Yun. "That is why it is an absolute necessity for there to be a large increase in new and existing homes available for sale in coming months to moderate home price growth. Otherwise, sales will remain stuck in this holding pattern and a growing share of would-be buyers — especially first-time buyers — will be left on the sidelines." Because of this inventory crunch, pending home sales and existing home sales were down 3% and 1.2% respectively.
However, there may be some light at the end of the tunnel as the U.S. Census Bureau has identified that there was a significant year-over-year increase in building permits (up 7.5%), housing starts (up 10.9%), and housing completions (up 1.9%) by the end of March 2018. While this will not result in an immediate reversal of supply issues, it may indicate that market forces are moving toward long-term alleviation.
Despite the stifled housing market, the most recent Leading Indicator of Remodeling Activity (LIRA), a quarterly publication released by the Joint Center for Housing Studies of Harvard University, the future of remodeling looks bright. In fact, the LIRA projects that annual growth in homeowner remodeling expenditures will remain above 7% into 2019, when annual spending is set to exceed $340 billion. Chris Herbert, the managing director of the Joint Center, said that homeowners are motivated, in part, by increased home values to remodel.
"Strengthening employment conditions and rising home values are encouraging homeowners to make greater investments in their homes," said Herbert. "Upward trends in retail sales of building materials and the growing number of remodeling permits indicate that homeowners are doing more—and larger—improvement projects."
Projected Electric Radiant Heating Growth in the Second Quarter of 2018
Every quarter, WarmlyYours identifies several metro markets where growth in radiant heating is expected. The Q1 2018 projections identified New York, Washington, D.C., and Los Angeles as potential growth areas with expected rates of change in total sales of 10%, 6%, and 25%, respectively. The New York and Washington, D.C. actual rates of change were well within the 5% margin of error for the projections but Los Angeles surprised us by growing an impressive 54.8%.
We've identified 3 metro markets where we expect to see the largest increases in the second quarter of this year: Kansas City, Dallas, and Indianapolis. Since we're moving into the summer building season, our expectations are high for Q2 2018.
In Kansas City, the median home price is 25% lower than the national average, while an affordable standard of living is drawing in more potential homebuyers. With this influx of new homeowners, we fully expect radiant heating sales to grow 130% in the second quarter of this year.
The Dallas housing market has been red-hot for several quarters in a row. Q1 2018 home prices are up 6% over 2017, but the year prior to that, the prices had increased 13%. And even though it's expected to cool somewhat, we think that continued home sales will help push radiant heating sales up by 115% in Q2.
With low median home prices (31% lower than the national average) and a relatively low unemployment rate (3.0% in March 2018 vs. the national average of 4.1%), and a first quarter increase in pending home sales of 4.3%, we expect to see radiant heating sales increase 230% in Indianapolis. However, this could be tempered by the 0.6% decrease in first quarter home sales for the city.
Julia Billen, the owner and president of WarmlyYours, said that by identifying the regional markets that are expected to grow in radiant heating sales, the company is able to dynamically respond to consumer needs as they develop.
"Our sales efforts have never been more mobile or responsive and that's due in large part to our analysis of both national trends and consumer behaviors," said Billen. "At some point, we'll be so far ahead we'll practically have the floor warm for the customer by the time they decide to buy!"
Sources:
---
Tell us About your Project
Our team of Radiant Experts is ready to help! Just tell us a little about yourself and your project to get started.
---
Did you find this post helpful?
Let us know by giving it some applause.
---
---