For a video summary of the report's main findings, click here. 
The second quarter of 2018 has seen radiant heating sales skyrocket led by massive volume increases in sales of electric floor heating cable. This quarter has also seen a significant continuation of sales of radiant heating products, particularly floor heating and towel warmers, via ecommerce vendors like Amazon.
Nationally, the housing market has remained sluggish due to lack of available inventory. However, there are some markets where we have seen the kind of gains in radiant heating sales that are normally associated with increased home sales activity and several metro markets where we expect to see future growth.
The second quarter for WarmlyYours was filled with several large developments including the launch of brand new product pages for the website. Additionally, WarmlyYours saw second quarter growth in nearly every product line which helped lead to a 24.5% increase in total sales volume when compared to prior-year-period.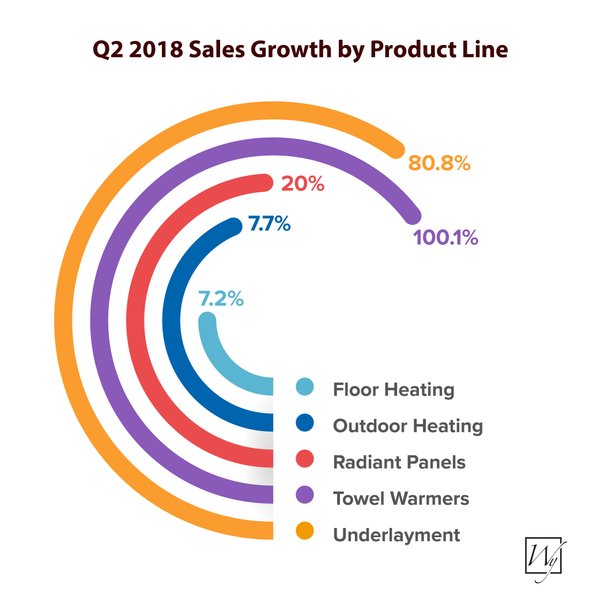 In this report, we'll take a closer look at the causes and impacts of these developments along with analyzing the performance of radiant heating product sales within the larger context of the remodeling and housing markets.
Second Quarter 2018: Electric Cable Again Drives Floor Heating Growth
TempZone 3.7-watt Floor Heating Cable has continued to lead floor heating sales. In the second quarter of 2018, this product grew 23.9% compared to the prior year. This has led to cumulative 2018 year-to-date sales growth of 16.1%. Not only is this the fastest growing electric floor heating product for WarmlyYours, it also contributed the largest volume increase in sales during the time period as well.
The TempZone Floor Heating Cable has been a popular radiant heating element ever since it was launched in early 2014. Julia Billen, owner and president of WarmlyYours, said that the product was originally on-boarded in response to trends in the European radiant heating market.
"We originally developed TempZone Cable in response to half of European installers' preferences for loose cable over rolls or mats," Billen said. "We predicted that interest in free-form cable would also grow in the United States and Canada, and it did!
The current 3.7-watt version of the cable product is actually the second iteration that has replaced an earlier thinner 3-watt cable. Not only does the 3.7-watt cable provide more heat output (14.8-watts per square foot at 3" spacing vs. the 12-watts per square foot of the previous cable), but its thicker profile means it's easier to use in conjunction with uncoupling membranes designed for floor heating.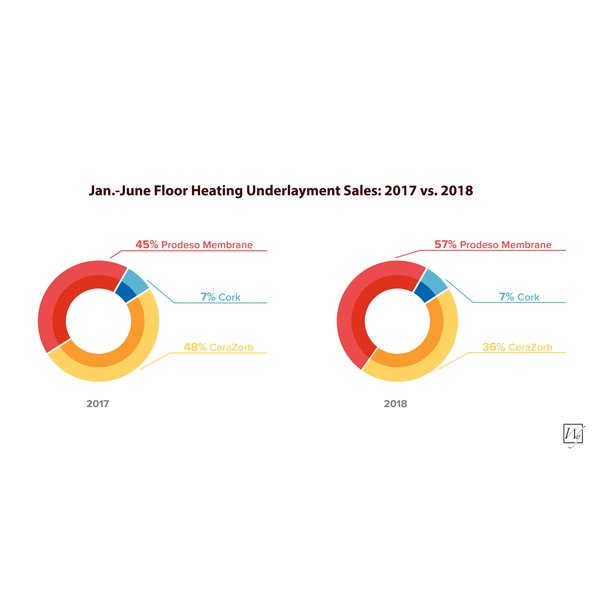 "The idea to on-board our own uncoupling membrane came directly from listening to our customers who wanted to have access to a product that provided both uncoupling and installation benefits when installing floor heating," said Billen.
The Prodeso Membrane, a crack isolation and uncoupling membrane designed to work with floor heating cable, has indeed been a very popular item among both homeowners and installers. In the second quarter of 2018, the Prodeso Membrane grew 128.6%. In year-to-date sales, the membrane has grown 76.9% to become 57% of all underlayment sales (up from 45% in the previous year).
Also of note in the second quarter was the continued growth of radiant heating sales via the ecommerce channel that includes e-tailers like Amazon and Wayfair. In the first two quarters of 2018, ecommerce sales accelerated rapidly to reach a rate of change of 147.6%. This led to e-tailer sales making up 19.4% of all WarmlyYours sales, up from around 8% in 2017.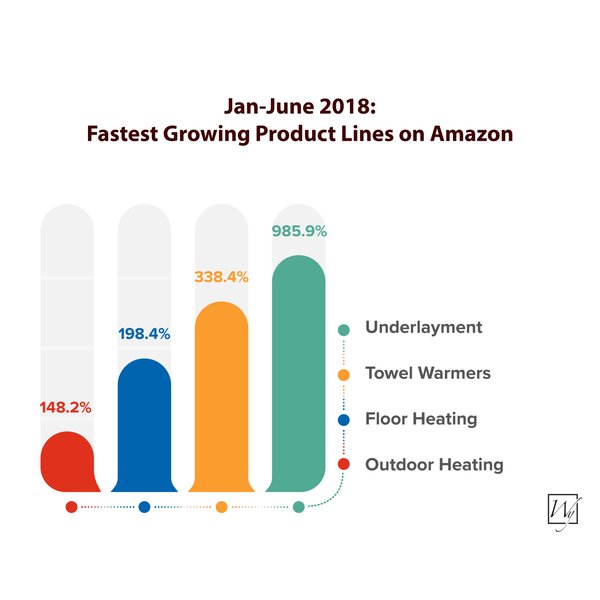 This growth has been led by huge volume increases in Amazon sales. In the second quarter, every product line on Amazon experienced growth, which constituted a 349.8% increase in total sales when compared to 2017. The largest volume increase was from sales of towel warmers which grew 306.9%, followed by sales of floor heating and underlayment which grew 427.9% and 3,003.5%.
WarmlyYours expects to see continued growth in sales of radiant heating products throughout the remainder of 2018 and into the beginning of next year.
In addition to ecommerce growth, WarmlyYours saw second quarter increases in several key customer segments including trade and dealers which were up 13% and 6.9%, respectively.
Strong Economic Metrics and Housing Shortage Trends Continue Nationally
The second quarter of 2018 saw a continuation of growth in major economic metrics including a 4.1% rate of change increase for the GDP and a marginal 0.3% increase in personal income in June. However, most employment statistics like new hires and job openings were statistically flat by the end of June.
While increased pay and a strong national economy would typically lead to increased housing sales, the continued shortage of available housing units continues to be a mitigating factor. According to Lawrence Yun, the chief economist for the National Association of Realtors (NAR), this is why sales of existing homes dipped 0.6% in June, marking the third straight month of decreases.
"There continues to be a mismatch since the spring between the growing level of homebuyer demand in most of the country in relation to the actual pace of home sales, which are declining," he said. "The root cause is without a doubt the severe housing shortage that is not releasing its grip on the nation's housing market. What is for sale in most areas is going under contract very fast and in many cases, has multiple offers. This dynamic is keeping home price growth elevated, pricing out would-be buyers and ultimately slowing sales."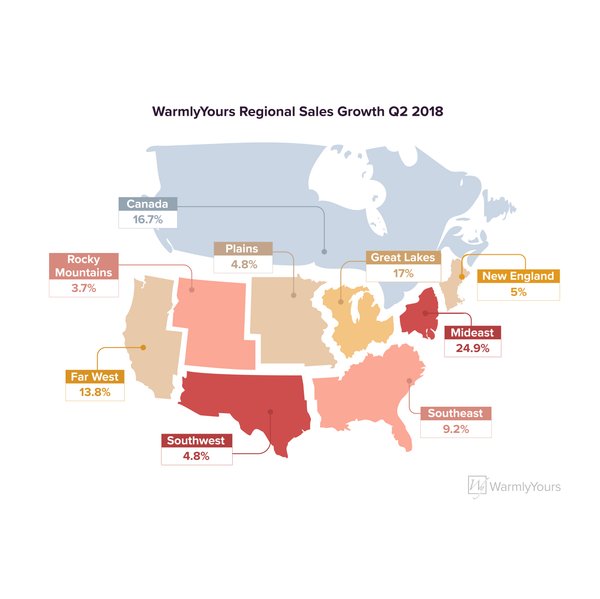 There was some good news on the inventory front during June as total housing inventory rose 4.3%, which is 0.5% over June 2017. This marks the first year-over-year increase in available housing units since June 2015. However, Yun cautioned that this doesn't necessarily signal an end to the supply crunch.
"It's important to note that despite the modest year-over-year rise in inventory, the current level is far from what's needed to satisfy demand levels," added Yun. "Furthermore, it remains to be seen if this modest increase will stick, given the fact that the robust economy is bringing more interested buyers into the market, and new home construction is failing to keep up."
To further compound this issue, according to a joint press release by the U.S. Census Bureau and the U.S. Dept. of Housing and Urban Development, most residential construction statistics are down in June 2018 when compared to the previous year, including both issued building permits and project starts for new single-family residences. However, housing completions for single-family units were up 2.2% compared to June 2017.
Third Quarter 2018 Projections for Radiant Heating Growth
Despite the national housing shortage, expenditures in remodeling are expected to remain strong throughout the rest of the year before subduing somewhat in the first half of 2019. Despite this dampening, the annual growth in homeowner remodeling expenditures will remain around 7% and reach nearly $350 billion by the middle of 2019.
"A growing economy and stronger job market are boosting owners' willingness to invest in home improvements," said Chris Herbert, managing director of the Joint Center for Housing Studies of Harvard University. "Rising home values and increased home equity levels are also encouraging more owners to do larger upgrade and replacement projects."
Typically, as remodeling expenditures and activity-levels increase, so too do sales of radiant heating products. In the third quarter of 2018, WarmlyYours expects to see significant sales growth in several metro markets.
Minneapolis, MN.
-       Due to increased public awareness (and a habitually snowy climate), residential sales of snow melting systems have been strong in this market in the last year.
-       Additionally, between June 2017 and June 2018, employment levels grew 2% in this city.
-       Despite a weak first quarter of sales in this city, WarmlyYours fully expects to see a 25% spike in sales activity in Q3.
Denver, CO.
-       Denver has one of the strongest metro economies in the country and saw a year-over-year increase in employment rates of 2.8% in June, along with very low unemployment rates.
-       The continued population growth of Denver is expected to continue to push home sales forward due to necessity, despite high prices. This will also lead to more home construction.
-       WarmlyYours expects to see a 30% bump in radiant heating sales in Denver.
New York, NY
-       New York is a historically high performing market for WarmlyYours and Q1's 21.5% increase represented a substantial uptick in sales volume.
-       In Q2 2018, closed sales rates increased 5% over a strong Q2 2017.
-       We expect to see a modest increase of 10% in radiant heating sales in NYC.
In broader terms, we at WarmlyYours expect to see continued growth for sales of both the TempZone Floor Heating Cable and the Prodeso Membrane. Additionally, we expect to see continued growth in ecommerce sales throughout the rest of the year. Julia Billen, owner and president of WarmlyYours, said that while it's important to optimize for a future that is appearing more and more digitally-oriented, it's equally as important to maintain strong relationships with our existing professional customers.
"We've been in the radiant heating industry for a long time and some of our customers, from flooring installers to electricians, have been with us for nearly 20 years—in fact, they're more like partners than customers," said Billen. "And we will always place partners first because a website or app is never going to be able to beat the experience and knowledge of a professional."
Sources:
-       Relevant WarmlyYours internal documentation
-       U.S. Bureau of Economic Analysis: https://www.bea.gov/newsreleases/glance.htm
-       U.S. Bureau of Labor Statistics: https://www.bls.gov/news.release/jolts.nr0.htm
-       National Association of Realtors: https://www.nar.realtor/newsroom/existing-home-sales-subside-06-percent-in-june
-       U.S. Census Bureau and U.S. Dept. of Housing and Urban Development: https://www.census.gov/construction/nrc/pdf/newresconst.pdf
-       Joint Center for Housing Studies of Harvard University: http://www.jchs.harvard.edu/press-releases/robust-outlook-residential-remodeling-through-mid-year-2019
-       U.S. Bureau of Labor Statistics: https://www.bls.gov/regions/midwest/summary/blssummary_minneapolis.pdf
-       Metro Denver Economic Development Corporation: http://www.metrodenver.org/media/851036/2018-Forecast_013018.pdf
-       U.S. Bureau of Labor Statistics: https://www.bls.gov/regions/new-york-new-jersey/summary/blssummary_newyorkcity.pdf
-       The Corcoran Group - Inhabit: https://inhabit.corcoran.com/n...
---
Tell us About your Project
Our team of Radiant Experts is ready to help! Just tell us a little about yourself and your project to get started.
---
Did you find this post helpful?
Let us know by giving it some applause.
---
---