The third quarter of 2018 was marked by rapid developments in radiant heating product sales and sizable shifts in consumer behaviors. Of particular note in this quarter was the continued growth in sales of both floor heating cable and electric towel warmers in direct and e-tailer channels. Additionally, data from Google Analytics suggests that while tile remains the most popular flooring type for use with radiant heating, both wood and vinyl are becoming more popular with homeowners.
Nationally, the housing market remains hampered by a lack of available inventory. And while indicators of remodeling activity remain largely positive for the rest of 2018, most expect a relative flattening of remodeling expenditures over the next year.
Other significant changes for WarmlyYours in the third quarter included the launch of a revamped online quoting tool for both radiant floor heating and snow melting systems and the introduction of a new line of electric towel warmers, the Cosmopolitan Collection.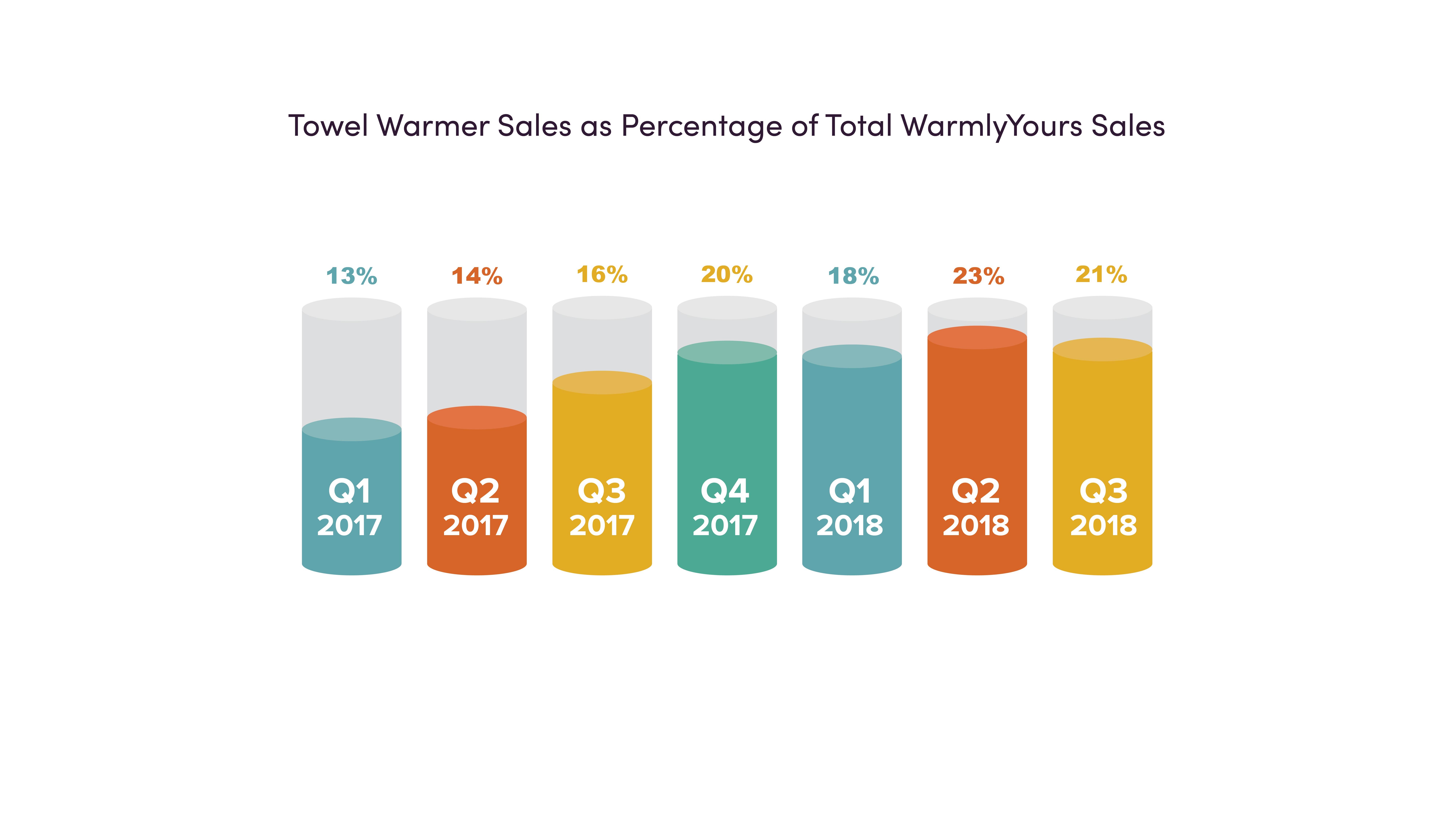 In this report, we'll take a closer look at the causes and impacts of these developments along with analyzing the performance of radiant heating product sales within the larger context of the remodeling and housing markets.
Floor Heating - Tile Remains Most Popular Flooring Type while Vinyl and Wood Grow
One of the most significant findings for WarmlyYours this year has been the development of trends regarding the flooring types paired with radiant heating.
WarmlyYours is able to measure this data because of our Radiant Floor Heating Quote Builder tool, which received a significant upgrade in the third quarter of 2018. One of the few pieces of user-provided information required by the tool concerns the type of floor to be heated. This is used to help identify the proper floor heating system for the project.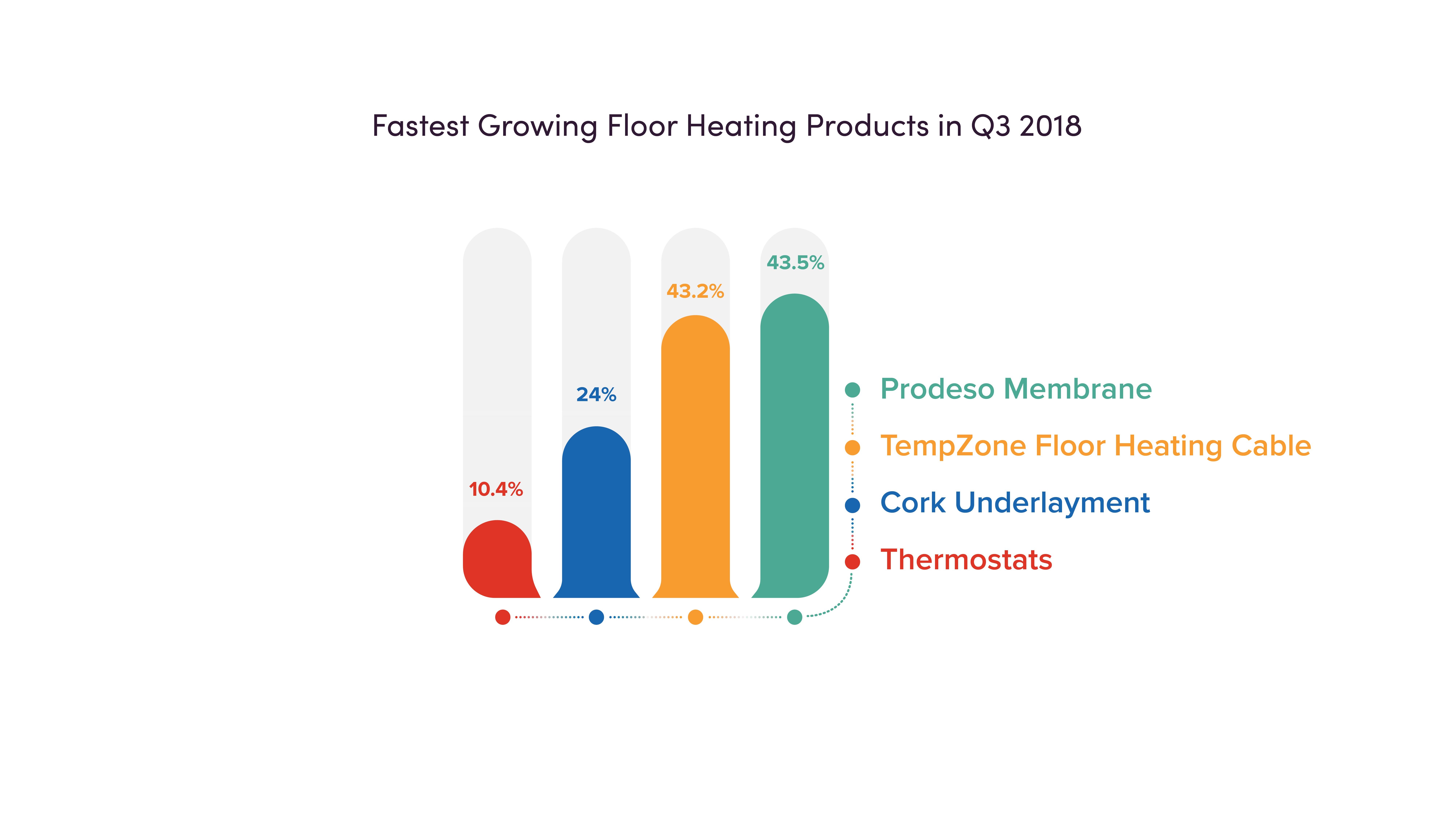 As this tool is used by every segment of our customer base (from professional installers to curious homeowners) from across North America, WarmlyYours is able to use the tens of thousands of quotes created every year as a reliable source of data that indicates wider industry trends. Julia Billen, owner and president of WarmlyYours, places a premium on the careful curation and assessment of this data.
"Everyone knows that staying up-to-date with the changes in your industry is a good business practice. The challenge is sometimes how to actually do it," said Billen. "But for us, it's an absolute necessity. Our success depends on customer service and that means we have to be aware of what our customers need."
Upon reviewing the data gathered from the Quote Builder too, several interesting trends became apparent.
Heated Tile Floors Remain Solidly Number 1
Tile is, was, and most likely will always be, the most popular flooring choice for pairing with radiant heating. This is due in no small part to the inherent perceived "coldness" of tile and the locations where tile is often used (kitchens and bathrooms). According to Google Analytics, search volume for queries relating to tile increased 35.1% in the third quarter of this year, which is evidence of a wider public awareness of heated tile floors.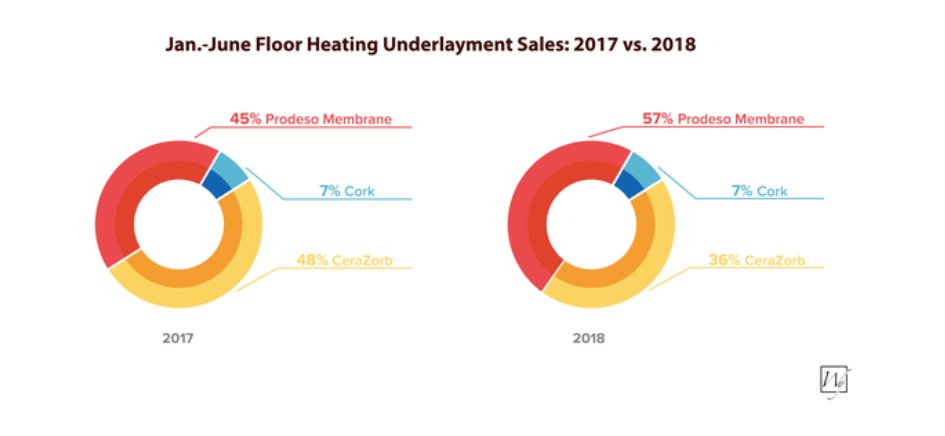 So far in 2018, tile floors (a category that includes tiles made from porcelain, ceramic, marble, and natural stone materials) have made up 87.9% of all electric floor heating sales. Additionally, in the third quarter of this year, tile floors grew 5% from the previous year. In the same time period, the average order size in dollar value for tile floors grew 6.9%.
The products most commonly paired with tile floors (electric floor heating rolls, mats, and cables that are embedded in an adhesive medium like thinset or self-leveling cement) also saw some developments in 2018. This year, sales of floor heating cable have grown 23.7% in consolidated sales to now constitute 10% of all tile floor heating sales and 15% of all floor heating sales (up from 9% and 12% respectively). The Prodeso Cable Installation Membrane, an uncoupling membrane designed to work with electric floor heating, has certainly helped contribute to this growth. By pairing the membrane with electric floor heating cable, you are able to extend the life of relatively fragile flooring materials like tile. So far in 2018, this membrane has grown 68.1% over last year to now constitute 55% of all underlayment sales for WarmlyYours.
However, the TempZone Flex Roll remains the most popular floor heating element for 2018 with 57% of all tile floor heating sales and 47% of all floor heating sales.
Wood and Vinyl Floors Have Grown Significantly in Popularity
Wood and vinyl floors might not be the first thing that people associate with electric floor heating but the data suggests that these flooring types have been on an upward trend for several years.
Since the third quarter of 2016, vinyl floors, particularly floors using Luxury Vinyl Tile (LVT), have grown at a steady pace and have made up 2.1% of all floor heating sales so far in 2018. In the third quarter of this year, vinyl floors were up 12% compared to Q3 2017 and up 11.2% in year-to-date sales.
The increasing popularity of LVT flooring materials is certainly a huge contributing factor. In fact, according to Google Analytics data, traffic in the third quarter of 2018 to the WarmlyYours website as a result of queries relating to LVT was up a whopping 372% while queries relating to the more generalized "vinyl" were up a decidedly more moderate 35%.
Similarly, wood floors have also continued a steady increase in consumer interest. Wood related queries from Google Analytics data have only grown 18.2% in Q3 2018 but invoiced orders for wood floor heating projects are up 59.1% in the same time period. In year-to-date sales, these sales have increased 27.4%.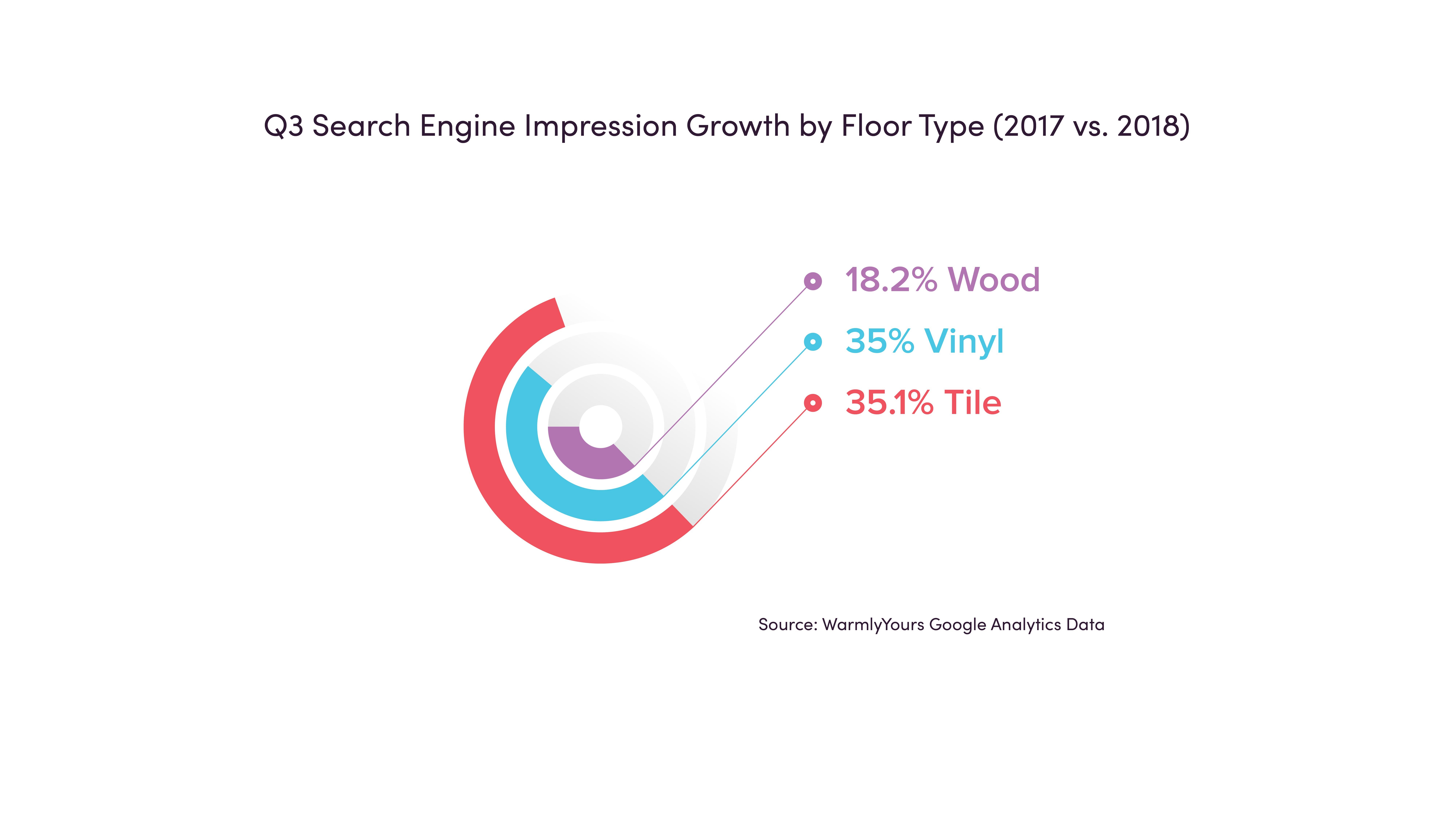 The growth for floor heating being paired with wood flooring is largely due to a proactive effort on the part of both wood flooring manufacturers and radiant heating providers. In fact, Julia Billen is a sitting member on the Radiant Heating Task Force for the National Wood Flooring Association. According to Billen, it's important for members of the radiant heating and wood flooring industries to work together to help address common misconceptions the general public might have.
"There's a lot of misinformation out there that is holding back consumers from combining floor heating with wood flooring," said Billen. "When we work together sharing data on products and experiments, we're not just helping ourselves—we're helping the consumer."  
WarmlyYours Sales in the Third Quarter of 2018 Driven by Floor Heating Growth
The third quarter of this year saw a sizeable uptick of 10.7% growth in consolidated WarmlyYours sales. Year-to-date sales for the company are now 10.4% above prior year period.
While floor heating only grew 1.9% in Q3 2018, it represented a huge increase in sales volume. Similarly, towel warmers continued a meteoric uptick in sales activity by increasing 46% over last year. Due to the addition of the Cosmopolitan Collection, a line of towel warmers that will be sold exclusively through authorized WarmlyYours dealers, we fully expect to see a substantive increase in sales of towel warmers in the last quarter of 2018 before it slows, while remaining positive, in early 2019.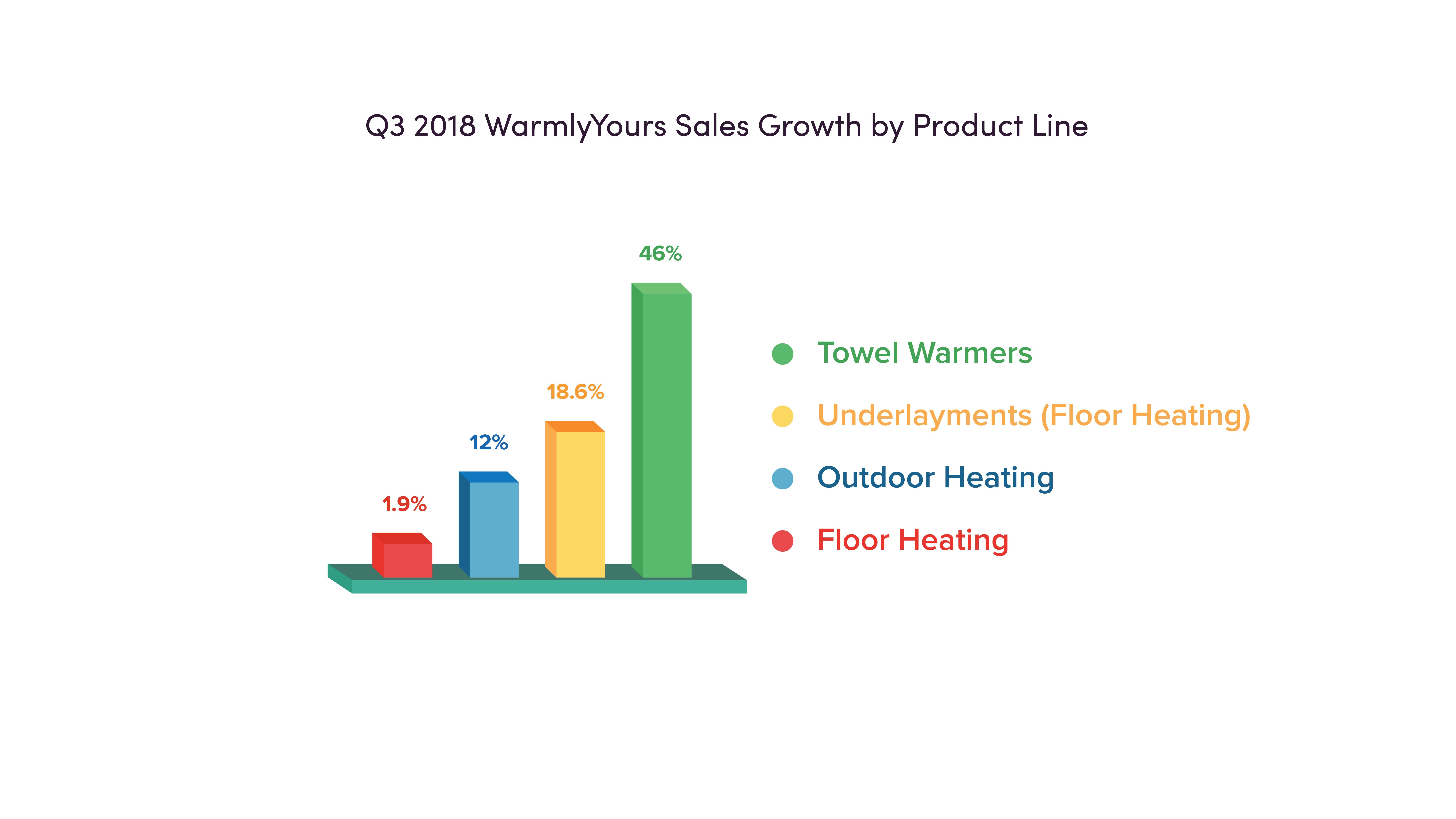 Snow melting and underlayments also grew with 12 and 18.6% growth respectively. We expect to see these trends continue for Q4 2018.
One continued driver of sales growth in the third quarter was increased sales activity in the e-tailer channel. Overall, this channel saw an increase of 23% in the quarter with growth in nearly every product line. Both Houzz and Wayfair contributed significantly to this increased sales activity with 111.4% and 62.2% growth respectively. Amazon, a channel that grew so much this year it actually had to be separated from other e-tailers for data curation, continued to show no signs of slowing down with 153.7% growth.
Housing Shortage Continues to Limit Sales and Remodeling Activity May Slow in 2019
Nationally, the shortage of available inventory continues to pose problems concerning home sales activity, a significant driver of radiant heating sales. However, according to the National Association of Realtors (NAR) pending home sales did increase by 0.5% in September 2018.
According to Lawrence Yun, chief economist for NAR, this is a good sign.
"This shows that buyers are out there on the sidelines, waiting to jump in once more inventory becomes available and the price is right," he said.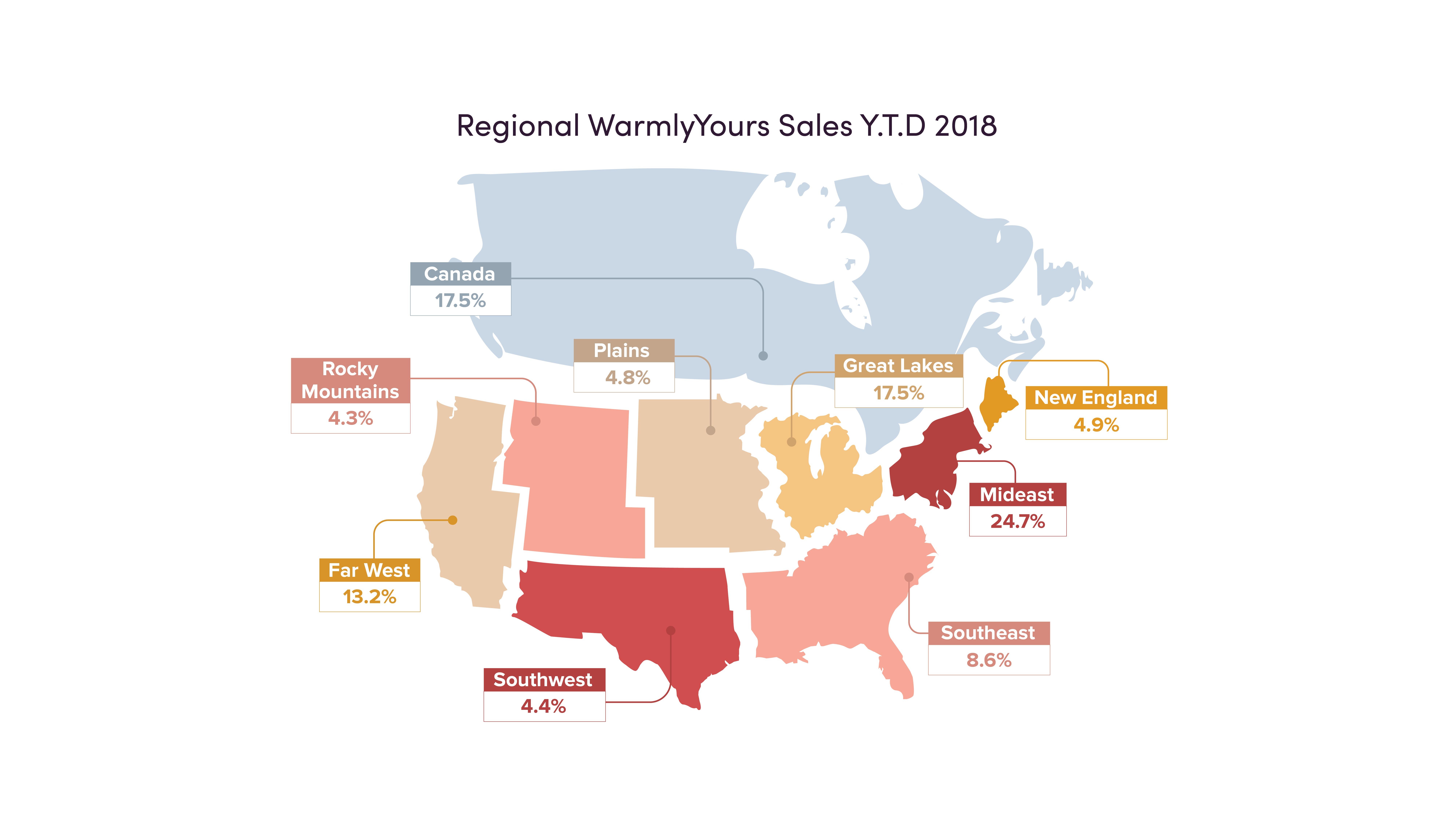 However, sales of existing homes were down in September 4.1% from the previous year. Yun said that this appears to be the result of home prices outpacing wage gains.
"A strong economy and consistent job growth should be driving up home sales; however, would-be homebuyers are struggling to find a home they can afford," said Yun. "As mortgage rates continue to rise, reaching the decade's highest rates this quarter, an increase in the supply of affordable homes has become even more important to help temper price growth across the country."
All of this has had an impact on remodeling activity, which is perhaps the single greatest driving factor relating to sales of radiant heating products. According to the most recent Leading Indicator of Remodeling Activity (LIRA), a quarterly publication from the Joint Center for Housing Studies of Harvard University, remodeling activity is projected to remain strong throughout 2018 but to begin slowing in 2019.
"Rising mortgage interest rates and flat home sales activity around much of the country are expected to pinch otherwise very strong growth in homeowner remodeling spending moving forward," said Chris Herbert, managing director of the Joint Center for Housing Studies. "Low for-sale inventories are presenting a headwind because home sales tend to spur investments in remodeling and repair both before a sale and in the years following."
Despite potential challenges regarding consumer demand in the short-term future, WarmlyYours is ready to optimize the existing opportunities and we're confident that 2018 will close on a high note.
Sources:
·      Relevant WarmlyYours sales data
·      Google Analytics
·      http://www.jchs.harvard.edu/press-releases/slower-growth-anticipated-home-remodeling
·      https://www.nar.realtor/newsroom/existing-home-sales-decline-across-the-country-in-september
·      https://www.nar.realtor/newsroom/metro-home-prices-rise-48-percent-in-third-quarter
·      https://www.nar.realtor/newsro...
---
Tell us About your Project
Our team of Radiant Experts is ready to help! Just tell us a little about yourself and your project to get started.
---
Did you find this post helpful?
Let us know by giving it some applause.
---
---